Sunday, July 1st, 2012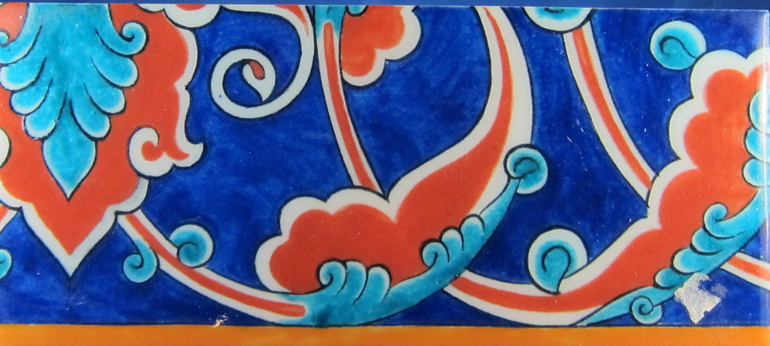 The other day, the Times published a recipe for potato salad that caught my eye, David Tanis's "A Summer Salad the French Might Recognize," and I thought that, instead of going out for dinner that night, as planned, I would make it to have ready whenever Kathleen got home from work. I insisted upon a few changes, of course, and I conducted an experiment that turned out very nicely. There was also a second experiment, but that one flopped, and the results were discarded before they could ruin the salad.
The big change was to add tuna. I bought the smallest chunk that Agata & Valentina had to offer. I researched methods for poaching it online — much easier than going through my cookery books. In a small saucepan, I brought water and wine to the boil, and then I reduced it to a simmer. It took a while to regain the simmer after I'd slipped the tuna into the water, but in ten minutes it was done. I removed the tuna to a bowl, where I flaked it and drizzled it with olive oil.
Then, in the same water, still simmering, I cooked two eggs, for about nine minutes. Would this be a disaster? Would the eggs develop an odd color or, worse, a funny taste? I wouldn't know until I put the salad together at the last minute. It turned out that they were just fine.
Then, still in the same simmering water, I cooked a handful of haricots, for just a few minutes. As I'd done with the eggs, I transferred the cooked beans to a bowl of ice water.
Meanwhile, I steamed a bag of assorted heirloom potatoes, most of them quite small. When the largest were tender, I quartered the lot and drizzled them with olive oil as well. This is how I always prepare potatoes for salad. So I missed the thyme and bay called for in the recipe. I'm not sure that they would have added much — muuch that was desirable, I mean. Next time I make this dish, I will buy six or eight small potatoes; I could make a real potato salad with what didn't go into this one.
By now, all the elements of the salad, except for the dressing, were ready. Dinner was hours away. Heaven!
I had thought from the start that I would compose the dressing by poaching garlic in olive oil. I looked into this online as well, but I'm pretty sure that I came up with a bad recipe. It began with dropping the garlic cloves into boiling water for a few seconds in order to make them easier to peel — an extraordinarily unnecessary step in my book. The poaching time seemed unusually long, especially as the cloves turned an unappealing dirt color. Another bright idea of my own — tossing in a few oil-cured anchovy fillets — made things a little worse. This concoction did not pass the sniff test. I salvaged the anchovies, tossing them into the tuna, and threw the rest away. 
The dressing that I did use was made, more conventionally, by combining safflower oil, the juice of a lemon, mustard, parsley, a dozen-odd capers, and cloves of elephant garlic in a small processor and whizzing them into creaminess. The safflower oil was a most welcome relief after the pong of the boiling olive oil, which had stunk up the flat. I suppose I ought to mention salt and pepper. They were added in small amounts as I went along. To the wine and water, for example. Salt and pepper are very important ingredients, salt especially. But they're also incredibly personal, and part of being a good cook is knowing how much of them will suit you and the people whom you're feeding. Don't pay attention to what anyone else says — except of course when baking. (Baking is chemistry; its recipes are formulas.)
When Kathleen called to say that she was heading home, I began to combine things. The remaining capers went into the tuna bowl, and so did the chives. I halved two dozen pitted niçoise olives and threw them in as well, despite the recipe's instructions to serve them on the side. Thinking that I had far too many potatoes, I reached in for small handfuls, three in all — about a third of what I'd steamed: this is a salad with potatoes, not a potato salad. (Good to know!) I peeled and quartered the eggs; in future, I think that I shall do what I usually do, which is to crumble the yolks and dice the whites. (Maybe I'll toss in a third egg, cooked and quartered, just for looks.) The beans went in at the last minute, right before the dressing. Because Kathleen doesn't care for basil, I omitted it, and didn't miss it myself. I sprinkled bits and pieces of mesclun greenery onto our plates and then spooned the salad atop it, garnishing with the egg quarters.
We were surprised at how light the salad was; we'd both expected it to be somewhat heavy. What with tuna, potatoes, olives, anchovies, capers, and garlic… But those last three ingredients were brighteners, not darkeners. (The whizzed capers, together with the lemon juice, would have given the salad a positively neon finish without the tuna and the potatoes to anchor them.) It was so much more delicious than we thought it would be that we laughed out loud.
I've been deliberately shambolic about presenting my amendments to Mr Tanis's recipe, because I think it wise to oblige you, if you're thinking of giving this dish a try, to write it all out ahead of time for yourself. (I'd be most grateful if you'd send me a copy.)
***
On Saturday night, we had dinner at Nice-Matin with a friend from out of town — from out of town now; he and his wife are contemplating a move to Gotham — and we were seated in a tight spot at a table along the wall opposite the windows giving out onto Amsterdam Avenue. (If there is anything "Amsterdam" about Amsterdam Avenue, I have yet to suspect it.) Kathleen and our guest were seated on banquettes, and I had the chair with my back to the room. My back, also, alas, to a table close behind us. At some point before our entrées were served (the place was hopping), I was tapped on the shoulder, and a man's voice called out, "Hey, big guy, you're rocking us to sleep here." My surprise lasted only an instant, but the mortification deepened until I thought that I was going to be unable to breathe. I pulled my chair in and felt my face flush with heat. It was not a pleasant feeling; it contained a lot of anger. Vanity presented a number of alternative ways in which my unwelcome intrusion might have been stopped earlier; it was fairly obvious that I didn't know that the back of my chair was bouncing against another table. Or perhaps it wasn't. I'd been the "big guy" in a "tight spot," something I go to great lengths to avoid but hadn't, there and then, had the chance to do anything about. Now I had to do something, so I leaned over and whispered to Kathleen that I thought I might have to leave the restaurant, I was so upset. That seemed to do the trick; I felt a little better just for having said it. I felt a lot better when the clown and his girlfriend paid their bill and departed. I was second to none in acknowledging their right to the quiet enjoyment of their dinner. But I'm pretty sure that a sign to Kathleen or our guest, or a word to the waitress, would have managed a less abrasive fix.
At Fairway this afternoon, the presence of a six-pack of Tsing Tao in my groceries occasioned a request for ID. I told the checkout girl that I would rather not buy the beer than prove that I was old enough to buy it; that, in fact, I was insulted by the request. I recalled an earlier round of this nonsense at the Food Emporium, which the bedeviled manager dealt with by instructing the checkout clerks to type in his own birthday. At Fairway, the request was dropped immediately, and I was allowed to buy the beer without showing my driver's license. All the way home, all I could think of was how deeply gratifying it would be to take a baseball bat to the head of whatever omedhaun dreamed up this totally Stalinist derogation of discretion: no matter how bloody, the battery would entail no loss of brainpower. I think that I was still angry with the good people of Nice-Matin, for pretty thoughtlessly seating me in an impossible situation. I won't let it happen a second time.
***
I'm in the middle of Colm Tóibín's second novel, The Heather Blazing, and I'm hooked. It was a hard novel to get into, for a reason wholly extrinsic to the book itself. In alternating chapters, we shift between present and past, between Dublin and the seacoast just north of Wexford — the same terrain, and much of the same autobiographical material, that appears in The Blackwater Lightship, Tóibín's first "big" book. It's not the second novel's fault that I'd read the fourth before, but it did take a while for me to get beyond a sense of theme-and-variations, interesting enough but hardly gripping. Now, though, I'm as taken up by the story of Eamon Redmond as if I'd never read another word of Tóibín. (And the novel that I'm now reminded of is Brooklyn.) The novel addresses a part of me that is usually offline: having grown up Catholic. Having, for example, fasted before Communion, and worried over sins in the confessional. (I was once told by Monsignor Scott that he was thinking of personally seeing to it that I was thrown out of Iona. So much for anonymity.) I remember a certain willingness to get down on my knees and pray aloud, "Turn, then, most gracious advocate, thine eyes of mercy toward us" — the words running together in a sweet ragù of piety. "After this our exile show unto us" — who spoke like that? Nobody. Veneremur cernui!
What I love about Colm Tóibín as a writer is that while he is frequently quite funny in his criticism, he is never funny in his fiction, even in humorous situations. He may fool with people's private parts, but he never fools with the English language; it is always as beautiful in his hands as a Benediction.
I'll get to what that has to do with my distaste for James Joyce some other time.