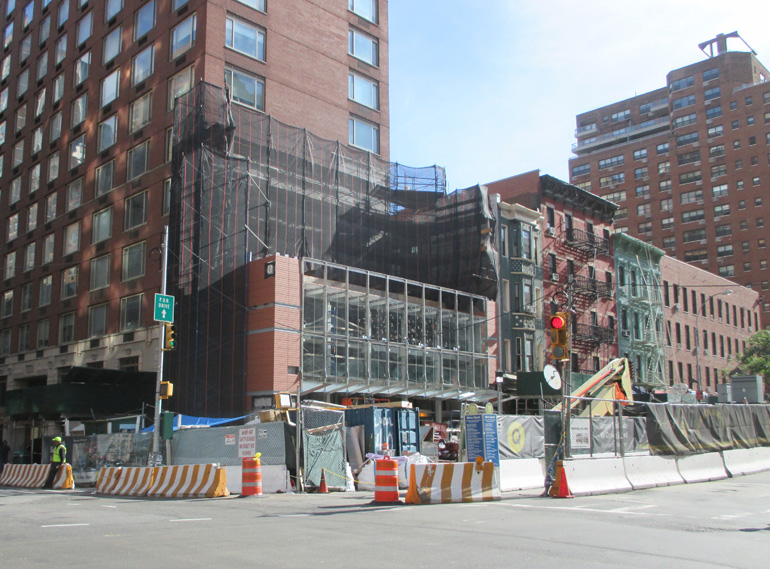 17
Monday 17th

Over the weekend, I swallowed nearly the whole of Joseph Lelyveld's new book, His Final Battle: The Last Months of Franklin Roosevelt. It's an arresting, must-read book, and also an object lesson in the importance, for high state purposes, of eschewing that ostensible virtue so disastrously in vogue today, transparency. A recurrent motif in Lelyveld's narrative is how impossible Roosevelt's maneuvers would have been today, what with our media Cerberus on constant watch. I would believe in transparency only if everyone concerned — every voter — were equally capable of assessing political operations. But the triumph of democracy, which is an insistence on the equality of citizens despite massive and manifest inequalities in intelligence and every other social desideratum, depends on masking not so much the truth, which is almost impossible for any contemporary, no matter how brilliant, to grasp, as the actual, which is merely momentary. Smart people understand the transitory nature of appearances; stupid people take whatever moment they've accidentally glimpsed to be more representative than it is. Lelyveld's ability to follow the state of play on multiple levels — military, geopolitical, electoral, and interpersonal — is extraordinary, but it only highlights the fact that his cunning if health-challenged subject was even better at doing the same thing. Writing about Roosevelt's reluctance to make significant changes for his fourth-term cabinet, Lelyveld calls him a "minimalist." I was surprised by the word at first. Then I began to wonder if it was not the key to Roosevelt's genius.
There is one thing about Lelyveld's prose style, however, that I find greatly objectionable. Without sacrificing clarity to the difficulties of complexity, His Final Battle is both readable and accessible, but this is carried too far in the case of contractions (weren't, wouldn't, &c). Contractions are essentially conversational ornaments; they signal the peculiar mix of intimacy and informality that I believe will prove to be the most salient characteristic of the age in which I've lived. For the purposes of an audiobook, Lelyveld's use of common contractions would be appealing. But in print they sound careless. Much worse, they plunge into ambiguity every time that Lelvyveld relies on the particular contraction, 'd. Native speakers are unlikely to be confused, but we live in an age of Anglophone hegemony: writers in English must do what they can to avoid making things unnecessarily difficult for foreign readers. He'd can mean "he had" but also "he would," and it is Lelyveld's use of the contraction in the latter sense that bothers me most. The first refers to the past, the second to the future, if not to an alternative to the facts. Precisely because the contraction can point not only in opposite directions but to contrary moods, it ought to be avoided in print.
The great minor pleasure of His Final Battle is the presence of Daisy Suckley, the distant cousin who features in Hyde Park on the Hudson, the lovely film starring Laura Linney and Bill Murray. Because Daisy's diary, revealed only after her death in 1991, came as such a surprise, I always assumed that Daisy herself was a tucked-away secret, someone with whom the president chatted whenever he was at home at Hyde Park (she lived nearby), but never otherwise. But, no: she accompanied him to Warm Springs and even stayed in the White House. Lelyveld quotes the diary often, because Suckley's worries about FDR's health — his book's grim tattoo — were candid and disinterested. Daisy may have lacked a sense of the context of world affairs, but she was an attentive lady whose adoration of the Commander in Chief did not inspire her to lie about his physical condition. One supposes that she can have had no idea that her diary would figure in a book such as Lelyveld's — and yet one hopes to be wrong.
***
At The New Yorker's online site, Elizabeth Kolbert makes the modest proposal that men be denied the vote for a few decades. If only men were to vote in the coming election, according to polls, Donald Trump would have an enormous lead over Hillary Clinton. Not "white men," apparently; just "men." Two-thirds of "men" would vote for Trump. Jeez — I'd be happy to lose my right to vote if such a ban were imposed. What are men, anyway — men? Say it isn't so.
Moving right along, I took a good look at the map of the states in which a majority of "men" would vote for Hillary. No surprises there: the whole West Coast, and the Northeast Corridor states, excluding (as always) New Hampshire, and an undecided Maine. Only two states that don't abut either of these clusters would go for Clinton, but they are also "border" states, more or less: Illinois and New Mexico. Because I believe that, whatever happens next month, intelligent Americans need to commit themselves to a serious and effective program of mutual re-education, with a view to reducing political polarity by sincere discussion and practical experiment, I think that it might be most effective to target states that used to be somewhat more liberal than they are now, stretching from Pennsylvania to Minnesota, for conversion. If the South and West are to be politically transformed — cured of their toxic racism — it will be without help or inspiration from today's blue states; the less they are lectured to by the likes of us, the better. But Ohio, Michigan, and Wisconsin have been allowed by uninterested élites to sink into flyover status. That could be reversed. Indiana and even eastern Iowa might also be brought round.
My own favorite "Trump joke" is the one in which, ten years from now, the Donald looks reporters straight in the face and denies ever having run for President. I can't tell you how many people respond by saying, "Oh, he would never do that." It's scary.
***
Tuesday 18th
His Final Battle closes, as it must, with Eleanor Roosevelt's learning that Lucy Mercer Rutherfurd was at FDR's side when he died. Lucy had been Eleanor's social secretary when her affair with Eleanor's husband emerged. Eleanor never saw her again. The marriage almost broke up, but instead it was reconstituted. Now it became an unequal partnership of politicians. Eleanor did just about everything aside from running for office to promote her belief in social justice; electorally unaccountable, she had considerably more freedom in airing her views than her husband did. His assent was nevertheless assumed, and on at least one occasion recounted in His Final Battle, he censored a proposed "My Day" column. (Eleanor was rooting for Henry Wallace's doomed candidacy for a second vice-presidential term.) After her husband's death, Eleanor went on to be a kind of Olympian goddess, nursing the new United Nations, which had been FDR's final great project.
If I mention Hillary Clinton right now, you might be tempted to argue, "But nobody knew about Lucy Rutherfurd." That is, nobody knew that Eleanor stood by a husband who had been unfaithful to her and whose further infidelities she would protect herself from discovering. Well, a lot people knew, in dozens. But the matter was never mentioned in public commentary, any more than FDR's inability to walk across a room was mentioned. Had people known, what would they have said? Would they have charged Eleanor with opportunism for standing by her man? Would such a thought have occurred to anyone?
What can we say about marriage? Not very much; every marriage is, or ought to be, utterly private. All we know is how each marriage gets started, with more or less uniform declarations of mutual love and support. These declarations are usually made by young, inexperienced people who are likely to put too much stock in high hopes. What each lasting marriage becomes is unique, even though that is just as hard to imagine as the uniqueness of snowflakes is. We will never know what the partners in a marriage really think about one another, if only because they'll never know it themselves. We know only what they do, how they behave. The idea of "transparency" presupposes that they are acting, that their appearance of partnership is emotionally unreal somehow. It says, with vast naïveté, this is what true love looks like, and they don't have it. A political partnership! How can politics take the place of romance? In the end, gossips reject the fact of marital uniqueness. Nothing else, however, can explain why two people freely remain together. Or, rather, how.
More anon.