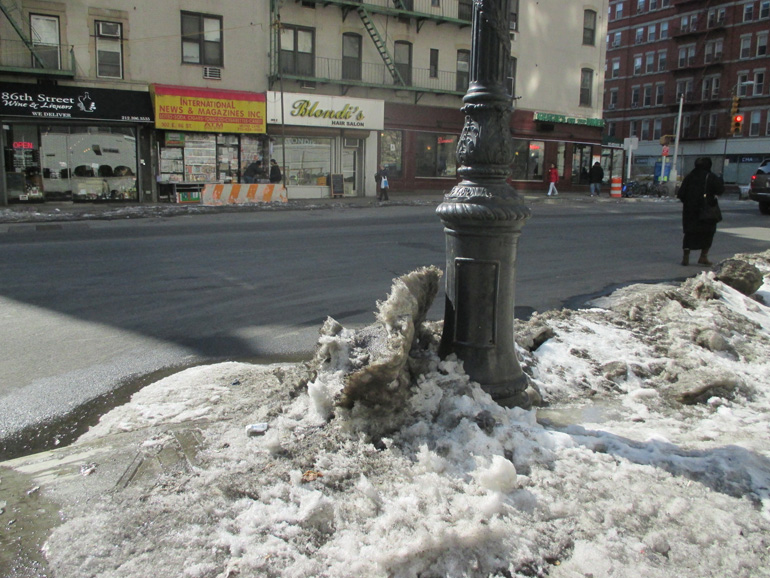 Last week witnessed a very odd cluster of three deaths, all of them taking Notre Dame men — as one would have put it in the days when such specification was unnecessary — out of the world. In descending order of age, there was Father Hesburgh, president of the University during both of my careers there; Charlie Rice, our Torts and Con Law professor in the Law School; and classmate Hal Moore, long a partner at Skadden, Arps here in New York. These passings would be individually momentous, but, coming all at once, they're overpowering, so that it's hard to believe that they've really happened. Hal was my age, more or less. I have no idea what felled him; Kathleen and I have been out of touch with the Moores ever since — well, never mind. But it's a strange shock. Even though they were not part of our present lives, the world seems a smaller place now that Father Ted, Charlie, and Hal are no longer in it. That's what getting old means for those who haven't yet died. And I'm still mourning, if very quietly, the death of my colleague from radio days earlier last month.
But the death that disturbs me most is that of Times Media Critic David Carr. Just days before Carr collapsed on the newsroom floor and died of lung cancer — didn't know you could do that in the modern world! — I charged him with striking, as I think I put it, a note of moral bankruptcy in his commentary on the Brian Williams scandal. When Carr died almost immediately afterward, I felt rather ghastly for about ten minutes, as though my accusation (although I very much doubt that he ever read it) had been fatal. But in contrast to my experience of last week's deaths, I can say that Carr's has not left the world a smaller place. On the contrary, his dying made things clearer, at least to me, and in that sense it was additive. Now that he was gone, it was easier to see how he had done his job — and how, arguably, it ought to be done.
It now seems obvious, painfully obvious to me that the media critic at a major newspaper, especially in a time of dramatic media transformation, ought to be making the case, self-interested though it might be, that long-form journalism is the only means of communicating the complexity of the world to intelligent readers. That, by the same token, no intelligent person ought to be caught dead or alive watching TV news. Waste your time on anything else that the boob tube has to offer, but don't clutter your mind with the amyloid proteins of television news! Just as Paul Krugman tirelessly argues for neo-Keynsian solutions to our economic problems, attacking the proponents of austerity with the manic ferocity of the computer in War Games, so David Carr ought to have made it his business to persuade readers of The New York Times that (a) they were already doing the right thing by reading the paper, and that (b) television news would therefore be as unnecessary as it is (c) undesirable.
Reading Carr's response to the Williams scandal, it was impossible not to recall his much-publicized problems with addiction. They ought to have had nothing to do with anything, but wasn't Carr writing about the relationship between viewers and anchors as one of dependency? Viewers needed this, and demanded that, from their newscasters. Carr did not question this; it did not seem to occur to him that there was anything to be done about it. This is the way in which most of today's "media critics" cover their field. The prevailing note is helplessness. We are always checking our emails, we are always following Twitter, updating our Facebook status — you really can't expect us not to. This is who we are.
If it is indeed who we are, if we are indeed helpless to resist the lures of advertisers and other self-promoters, then let us do the rest of the world a great big final favor. Let's acknowledge that our exceptionalism has collapsed, that we have squandered our immense resources on a weakness for the instant gratification of our most casual curiosity, such that we are no longer capable of thinking through the awesome issues that we have claimed as ours to decide throughout the Cold War and beyond. Americans are just not up to the job. Too many of us can't be bothered to learn that Toronto is in Canada, not Italy, or that California and Nevada, despite remarkable differences in population, each has only, or as many as, two senators. We have undermined our democracy by insisting that entitles us to be stupid.
Let's try to figure out how to tell traumatized veterans of the guerilla wars in Afghanistan and Iraq that we're sorry, that we should have known that those battles made no sense, that the insurgencies that fought them were created in response to their very presence on other men's native soil. We went to war over there so that we could feel good about it over here. The Bush Wars mark the end, or at least the disappearance, of American intelligence. I think that most smart veterans already know this, but perhaps they would like to hear an apology or two.
Perhaps we are too stupid now even to apologize. Instead, we stupidly thank veterans for their service. That makes us feel good, too. As David Carr knew, we are keen on feeling good.
***
Does anybody out there who can't imagine not watching television news happen to have kicked a smoking habit? Tobacco is much harder to cut off than television, but that's for another time. All I want to say now is that you, you former smokers out there, you can't really believe that you ever did anything so dirty, at least in the literal sense, for long enough for a habit to develop. Now, when you walk into a hotel room in which someone has been smoking, or when you see (but, again, mostly smell) an ashtray full of butts; when you remember how anxious you used to be about maybe running out of cigarettes or, just as bad, matches, you can't imagine the satisfactions that compensated for such grossness.This is what I was told by one reformed smoker after another, until I myself gave it up (after twenty years — and this was over thirty years ago) and found out how true it was.
It's harder, as I say, to stop smoking than it is to stop watching television. But, believe you me, once you've given up television, especially television news, once you have managed to keep it out of your life for a while, you will be so astonished by its screaming vulgar obscene banality that you will wonder why there aren't laws against it — as there are now against smoking. Appalled, you will wonder. Believe you me.