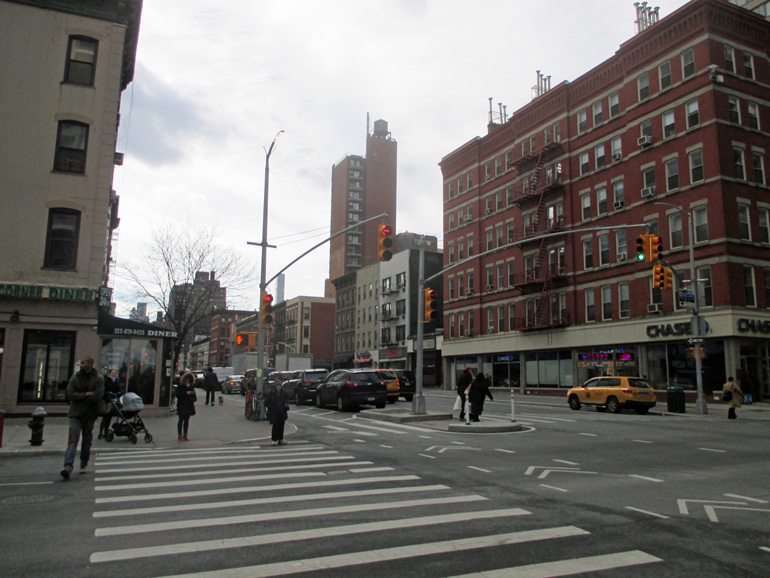 2, 3, 6, 9, 10, 13 and 17 February
Tuesday 2nd
On the way from the dermatologist's office to the barber shop, I stopped in yesterday at the Video Room, and rented a couple of discs. One was Secretariat, which we haven't seen even though Diane Lane is in it. The other featured an even grander diva, Meryl Streep: it was the recent Florence Foster Jenkins. This we watched after dinner. (Secretariat, no longer a new release, can wait.)
I'm enormously puzzled by Florence, because the people who made it are all master craftsmen who know how to make what they set out to make. What did they have in mind here? It's hard to resist the conclusion that they had inconsistent things in mind. At the center of the production, of course, is the spectacle of the society dame who used her wealth and the cooperation of her fellow biddies to conduct a semi-private musical career, the joke being: was there a joke about the fact that every sound coming out of her mouth was unmusical? The spectacle (according to the movie) took place when Florence, finding herself adrift in a fog of loneliness, ill-health, and patriotism, hired Carnegie Hall and distributed free tickets to her show to servicemen. This swan dive was followed almost immediately by illness and death. Florence Foster Jenkins would be an arcane footnote in the history of Gotham if she had not taken the trouble to record  performances of a number of chestnuts, accompanied by the fantastically-named pianist, Cosme McMoon. I doubt that these recordings have ever been out of print in my lifetime. They were part of the soundtrack, an occasional weir in the flood of Edith Piaf, at the mauve end of the undergraduate spectrum when I was in school. To be at all sophisticated, you had to know who she was and how bad she was.
The fascination is hard to pin down. Once you have been acquainted with the sheer fact of Jenkins's voice, there is little pressure to explore further, because her singing is just bad. I haven't been able to find a redeeming contour, but I haven't tried very hard. This isn't to say, however, that the Jenkins story isn't interesting. It's almost too interesting.  In 2005, Judy Kaye and Donald Corren brought Stepehen Temperley's Souvenir to the stage. It was in its every corpuscle an evening of theatre: you had to be there. I thought that it would run forever, so perfect it was, but it didn't. Happily, I wrote it up at Portico. I knew from the reviews that Florence Foster Jenkins would be nothing like it: I had never heard of Jenkins's husband, St Clair Bayfield, and there was certainly no room for him in Souvenir. I found it hard to believe that Meryl Streep was going to spend a significant chunk of film time being ludicrous.
And of course she doesn't. She does something so unusual — for her — that I'm not sure that she really did it. Two things, actually. First, she recycles an earlier performance, the one as Julia Child. Mrs Child was something of a society dame, too, but if she could actually cook she also could deal with the fact that many of her viewers found her presentations to be hysterically funny. (Maybe the laughter doesn't hurt if it can't be heard in the studio.) Jenkins, at least until Carnegie Hall, performed with the very reasonable expectation (unconscious, probably) that it would be unforgivably rude to guffaw. Streep has only to add a dash of cluelessness to her slyly distracted Julia to produce a convincing Florence.
Even more surprising, however, she does not attempt to steal the show from Hugh Grant, and this is where the puzzle lies. The film's title is misleading; it ought to have been something like The Constant Husband, or perhaps The Inconstant Husband, sounding different registers of irony but identifying the heart of the story, which is the tale of a devoted (if unfaithful) husband's determination to protect his wife's amour propre from her ambitions. When she indulges in a song recital, he hand-picks the audience. After the performance, he assures her that she was wonderful. If necessary, he bribes newspapermen. It's a full-time job, and of course Hugh Grant is perfectly suited to making madcap leaps from panicked frown to flashbulb smile, and to forestalling calamity with preternatural glibness. (His voice has two gears, ultra-hesistant and gush.) The difficulty with Florence Foster Jenkins is that you don't worry about Florence; you worry about St Clair.
And yet the movie raises a great deal of pathos out of Florence's health, a problem having little to do with her singing. Infected with syphilis by her husband as a teen bride, Florence is a survivor at the end of her ninth life. (This is very wicked of me, but when Florence's maid — played so well by Brid Brennan that I wanted to see a movie about her — removed her lady's wig, and replaced it with a turban, I saw that Streep's very next role ought to be Edith Sitwell.) The movie rather helplessly kills Florence off by a bad review from which all of St Clair's efforts couldn't protect her. It is very dramatic, of course; the tragedy of the final farce is very well done. But did she die because Earl Wilson panned her? The puzzle is that the filmmakers ought to have known that this somewhat illegitimate  wind-up would be cinematically inevitable. The cabaret of Souvenir could end with McMoon's narrative from the piano. But Nicholas Martin's screenplay has to show us something, and mere after-the-show exhaustion wouldn't be enough. So we get Meryl on the marble.
The only way to redeem this confusing exploit will be to make a film about Mrs Miller.
***
Friday 3rd
Last month, Daniel Barenboim conducted a cycle of Anton Bruckner's symphonies at Carnegie Hall. I didn't attend any of the concerts. Although I've known the Third Symphony since I was a freshman in college, the rest are more or less indistinguishable to me. They're beautiful and exciting, but, more than that, they're the same. I seem to be incapable of discriminating among them. Now I wonder if Times music critic Corinna da Fonseca Wollheim hasn't put her finger on why. In a discussion with her colleague Zachary Woolfe that the newspaper published last week, she said something that stuck with me — something that bears on a great deal more than Bruckner.
My experience in the hall was inevitably colored by what has happened in the world, beginning with a presidential inauguration that was heavy on nationalist rhetoric. Perhaps my biggest gripe about Bruckner has been how perfectly suited his music is to communal veneration. A lot of people who love Mahler also love Bruckner, and there are similarities. But Mahler always puts the individual — the doubting, neurotic individual — at the center. In Bruckner, the triumphant hero of too many movements seems to be a "we."
In today's paper, David Brooks writes about the American myth that he finds represented on the dome of the Library of Congress.
In that story, America is placed at the vanguard of the great human march of progress. America is the grateful inheritor of other people's gifts. It has a spiritual connection to all people in all places, but also an exceptional role. America culminates history. It advances a way of life and a democratic model that will provide people everywhere with dignity. The things Americans do are not for themselves only, but for all mankind.

This historical story was America's true myth. When we are children, and also when we are adults, we learn our deepest truths through myth.
It seems to me that the "we" whom David Brooks has learning our deepest truths through myth is the same triumphant hero that makes da Fonseca Wollheim so uncomfortable (as it does me)
My preferred "we" is a crowd of doubting, neurotic individuals. Call it the Manhattan We. We don't share many myths, because we disagree about most things, but we know how to walk down the street. When strangers ask, we either give good directions or we admit that we don't know the way. Despite our differences about everything that matters, we Gothamites manage to get along in surprisingly peaceful coexistence. If anything, that is our myth.
We even put up with decades of Donald Trump.
Now, there's a myth for you!
***
Monday 6th
It seems that Kathleen has just volunteered my services as a cook to produce a dinner on Thursday night for two of her Smith classmates, "if he's up for it." Her friends may have better ideas, involving real restaurants. Why come into the city just to sit in a quiet apartment? But I must be prepared for Kathleen's offer to be accepted, particularly as I've ratified it with an email of my own.
Over the weekend, I browsed the pages of Elizabeth David's An Omelette and A Glass of Wine, a collection of pieces written for The Spectator and other periodicals, mostly during the Fifties and the Sixties. David's writing about food casts a spellbinding illusion: all you need do to prepare a scrumptious meal is to take a nap. While you sleep, delicious ingredients will pile up in a nearby marketplace. When you wake up, just stroll down the stalls and fill your shopping basket with produce so bursting with culinary virtue that, once spread out on your rustic kitchen table, it will cook itself.
(Some of David's books, such as English Bread and Yeast Cookery, do not bear much relation to meals at all, but seem more like craft projects that just happen to produce edible goods.)
This illusion is doubtless produced by David's long experience of staying out of kitchens whilst other people did the cooking. She did cook herself, of course, but when I think of her at home I remember reading that she liked to sit at her rustic kitchen table with a glass of wine that was never empty. She would perch next to the oven, so that all she had to to was turn in her seat, open the oven door, and give the casserole a little stir. How the casserole was composed is not in the picture, but the glass of wine must have been part of that, too. On the cover of An Omelette and A Glass of Wine is a drawing of David, leaning against a cabinet, holding a glass of wine. She seems to be engaged with an unseen friend, and utterly relaxed. It is clear that David's school of gastronomy holds, as a first principle, that we will eat our dinner when it is good and ready.
I learned about this approach to cooking too late in life to adapt to it, and I never had a kitchen large enough for a rustic kitchen table. The moment that separates what used to be called "cocktails," a period that begins when guests arrive, and "sitting down" at the table has always been, for lack of a better word, decisive, because my first principle holds that, once people are seated, dinner proceeds at a reasonable pace. If there is a soup to start, then whatever follows must be on the table within twenty minutes at the utmost of clearing the bowls. Guests cannot be allowed to wonder, uncomfortably, what is going on in the kitchen. Even when it is just the two of us, and Kathleen is wholly absorbed by whatever she is reading or stitching, I am haunted by the quartermaster over my shoulder.
Although the local marketplaces are among the best in Manhattan, it would never occur to me to shop for what looks good. The very idea of such spontaneous impressionism puts me into a panic. I must be armed with plans when I walk into Agata & Valentina or Whole Foods. But plans, no matter how well drawn up, are rarely fun to follow. A few times in my life, I have thrown together delicious meals from ingredients on hand. It is like great sex: better not to count on it. I have also thrown together meals that tasted thrown together, against a brick wall somewhere.
David gives a recipe from a Tuscan inn that she calls "the lake place." I shall certainly give it a try, but not this Thursday. (Kathleen's offer has been declined.) It's for spaghetti with chicken livers and lemon. Other ingredients include ham, garlic, Parmesan, and lots of egg yolks. (It sounds like a supercharged carbonara.) David talks about the size and excellence of the livers of well-fed Tuscan chickens; I wonder if I can count on Agata & Valentina for quality above and beyond the ordinary. And all those eggs! In another essay, David writes about the fame of Mme Poularde's Mont-St-Michel omelettes. She laughs at the food writers who speculated wildly about secret ingredients. But it was probably just the eggs, very good and very fresh eggs. How fresh can an egg in Manhattan be?
There are at least two pieces about Norman Douglas in An Omelette and A Glass of Wine. I had heard of Douglas before I learned about David's friendship with him, but only barely. On the strength of her enthusiasm, I roped in a copy of South Wind from somewhere. "Wind" was right. It reminded me of E F Benson's Lucia books, but without the laughs. Instead, something that Mrs Lucas herself might have penned. South Wind may be a cornerstone of Anglophone Caprimania, but I'd rather read Shirley Hazzard on the subject. David herself is pretty good; after all, she makes Douglas sound interesting. One of her pieces here explodes with indignation at the witlessness of a publisher who reprinted Douglas's Venus in the Kitchen, as if the title were not ironic, with drawings of little cupids in bathing trunks. The notion of a craftily concocted dish that will reduce anyone who eats it to indiscriminate erotic wantonness is probably as old as clay pots, but while a good meal will almost always produce good feelings, the cook must still in propria persona attract the diner from the table to the divan.
But what do I know? I don't really associate food with love. I associate it with conversation. Without good talk, even the best food is just snacks.
***
Thursday 9th

It has been a quiet week. On Monday, I did nothing, aside from writing here. On Tuesday, I took the new subway down to 72nd Street, the next stop, and walked three long blocks to the Hospital for Special Surgery, where I spent the later afternoon in the Infusion Therapy Unit, connected to a Remicade drip. On the way, I discovered that there are no escalators at the northern, or 72nd Street, end of the station, only a bank of elevators. The elevators open directly onto the sidewalk, beneath a canopy. On my return, I was bemused by the rhythm of progressing upwards from the platform via three escalators and then, without a great deal of lateral travel, the elevator in which my homewards ascent was concluded.
Yesterday, I had lunch with a friend from out of town. We walked over to the Museum afterwards, for some reason along 83rd Street. I used to walk the block of 83rd Street between Second and Third Avenues all the time, in the days of the Green Village Market, a Korean greengrocery where I could sign for boxes of produce and have them delivered. The space has for quite a long time now been occupied by a 7-Eleven. More happily, St Elizabeth of Hungary Roman Catholic Church still occupies its spot on 83rd Street. At one point, it seemed doomed by the archdiocese. It may still be at risk. But it is still there, its façade flush with its neighbors', its gable and spire giving the sky above a European air.
At the Museum, as we walked among the Old Master paintings, my friend told me about the cousin with whom he would be having dinner. I came away with a rather Cubist notion of the lady; I know her age for sure, but other details, however individually distinct, remain only unclearly related to her. I attribute this confusion to my having interrupted my friend to point at various pictures, such as the Rubens painting that, as it happened, adorned the jacket of my first recording of Beethoven's Seventh. (Only just now have I learned that the background was painted by the elder Brueghel.) It's odd that the Holocaust comes into this cousin's story, but I'm quite sure that it does.
Yesterday was a pleasant day for walking, quite unseasonably balmy. Today it is cold again but at least there is the mitigation of piles of snow. Kathleen decided to stay home, and we slept until well past noon. I got up, finally, because my dreams were disturbing me. One involved a set of miniature kitchen implements, and it needled me with questions not only about whether I had lost part or all of it but also about having invented it. If I had invented it, why something so silly and pointless? Just talking about it, I see my hand placing a small plastic fork on a piece of dark cloth. It's not restful.
In the new New Yorker (13 & 20 February), I read two pieces about death, Thomas Mallon's review of George Saunders's first novel, Lincoln in the Bardo, and Kathryn Schulz's essay, "Losing Streak." I am not in a hurry to get to the novel, but I expect that I'll read it presently. Schulz writes about losing her father; she also mentions losing the election. I've lost elections before, but this time the loss is different.
The morning after the election, I cried again, missing my refugee father, missing the future I had thought would unfold. In its place, other kinds of losses suddenly seemed imminent: of civil rights, personal safety, financial security, the foundational American values of respect for dissent and difference, the institutions and protections of democracy.
The sentence brought me up short, because I long ago ceased to believe in the existence of "foundational American values." What I've lost in this past election is faith in the ability of intelligent Americans to protect the institutions, from law courts to power plants, that have made complex organisms such as New York City largely safe and largely predictable. This isn't to say that I'm expecting disaster tomorrow. But too many people have been counting too heavily on things like respect for dissent and difference, taking them for granted, even. Taking things for granted is a small weakness that can open the door to great evil.
***
Friday 10th
Last night, I finally got to the end of Mark Greengrass's Christendom Destroyed: Europe 1517-1648. It's a sound history, but not a particularly captivating one, because it favors issues analysis over narrative. I had made up my mind, midway through it, that my next book would be C V Wedgwood's The Thirty Years War, and I had already taken it down from the shelf, so after I closed the one I opened the other. A clipping from the Times fluttered out: a brief obituary of Wedgwood from 1997. If I'd known it, I'd forgotten how young Wedgwood was when she wrote her big book — not quite thirty.
It didn't take long to savor the difference between the two books. Wedgwood is lucidity itself, written in the spirit of Johnsonian coherence. Greengrass seems to have something insightful but complicated to tell us; it is always just a little too complicated for the point to be made. The writing is somewhat curious: just to pick one tiny example, on page 163 the word "deception" occurs, but it makes no sense unless construed as déception, the French for "disappointment." As I worked my way through Christendom Destroyed, I was often made aware of changes in academic fashion, as I suppose any serious reader of my age is bound to be; like anyone of my age, I'm inclined to think that the old fashions served well enough, although I suppose that Wedgwood's confidence might strike younger minds as presumptuous. Even twenty years ago, the Times bracketed her as a "Storyteller of History."
Sixteen pages in, Wedgwood inserts a political observation that deserves, I think, more attention: it highlights the Machiavellian impulses not of rulers but of the ruled.
Few men are so disinterested as to prefer to live in discomfort under a government which they hold to be right than in comfort under one which they hold to be wrong.
The truth of this maxim is borne out by terrorism, which seeks to eliminate the comfort that a bad government can provide. Reformers also try to make us uncomfortable. The reason why it might not be a good idea to accept the comforts of a bad government is that a bad government might change its mind about you, and decide to withhold your comforts. It is certainly more prudent to enjoy moderate comfort under a good government than excessive comfort under a tyranny.
We all have different ideas of comfort, some of which cannot be harmonized with others, and that makes for political problems. But for each of us personally there is a moral question: how righteous are your comforts? The easy, adolescent answer is that comfort is never righteous. Teenagers cling to this view because they can't find comfort anywhere. Most of us outgrow the misery of those years, but some people don't. Some people never learn that other people have feelings, too, and that the mere fact that their feelings are different does not make them wrong.
Most of us are much more respectful of others when we are comfortable. This is a law of human nature that ought to inform political arrangements at the most basic level. There is no point in drafting a constitution that disregards the importance of comfort. Our Declaration of Independence speaks of "happiness," which, for political purposes, seems to me to be much the same thing. If I am allowed to pursue happiness, I am unlikely to begrudge others the same freedom. The righteousness of my comforts, then, is a factor of the liberty that my behavior bestows. If my idea of comfort involves screaming at the top of my lungs in the middle of the night, it is manifestly unrighteous. My comforts must be constrained by my neighbors' right to the quiet enjoyment of their homes, to their comfort. Neighborly comfort is righteous.
***
Monday 13th
No matter how nutty they are, Transhumanists — at least, the ones Mark O'Connell writes about in this weekend's Times Magazine — have one very attractive selling point: opposed to death in general, they're opposed to war in particular. They argue for diverting defense budgets into advancing the technology that will make them immortal.
And they're not really so nutty. They're just young, or rather just old enough to grasp the terrible waste of their dying now, in the prime of life. They can't imagine that this prime will ever come to an end, other than by premature death. Nor has the selfishness of their desire to stick around forever, leaving no room for future generations, really occurred to them; if it has, they've probably satisfied their conscience by supposing that, once their principal objective has been achieved, the colonization of space ad infinitem will be no problem.
Mark O'Connell's piece is very well done, but it probably isn't as funny as I thought it was when I encountered it, simply by turning a page in the Magazine. I had been reading a very different sort of piece, an essay about what is arguably the most complicated topic of civil conversation today, feminism. Feminism is so complicated, in fact, that it's probably a mistake to call it "feminism," but I'll come back to that in a moment. The juxtaposition of a grave meditation on questions that, although addressed to women, make demands of us all, and a travelogue involving a rattling old recreational vehicle and two young guys, one of them, in the journalist's words, "as strange a person as I had ever met, and I had met a great many strange people in the year and a half I spent reporting on transhumanists," was as jolting as a pothole. How could the editors of the Magazine imagine for a moment that O'Connell's clowns deserved even more column inches than Amanda Hess's reflections?
But there you have it. A lot of women, over here, trying to imagine a more civil arrangement of human affairs. Over there, a couple of guys yakking about transcending it. If you have any kind of mind at all, you can't help wishing that the Transhumanists will succeed — and then disappear.
***
In "Forces in Opposition," Amanda Hess uses last month's Women's March on Washington to frame a problem that has nagged feminism since American women began to make demands that we now characterize as feminist, before the Civil War. Much bigger than the problem of women's rights, the problem of racism, focused on and defined by African-American physiognomy, was something that Elizabeth Cady Stanton, for one, wished would just go away. "In 1865," Hess writes, "Stanton lamented having to 'stand aside to see "Sambo" walk into the kingdom first'." We may have arrived at last at the moment when the two struggles must be reconciled, and, going forward, prosecuted in the same terms. One such term, according to Hess, would be "intersectionality," but the word is too new to me for me to use it. I do see that what anti-racists and feminists have in common is the conviction that physical destiny — outward appearance — is neither a support for privilege nor a justification of degradation. Although the thinkers of the Enlightenment were almost wholly devoted to enlarging the political franchise for white males only, their fundamental belief that quality of mind trumps accident of birth is the foundation of all equal-rights arguments. In other words, the white male body does not ipso facto house a superior intelligence.
Among the dreadful truths that Donald Trump's campaign exposed (and they are truths!) is the extent to which Americans reject this enlightened idea. When it came to the vote, it was close enough to fifty-fifty to be extremely upsetting to anyone who believes in equal rights for all adults. (It ought not to have been so surprising, though.) The most striking feature of the vote was the support that white women gave to the Republican ticket. After the election, there was stream of anecdotal evidence that many of these women, while they didn't think much of the presidential candidate himself, were comfortable with the idea of letting white men run things. Many Americans, of course, did not want one particular woman, Hillary Clinton, to run things, and I daresay that many of the women who voted for Trump would say that the real problem with feminism is that it throws women like Clinton into prominence.
It turns out that the United States was not ready to be governed by a black president. Too large a contingent of citizens simply hunkered down in absolute obstruction. It is clear now that this contingent was not so much opposed by Democrats as ignored, but then, as David Bromwich writes, in a powerful piece in the current London Review of Books, "Democrats have forgotten what it means to constitute an opposition." At another point in "Act One, Scene One," Bromwich sets out a calendar of Democratic Party failures to mount opposition to Republican Party advances.
With the election and partial legitimation of Trump against the massed energy of the Democratic Party, many Republicans and virtually all the mainstream media, we have witnessed a revolution of manners. Will a political revolution follow? What is ominous is the uncertainty and the leaderless state of the opposition. The Democrats are at their lowest ebb since 1920, and this is anything but a sudden misfortune: the loss of nerve started with the election of Ronald Reagan in 1980, which surprised the Democrats and shook their confidence in the tenability of the welfare state, and the threat to mixed constitutional government was clear in the 1994 midterm election, when 367 Republican candidates signed the Contract with America, with its pledge to slash government spending in the first hundred days of a new Congress. The contract was the precursor of the Tea Party – its instigator, Newt Gingrich, has become a leading adviser to Donald Trump. The Democrats behaved persistently as if the Republican hostility to government-as-such were a curable aberration. Yet eight years of Obama have ended with his party's loss of the presidency, its relegation to a minority in both houses of Congress and – something that happened when no one was counting – the loss of 900 seats in state legislatures. Any return to majority status must begin at the local and state levels, yet in the 50 states of the union, the Republican Party has 33 governors and now controls 32 legislatures. The losses grew steeper with every mishap, from the delay of the Affordable Care Act in 2009 to the standoff over the national debt ceiling in the summer of 2011. Yet after Obama's re-election, as the PBS Frontline documentary Divided States of America vividly recalled, he thought he was in 2008 again, the old mandate renewed, and would say to reporters in 2012 and 2014 just as he had done in 2010: 'the [Republican] fever will break.'
The most appalling item in this list is of course "the loss of 900 seats in state legislatures." That is indeed where opposition must begin. And it seems important that opposition be launched by more people who are not themselves oppositional, not outsiders. Bernie Sanders and Elizabeth Warren are unwelcome names in many political conversations. Why has the Democratic Party failed to groom candidates who are less "extreme"? I put the word in scare quotes because social progress is achieved in the long term by securing society's comfort, not by assaulting it.
In the end, white men must be persuaded to bring diversities of their own to politics. They can be the enemies of "diversity," or they can take a place in the diversity of Americans, a place to which they will rise or fall according to their individual merits. We know what their enmity looks like: it is regrettably fundamental to the "primitive" sects of all three of the Abrahamic faiths. We know that when men unite to thwart what they perceive to be a menace, they begin by assuming very unequal positions in a hierarchy rather more baroque than anything found among other animals. Inequality is the default setting; that is why the Enlightenment struggle for equality (for men!) was so protracted. The French Revolution and its aftermath showed us how spectacularly men can fail to overcome inequality — how readily, that is, they replace one form of it with another. Subsequent outbreaks of violence have confirmed the findings. In these interesting times of ours, we're learning how tenuous equality is even in a time of peace.
Mark O'Connell's report had little to say about the Transhumanist take on equality.
***
Friday 17th
Because I'm planning to give a small dinner party this evening, I've been taking it easy in the mornings this week. I did my shopping on Wednesday afternoon. Yesterday, I cleaned the kitchen and prepped a couple of things. Most of the cooking will be quickly done at the last minute, so I have to be especially focused on the steps of a couple of short-order recipes. There's the dishwasher to think of: I don't want the sink to pile up with clutter because I'm already running a full load. Nothing on the menu is particularly tricky (although there is always the chance that the Hollandaise might curdle), but I want everything to go smoothly and easily, and I want the food to be very good. So, for three days, I have allowed my ambitions as a host to suppress my appetite for writing.
And yet I feel obliged to punctuate the unusual silence with a note signalling my ongoing up-and-aboutness. The problem with such notes is their triviality. Hello, I'm still here! Well, so what. And I don't think for a second that a few sentences about culinary tactics are intrinsically interesting. It's not often that I have something to say that is briefly said. Whether that's a failing or not I leave it to you to judge. But today I do have a chuckle to share.
Why, I don't quite know, but when I was done with CV Wedgwood's history of the Thirty Years War, I had a notion of re-reading The Name of the Rose for the first time. I've watched Jean-Jacques Annaud's film adaptation dozens of times, but I've never gone back to the novel, or at any rate not read it through. I well remember my worries, back when William Weaver's translation appeared in 1983, about whether I'd "get" it, whether I'd see the design that the famous Italian semiotician must clearly have hidden in plain sight behind his medieval whodunit. (What was the name of the rose, anyway?) In the end, I decided that it wasn't very important — in other words, I didn't get it. I admired Umberto Eco's ability to load his narrative armature with heaps of lore and learning, and especially with urgent questions about the peculiarly European obsession with orthodoxy and heresy. And all that Latin! That labyrinthine library! I knew that the movie was signally unfaithful to the novel in many ways, but it was surprising that adaptation had been possible at all.
In the middle of the story, which takes place in 1327, the narrator, a Benedictine novice called Adso, encounters a young girl, in the kitchens of the monastery in which The Name of the Rose takes place, and is seduced. The movie's very predictable approach to this congress involves lots of heavy breathing, and an angel with a dirty face to heighten the contrast of Christian Slater's virginally pallid posterior. Although I had only read the novel the one time, this vernacular approach to sex seemed mistaken to me, and now I see why. Eco writes the scene as if he had never been outside a scriptorium, limiting Adso's description of what he experiences to the text of the Song of Solomon. It's pretty kinky, if you ask me; I always want to look away when I hear about those twin fawns feeding at lilies. The sheep coming from their bath? Well, it's true that my youth was not spent in pastoral surroundings.
And then, when looking gives way to touching, and Adso barrels along toward orgasm (without, presumably, knowing what to expect), his thoughts shift to his recollections, still recent, of seeing a very holy heretic burned outside Florence. The experience of sex is as purifying as a flaming pyre; sex and death meet again. And not once does Eco slip into the actuality of the situation. The girl's neck is the Tower of David, never a column of warm flesh. If fingers roam, they do so offscreen. The mechanics of entry and release are elided, hidden in a cloud of lucid but very literary earnest. I'm afraid that, grizzled old man that I am, I found the stunt most amusing. And refreshed, too: the tapestry of verbiage protected the couple's modesty.
Sad to say, my signed first edition was not printed on acid-free paper. A medieval touch, perhaps, but a most unwelcome one.
Bon week-end à tous!