Gotham Diary:
The Oxymoron of "Political Rally"
August 2018 (I)
31 July and 3 Augst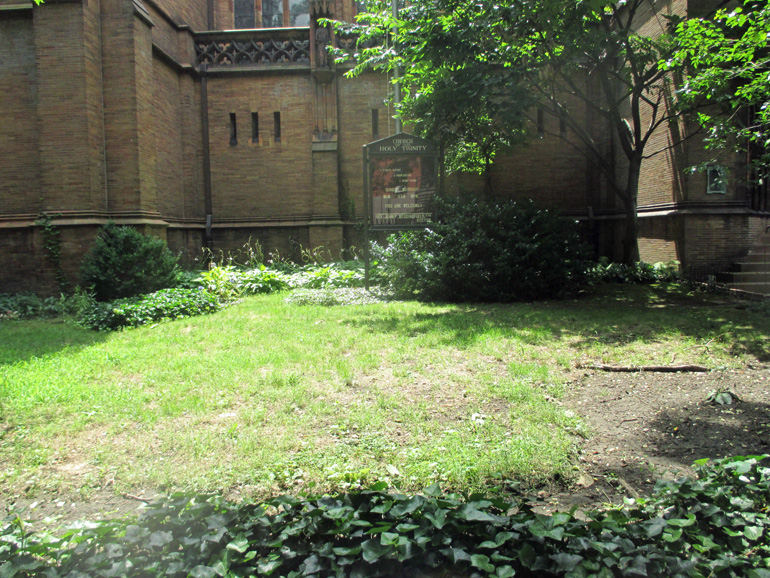 Tuesday 31st
Last week, I wrote a few lines about the anti-democratic thrust of neoliberalism. The neoliberal program endeavors to take certain economic options — principally the popular expropriation of foreigners' property — off the local menu, using global institutions such as the World Trade Organization to enforce its safeguards. This enforcement, so far at least, makes no recourse to the violence of military solutions. Rather, it imposes economic sanctions that make non-compliance uncomfortable at best. It does nothing to prevent nations from committing political suicide, as Venezuela has done and as Britain is in danger of doing. But suicide is pretty much the only expression of democratic sovereignty that neoliberalism allows.
I am unsympathetic to neoliberal objectives. For one thing, I believe, with Jane Jacobs, that local economies have to learn how to do their own growing. Simply importing capital investments is sterile, because local workers, no matter how well treated, learn little or nothing about doing business, and are therefore helpless when capital moves on to more lucrative venues. I also believe that trade between cities ought to be weighted in favor of short distances. I'm sure that you've heard that tale about the Scottish salmon that is sent in freezer containers to Asian processing plants for slicing and then returned to Scotland for sale. I believe that it's true, but even if it's an urban legend it's repugnant, an example of something that shouldn't happen. Finally, I regard the tendency of liberal economics to encourage the proliferation of rentiers as a weakness requiring counteractive vigilance.
But I was thinking yesterday that the mechanics of neoliberalism might provide the only solution to the problem of environmental degradation. Again, it's a matter of taking certain economic options off the menu. But instead of xenos expropriation, the principal no-no of climate globalism would be consumer recklessness. Consumers are reckless when they insist on access to goods whose low prices are made possible by the exploitation of natural resources and disregard for the unpleasant side-effects of manufacturing processes. The American belief that ground beef ought to be affordable by almost everyone — not just available, but available at an every day price — is a particularly blatant instance of consumer recklessness. I daresay that the nation's political system is incapable of confronting it, much less of curbing it. Sadly, American exceptionalism has already demonstrated our disinclination to subscribe to international environmental conventions.
I'm just about to finish reading a biography of Lord Palmerston, by James Chambers. Palmerston crowned his very long career as a statesman, principally in the Foreign Office, by becoming the first Liberal prime minister. Nevertheless, he remained steadfastly opposed to any expansion of the electoral franchise that would include uneducated voters without property. In his view, universal franchise in France merely resulted in the election of a tyrant, Louis Bonaparte. Liberal democrats have long since decided that, the risk of tyrants notwithstanding, every sane adult must be presumed to be smart enough to cast an intelligent vote. I often wonder if anyone today is really smart enough to vote. The implications of every choice are so often either bewildering or invisible. Somebody must decide what to do, but I wish that we were better at asking the right questions.
***
Friday 3rd
Is "category mistake" the term? Not really, but it certainly sounds apt. Regardless of their attitudes toward the President's policies, pundits and their audiences discuss his Administration in political terms, looking for the political outcomes of institutional rearrangements. But this sort of talk is of no interest to his fans. Perhaps it never has been, to the fans or the foes of any president. But Trump's fans are no longer pretending to evaluate their man in political terms. They judge him as an entertainer. I think that we all have to admit that he is indeed very entertaining, however gruesome the show is for those who aren't amused. It's a waste of time to regard him as a political figure. Trump may be a political zero (or worse), but it is meaningless to point this out, or to expect the observation to usher Trump off the stage.
There are many kinds of entertainment, but it seems to me that Trump owes his success to a mastery of the forms of entertainment that have replaced, in many parts of America, what used to recognized as religion. American religion used to be noted for its rejection of the entertaining qualities of high-church, old-world, mainly Catholic services. Even American Catholics have learned to live without them. But whether or not God is dead, Hell is certainly on the fritz. Now that the threat of hellfire is no longer a prod to virtue, austerity has given way to simplicity. Now that Americans have gotten used to being entertained wherever they go, rituals have been replaced by rallies. And in the age of the smart phone, a rally can be attended by masses of people who don't leave the house.
Similarly, the Republican Party has succumbed to a hatred of politics. The only thing that gives Republican politicians any pleasure is winning elections. They'll do anything to win elections, not so that they can exercise legislative power but so that they can prevent its being exercised at all. A dynamic legislature confutes the belief that entertainment is the only thing that matters. Republicans may not be capable of being entertaining themselves, certainly not as a body, but they're making sure that the spotlight rarely wavers from the White House.
The question is whether national political life can be revived without having to be recreated from the ground up.
Bon week-end à tous!