Sunday, May 31st, 2009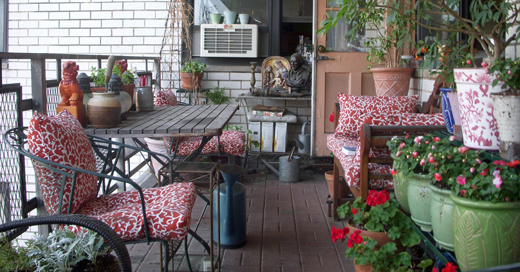 Rather late this year, but never more sweepingly, I whipped the balcony into shape over the weekend. No monumental cleaning was required; just a bit of potting. I have finally accepted the impossibility, for reasons unknown, of building a perennial garden on our balcony. (I suspect that emissions from the trucks on First and Second Avenues poses a long-term insult, at least to the potting soil.) I ran the knickknacks on the hutch through the dishwasher, and wiped down the marble ice-cream table, and that was that. Or rather, that would have been that if I had not been on a stuff-ridding rampage.
There used to be five very large tubs of dirt; now there are two. There used to be a stock of empty clay pots. Now there are two empty clay pots, and they're going to be filled with ivy the next time I make it down the street to Nicky's. there used to be a stack of old (and very dirty) baskets. Those have been tossed, along with the hamper that housed a friteuse that I no longer use. There used to be a Blue Italian teapot that I had repaired and repurposed as a planter. Gone. A neat halogen lamp that we had gotten our use out of. Gone, gone, gone. It was immensely satisfying.
(The hutch was Kathleen's idea: she had it built at Gothic Cabinet Craft (maker of everybody's starter bookshelves in this part of town), thinking that it would be nice to look at from our bed — as indeed it is. It's a bit the worse for wear, having spent six or seven (or more?) years out in the elements, but it hasn't lost a whit of its charm. On a rare weekend, Kathleen spends hours in the wicker armchair, knitting or poring over catalogues. On a good day, it's as nice as a cruise ship — a statement that I make in perfect ignorance of conditions aboard cruise ships.)
(The quaint bricks are actually a very durable plastic, installed by me shortly after the hutch arrived (it wouldn't have been before — oh, no). They're hollow and about two inches deep, so the step down from the living room isn't what it used to be, and rainfall puddles out of sight.)
Ms NOLA came to dinner last night, and we celebrated happy developments in her career. Dinner was not especially complicated, but we sat at the table until just past eleven. I had already chosen links for tomorrow's Daily Office, and I thought that writing them up would be a breeze. Ahem: Not after the bibulous evening, they weren't. (Sancerre, Gigondas, Perrier-Jouet) Oh, no. I could hardly read the html page of the WordPress interface, and any wit conferred by Bacchus appeared to have evaporated — cooked off, as it were. I clawed my way to bed the moment the entry was finished.
I was asked what I'm reading. What I'm reading! An interesting idea — reading. I really ought to give reading a try. All I have to do is to stop writing. It's too bad that I seem to be stuck in a tedious adaptation of a classic British film, called (in my case) The Red Keyboard.