Sunday, January 31st, 2010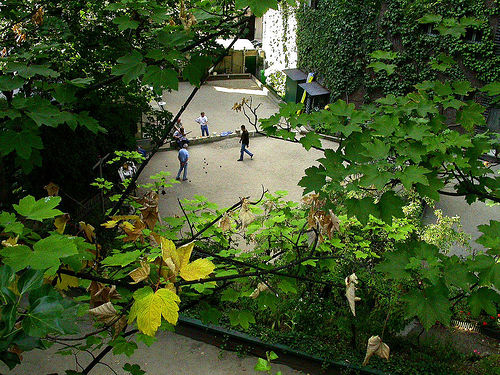 Montmartre, Paris. By Jean Ruaud.
Dear DB's readers —
Let's talk about Paris. What a Parisian guestblogger is for if he doesn't write about his city? I live in Paris intra-muros since twelve years and since my first visit here (I was ten and my uncle lived in the 16th arrondissement, close to the Trocadero gardens) I wished to live in Paris. So, it's a dream made true, if you like. But I don't live in posh 16th but in seedy 18th, in the north. My neighborhood, Barbès, is at the north end of Montmartre hill slopes, and is populous, multi-cultural, a bit dirty, with some traffics going on (drugs, cigarettes, mobile phones) and a lot of poverty. Why do I live here? Because the rents are low and, as I live in a somehow "gated community", I don't have to bother much with the neighborhood crowd.
Anyway, my neighborhood is not on the tourist tours schedules, but Montmartre, is very much. Montmartre is a tiny, quaint and beautiful neighborhood at the top of the eponym hill. From my home it's a mere twenty minutes walk to go at the top, a steep walk with many stairs, but not a long one. From my windows I see the Sacré Coeur dome, illuminated at night. The Sacré Coeur is the most coveted tourist destination, from the esplanade in front of the basilica you have a wonderful view of the French capital. The sightseers crowd the esplanade and the Place du Tertre nearby but seldom spend the time to explore the narrow streets on the slopes. However this is my favorite place in Paris, these winding streets lined with beautiful houses, a very quiet place, not much cars, not much people, some old mills, many grand old houses, beautiful apartment buildings, little greens and a lot of little art shops and cafés, little groceries and pâtisseries. Montmartre is the place where I go when I want to take photos, and I have thousands of them in my collections.
So, if you visit Paris, even for a short time, I recommend you to walk those sometimes steep and winding little streets on the slopes of Montmartre. It really is Paris, a well preserved neighborhood, and my favorite.
Later,
Jean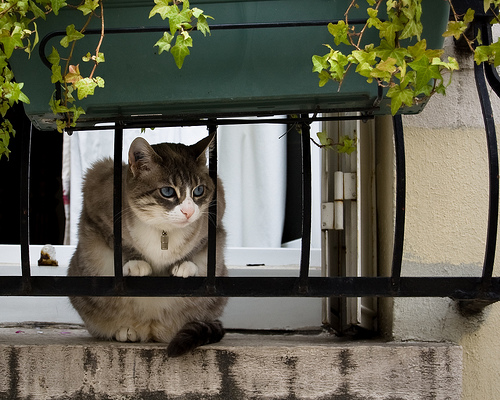 A citizen of Montmartre. By Jean Ruaud.