Saturday, October 31st, 2009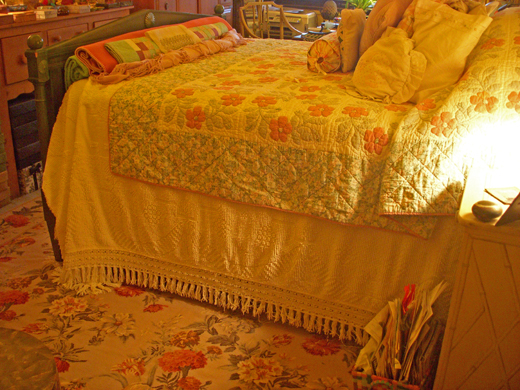 Although no one has asked, I know that you're all dying for a look at the new rug. That's the sort of intuition to which may brain has been reduced by this month of low-key, low-budget (but not, in the aggregate, inexpensive!) domestic upgrade.
As I wrote (in gratitude) to Quatorze last night, every time I walk into the bedroom, I want to drop to my knees and say a decade of the Rosary.
***
We began shortly after eleven, and finished at about two-fifteen. By the time Quatorze arrived, I had emptied the room of most small things — the desk chair, the hamper, the old tea table — leaving only the nightstands and the bed to contend with. I had warned Quatorze that we might have to empty the tall bookcase in which Kathleen keeps her collection of old children's books and her accumulation of books on knitting, needlepoint, and beading; and I was glad that I did, because it would have been an unpleasant surprise indeed to find that this was so. In the event, foresight made the task bearable. By then, we had lifted the massive mattress off to one side, stood the box spring alongside it, and carefully tilted the bed frame — long ago bolted together — so as not to put too much torque on the two supporting legs. We had then rolled out the padding and then the rug (bear in mind, please, that Quatorze was a good 80% of "we") and replaced the bed.
So now we had only to remove the books from the shelf (carefully, so that they'd be easy to re-shelve), carry the bookcase around the bed, finish rolling out the padding and the carpet, and replace the bookcase and finally the books. A lot of vacuuming and dusting was done along the way; we really ought to have been wearing surgical masks. Once the desk was back in place — it's much heavier than it looks to be — I decided that we ought to break for lunch.
Afterward, Quatorze came back to the flat and re-hung some pictures in the living room. The paintings over the newly re-upholstered love seat, which has a somewhat higher back than the sofa that it replaced, were "driving me crazy," he said. At about five o'clock, declaring that he would be burning his clothes, Quatorze left for home, and I went back to the bedroom for a few hours of Putting Things Back. When everything else was tidy, I made the bed.
And that was that! It was deliberate and methodical, if I may indulge in surplusage. "Deliberate and methodical" is Quatorze's normal setting, but it isn't mine; what came to my aid was an extended fatigue that has crushed my habitual impatience. I had neither the energy nor the snap to get cute. I plodded along tortugously. Eventually, it was all done.