Wednesday, October 26th, 2011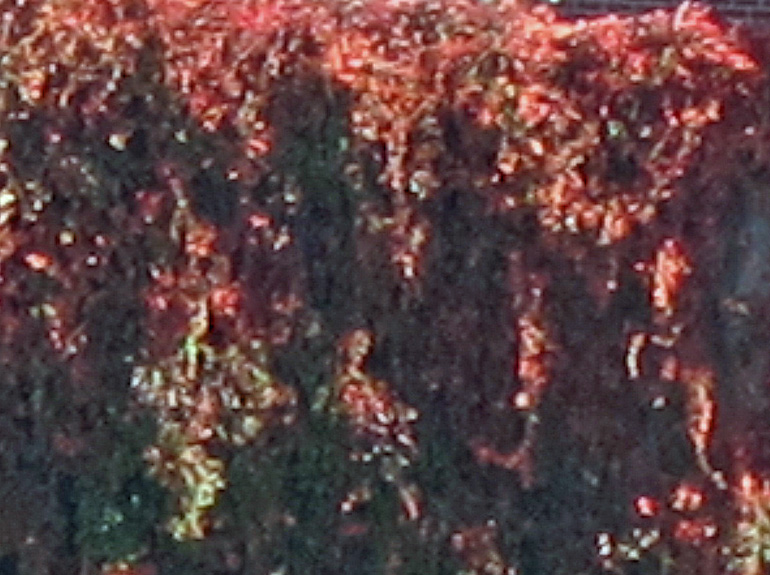 I can't say that I'm very happy with this photograph. I could not manage, in more than fifty images, to capture the crispness of each leaf on the mat of vines that covers the back half of the side wall of a building fronting 87th Street — not really that far away. I fiddled with every dial and every setting that Dennis Curtin's Short Course linked to sharpness. Perhaps I ought to try my skill on a somewhat closer subject. Perhaps manually setting the focus to infinity is overshooting it. If anyone has any ideas, you know where to get me. In a few weeks, when the leaves fall off, the white wall will be crazed with woody ropes. That would make a good picture too, if I could capture the detail so sorely blurred here.
***
I was in a mood to stay home and teach myself photography, yesterday, but I had a ticket in the drawer that I could not let go to waste. Ensemble ACJW is a group of young musicians — but I'm not even going to try to summarize the humanitarian goulash of mission statement that takes up a page of the program. The musicians comprising the Academy ("A") are recent graduates of Juilliard, Eastman, &c. ("J") They commit to teach music, on some unspecified level (and with very unspecified frequency), at New York City's public schools. (No initial for this.) Now they are giving recital series at Weill Recital Hall (that's what the "W" stands for), which is of course in Carnegie Hall. The name of the group left me wondering whether the nation's business schools or Central Marketing will be the death of this country.
The Ensemble's first program of the season served double duty as an entry in "Tchaikovsky in St Petersburg," a curious title for a string of musical events actually intended to commemmorate the composer/conductor's opening concerts at Carnegie Hall in 1891. (It was there that music from the Nutcracker was first played anywhere.) As their contribution, the Ensemble offered a performance of Tchaikovsky's Piano Trio in a, which is perhaps best thought of as not just another piano trio. Works by Glinka and Arensky filled out the first half of the bill. As cellist Yves Dharamraj pointed out in his remarks before the Arensky, the three works on offer covered the variety of musical direction taken by Russian composers in the Nineteenth Century. Happily, the actual music was more than edifying.
Glinka's Trio Pathétique for Clarinet, Bassoon, and Piano — well, pathétique can only mean that it is written in the latest European style. Written in 1832, it bears all the hallmarks of music and art dating from the Silly Quarter (1815-1840). The first movement was free-ranging if not absolutely incoherent, but the second and third movements did a better job of imitating Weber (who wrote so well for both clarinet and bassoon) and, through him, the frill and fun of bel canto roulades. Alexey Gorokholinksy deftly met the score's virtuoso demands, but Shelley Monroe Huang performend the slightly more remarkable feat of making her bassoon sound like a chamber instrument in need of larger repertoire. For pianist Marina Radiushina, the work must have served as a welcome warm-up to her second-half challenge.
Then we had Anton Arensky's second String Quartet, an oddity calling for two cellos instead of two violins. It's a lovely piece, but I spent the entire second movement trying to remember more about the LP that tacked the quartet's theme and variations, adapted for a full string section, onto a recording of Tchaikovsky's famous Serenade. It's really the only Arensky that I've ever known, and I never knew that it came from a string quartet. Emily Popham Gillins, Mr Dharmaraj, and Hamilton Berry all played very well, but it was Margaret Dyer's strong viola that caught my ear.
Mr Berry came to the fore in the Tchaikovsky, which he played with Ms Radiushina and violinist Keats Dieffenbach. He played with a passion that would have set the house on fire if Ms Dieffenbach had shared it. She played extraordinarily well — like a god, as they say — but the collegiality of top-notch chamber music was missing by a hair. Tchaikovsky hadn't wanted to write chamber music for strings and piano; like almost everyone who wasn't a German, he found the combination of bowed and percussive sounds indigestible. But the death of his mentor, Nikolai Rubinstein, jarred the composer into a change of heart, and the piano trio, nicknamed "Elegiac," is the result. Tchaikovsky resorts to a couple of devices to soften the clash between the violin and the cello, instruments that had not been changed since early in the previous century, and the piano, which had recently been reconceived for steroid-ophonics. One is to subdue the keyboard with burbling arpeggios. The other, to very opposite effect, is to keep the strings in bold unison.
I had only the dimmest memory of the trio befefore last night's performance, and what I remembered was that unison writing. I remembered it for the same reason that I had for not getting to know the trio better. Mr Berry and Ms Dieffenbach may not have infused their performance with white-hot surrender, but they did play the unison passages in tune. It was not so on the recording that introduced me to this work (a late offering, as I recall, of the Heifetz-Piatigorsky collaborations). I thought, callow youth that I was, that Tchaikovsky's unison writing was bare and uninspired, and the venerable musicians' meandering did nothing to suggest the power that can be attained by setting strings soaring together over a thundering Niagara of piano music. That was last night's surprise. I saw that Tchaikovsky knew what he was doing, and I was quite stirred by it.
Here's how good Hamilton Berry is: as a young man, he's a bit woolly and indistinct, prone to shuffle on and offstage in a self-effacing manner that Mr Dharamraj, for one, ceertainly doesn't share. But when it came time for the waltz variation in the vast second part of Tchaikovsky's trio, the otherwise unprepossessing cellist became an Ethan Stiefel. There was no way that a man who could play that well couldn't dance that well — or such was the illusion.