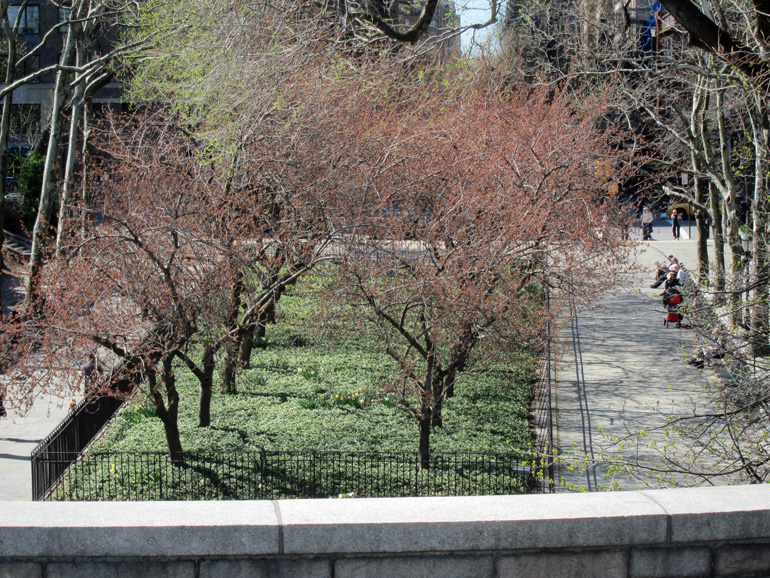 Kathleen is having a big birthday today: Certain Age + 1. There is a zero in the actual figure.
At a favorite French restaurant down at the other end of 86the Street, a small group of usual suspects will gather to celebrate.
***
When I finished the bowl of cereal and stepped back into the apartment, I couldn't see a thing. My eyes had narrowed in the morning blaze out on the balcony. I did not linger after my  small breakfast; although my head was in the shade, my knees weren't, and I've learned to dislike the feeling of sun on my skin except in the very coldest weather. It now feels like planting cancer. So I came back inside.
But for a few moments, I felt in the city. I felt a part of the bustle, even though I was sitting still in an armchair. That is the luxury of a well-placed balcony. Not too much wind, and plenty to look at. Soon,  Roofhampton season will begin (thanks, Roz Chast!). The sight of young people stretched out on beach towels on the tarred roofs of the nearby walkups makes me feel especially comfortable in my armchair.
Planes coming into land at LaGuardia from the south are visible, flying low to the ground, between two buildings a few blocks east of here. You expect them to reappear beyond the second building, but they never do, possibly because they have landed, probably because they have dipped behind a low hill just to the west of the airport. No matter how many times I see planes vanish,  they still vanish, and it's minutely unnerving.