Gotham Diary:
Boxtops
February 2018 (III)
20, 21 and 22 February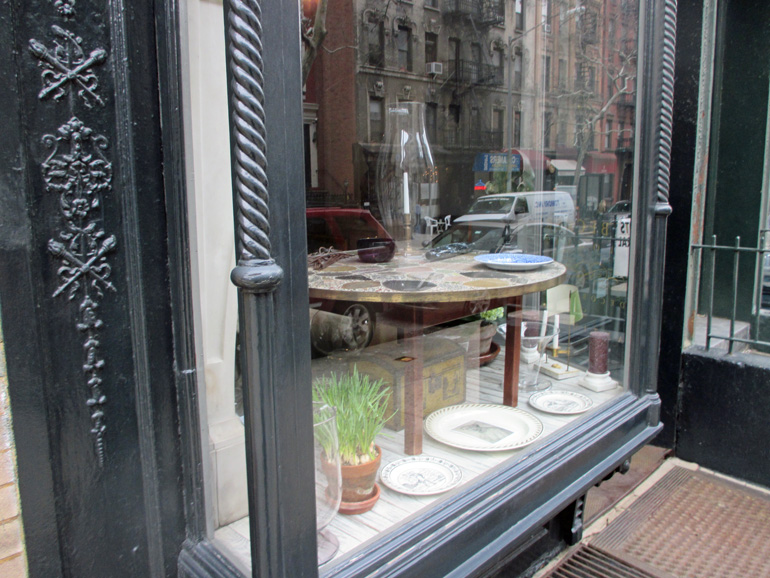 Tuesday 20th
Because a friend of mine was reading it, I thought I would read it, too. The subtitle was certainly intriguing: The Glamorous Story of English Grammar. But there wasn't much in David Crystal's Making Sense for me. It is a pedagogue's book, intended for parents and teachers who want to help children speak and write as well as they can. Frequently quite witty, it made it laugh a lot. Here are two lines from a delicious verse that Crystal quotes (they come from a poem, published in a 1924 issue of Punch, that mocks the use of Latin plurals in English):
May the man who says 'gymnasia'
Be afflicted with aphasia!
But I did not find the book at all glamorous.
I'm not altogether sure what grammar really is. Where does grammar stop, and rhetoric begin? You can draw lines where you like, but they dissolve in the heat of use. A fluent speaker is conscious of neither. Rules governing the parts of speech and the ordering of words have been mastered and are reinforced by the everyday stream of sentences. Rhetorical strategies for persuasive argument have become instinctive. Out of grammar and rhetoric, the good writer forges a personal style, a kind of very local accent with only one speaker. The challenge is to develop a style that is pleasing, distinctive, and yet readily intelligible. There are no handbooks for that, although F R Lucas's Style is stuffed with things to keep in mind.
Genuine rules of grammar deflect the writer from ways of saying things that will slow readers down by making comprehension difficult or impossible. Prescriptivist rules, such as the notorious ban on split infinitives, are points of style masquerading as grammar; indeed, the whole prescriptivist program betrays an attempt to infuse English with Latin manners. I acquired the rudiments of my own style at a time when splitting infinitives was not worth the trouble — the cocked-eyebrow reactions — so I learned not only to avoid splitting infinitives but to avoid the occasions of splitting them as well. I don't think that there's anything wrong with them, except that they're usually ungainly.
Working in radio for several years taught me to speak almost as scrupulously as I write. And writing as many as 2500 words a day on this site has taught me to write as personally as I speak — to resist the rather architectural urge to offset my native long-windedness by means of unnatural compression. (You may be sure that, in the course of reading each entry through before publishing it, I remove at least one semicolon.) More important, and more difficult, than either of these is the ongoing effort to be a better listener. Listening well is more than a virtue: it is not until we listen that we know our own minds. People who don't listen know only what they think they think.
It's like everything else: you become yourself by paying attention to everybody else.
***
Wednesday 21st
Reading Ronan Farrow's latest New Yorker exposé, this one about the President and the "slim brunette" whom he met at an Apprentice party held at the Playboy Mansion, I reflected on Hugh Hefner, who probably did more than anyone else to bring us to the #MeToo moment — that is, to make #MeToo inevitable.
The premise was always ridiculous: Playboy would domesticate male sexuality. Perhaps there was something about the Cold War, that great unhinger of steady thinking, that made this objective seem possible, even desirable. In any case, the premise, stated in another way, insisted that there was nothing pornographic about Playboy's everyday exposure of bare breasts. On the contrary, those images of naked bosoms would nourish healthy libidos. (There really was a midcentury anxiety that men were becoming lackluster lovers.) Lounging amid the ponds of print in which Hefner's "philosophy" and his talented writers' hip arts criticism were made to look soberly adult, the rosy nipples of smiling beauties would arouse a response that could not really be called impure, because, after all, the walls of the great museums are covered with the same sort of thing, and as long as actual genitalia were cropped out of the shot, how erotic could Playboy be?
But Playboy was about access, not eros. You could buy the magazine, for one thing. From the start, it proclaimed itself as being a respectable publication — a somewhat ironic move at the very moment when the social architecture of respectability was beginning to collapse. Newsstands carried Playboy right next to Time — or at least somewhere in the same rack. While bringing the magazine into church might be frowned on, Playboy wasn't something that had to be kept hidden. You could let the world know that you had access to the centerfold, to look at if not wherever then at least however you wanted to.
You could go to a Playboy Club. So much has been said about the indignity of pouring women into bunny suits and making them behave like playthings that our attention has been directed away from the fact that the clubs provided access to this kind of fun. They made it available, at least in the major metropolitan areas. It might not have been much fun for the girls, but they did the job, for whatever reasons of their own. That was their business, and all it took was money. But you weren't buying flesh by the hour. You were buying access to the company of pretty girls, girls who smiled at you when they brought you drinks.
Playboy promised a supply of willing young ladies who might be willing to follow dinner at a romantic restaurant with a visit to your bedroom, and who then afterwards, like Karen McDougal (the slim brunette), might sweetly decline any payment. Imagine that! It's almost as though the girls learned about the world from Playboy, too!
Now, none of this would have been news to the old Hollywood moguls. But very powerful men were rare back then, as indeed they always are, and it was not difficult for them to behave with discretion. But Playboy, however coy it was about pubic hair, threw sexual discretion to the winds, and it invited every healthy male with a modicum of disposal income to join the party. In the fleshpots of New York and Hollywood, the fun became so pervasive that the moguls themselves became brazen. I don't think that Harvey Weinstein would have believed that he could ask Gwyneth Paltrow for a massage without being laughed at if it hadn't been for a lifetime pickled in Playboy. If not the magazine itself, then certainly its philosophy, as American as latte grande.
When I think about all the grave discussions about Playboy that I sat through in college, debates that always ended with a judgment in favor of the magazine — it was serious, it was okay; it wasn't prurient — I can't decide whether to laugh or to howl in outrage. Of course, there were no women at Notre Dame back then. The women were all across the street, at St Mary's. As I recall, Playboy was not delivered to campus mailboxes (the university had its own post office). That had been true of Time, too, at one time. Looking back, I'm glad that the school put up some resistance to Hugh Hefner, just as I'm grateful that it prohibited fraternities of any kind.
Maybe the Playmates were okay. But the fact that most of the women who appeared in Playboy were in a state of undress was not okay. And yet the confinement of women to cuddlesome contours was precisely the whisper of access that misled several generations of American men.
***
Thursday 22nd
Facebook. If it weren't for my daughter and a friend or two, I'd cancel my account. Can you do that? In today's Times, Farhad Manjoo warns that we may soon be living in "Alexa's World." I think that we'll be giving that a pass. If Facebook can morph into the destroyer of democracy, what's to stop Alexa from summoning armed drones to exterminate the peons?
Yesterday, I read a piece in the New Statesman about Jacob Rees-Mogg. They say that this man of archaic, not to say reactionary outlook can never lead the Conservative Party in Britain, but they said that a grabbing lout like Donald Trump could never lead the United States. It's arguable that nobody knows anything about Western society anymore. It seems apparent that élites everywhere have provided themselves with gala echo chambers. How many Democrats, how many Remainers failed to vote because they were assured that their cause would prevail? On the other hand, say that Hillary Clinton won a couple million more votes than her opponent; does that make her more representative of the American people? How is it possible to represent a polarized body politic?
How did life-and-death issues like abortion and gun control become so divisive? How do we explain the failure of clear-headed leaders to be both more calm and more persuasive? My wife recalls a recent conversation in which a man told her that it was good to have assault weapons in the house because it would "improve the odds" when the government attacked. Whence this mad fantasy? Please point to the well-armed, innocent American who saved the lives of himself and his family from official assault. Ruby Ridge and Waco are not good examples! Whither do rogue males escape?
How long do people have to poke at an iPhone before abandoning the dream that it will surprise them with undreamed-of delights? Why does one person talking on a phone sound so much louder and more intrusive than two people talking together?
Why does everyone deny being prejudiced? How did we ever get so comfortable looking the other way?
For the answers to these and many other urgent questions, send a gold doubloon and forty boxtops to Basil Fawlty at his place in Torquay.
Bon week-end à tous!