Gotham Diary:
Tops
January 2018 (I)
2, 3 and 4 January 2018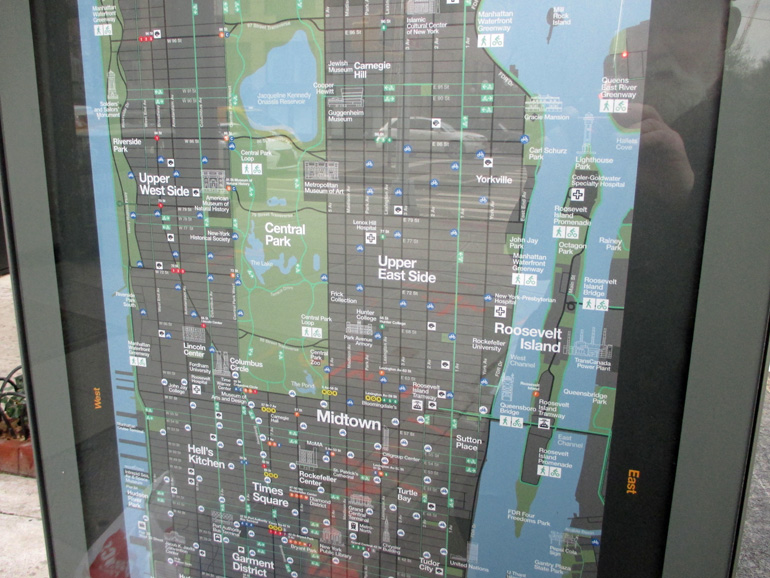 Tuesday 2
Halfway through the book, I've already flagged a dozen passages with Post-its. Tina Brown's The Vanity Fair Diaries (hereinafter "VFD") has turned out to be amazingly more important than I thought it would be. I expected fun, guilty pleasure, recollections of youth, that sort of thing —  vanity, in short. I dithered for weeks about buying the book at all, finally justifying its purchase as a holiday treat. I did not expect to like Tina Brown.
Whether I would like Tina Brown in person is neither here nor there. But on the page, she appeals to me as winningly as the heroine of any novel I can think of (except perhaps Emma Woodhouse, who has her own heaven). Tina Brown is smart and good in almost equal measure, and the difficulty of determining which quality is preponderant makes for suspenseful reading. Her brains are obvious — prodigious brains, three or four times more charged than my own were at the time (and I'm five years older). Of course she captures the rush, rush, rush of New York's media life, the thrill and occasional despair of taking on a chancy publishing project (advertisers took a while to catch up with Vanity Fair's circulation), and I helplessly hear these dramatic passages as if Helen Mirren were reading them. But Brown's range is as wide as any good novelist's, and sometimes she steps back to transcribe a conversation (more likely an argument)  in which she herself does not take part. Once she becomes a mother, she reveals a streak of serenity that must always have been there. But she never spares herself. From an early entry:
Everyone at the party was so famous but unfortunately I had never heard of them. I said to Shirley MacLaine, "What do you do?" She gave me a manic, hostile stare and went on talking to Ed Epstein about how he should research a book about flying saucers. (43)
What grips me, though, is the sense that, even as she roars from success to success, Tina Brown is making a terrible mistake, in the way that we watch Isabel Archer make a terrible mistake in The Portrait of a Lady. The difference is that Brown's mistake concerns not her personal life but American culture. The nature of the mistake glimmers in the final entry for 1984:
We are seeing the invasion of DC by California and Park Avenue, the fusion of Women's Wear Daily values with Washington Post power watching, a cast of characters who see everything through the lens of Hollywood and Le Cirque. It's perfect fodder for a magazine called Vanity Fair. I have been experiencing the endless round of black-tie dinners and openings as a trivial sidebar to the main event. But now it seems at this moment they are the main event, central to understanding how the money moves around and why. It could all collapse and we will see it as some fin de siècle gallery of grotesques and wish we had been more attentive. (127-8)
Attentive to what? That Tina Brown, endowed with ultra-sensitive antennae, could be missing something is hard to imagine. But her remarks betray the fact that the important thing that's possibly being overlooked is not small. It is not elusive or difficult to track down. It is as huge as the country itself. It is the coalescence of all the various local, state, federal, professional, industrial and financial élites into one mass of equalized celebrities, held in balance by "the money."
It is easy to dismiss glamour, but just as easy to underestimate its power, particularly when a genius like Tina Brown figures out how to bond it with seriousness to produce a brand-new compound with miraculous properties. From late 1985:
Just in from a soirée for the cabaret pianist Bobby Short. Some diamond-studded socialite crooned at me, "My dear, you have certainly found your audience, and it's me! Vanity Fair is a society movie magazine. You don't remember what they are, but you're it." She's half-right. But it's more the VF attitude to fame and the mix of stories that ensnare the reader with juxtaposition. We give intellectuals movie star treatment and movie stars an intellectual sheen and the same is true of the audience. Brainy people in our pages seem more glamorous and movie people seem more substantive. I love putting madcap Princess Gloria von Turn und Taxis in the same issue as Schiff's profile of the editor of the National Review. Both of them are hidden stars in their own world, but combined in a magazine that has Dustin Hoffman on the cover, they confer fascination on each other. It's funny how sometimes the mix takes on a life of its own and goes off the cliff. The January issue is suddenly so full of people with bald heads that I had to kill three of them today. (176)
Reading this thirty-four years later, at the beginning of the second calendar year of the Trump presidency, I gasp at the unwitting adroitness with which Tina Brown and her staff made straight in the desert a highway to the White House for the man whom she compares, in these pages, to Elvis Presley. Vanity Fair became a universal directory of notable Americans, splitting the nation into teams of those who would do almost anything to break into its pages and those who could be stoked into hatred of established institutions by carnival barkers who mocked its membership. Worse, the people with listings in Vanity Fair were distracted from their regular duties by the "trivial sidebar" of showing up to honor their hordes of peers, not to mention the stress of looking after "the money." There are moments in VFD when Tina Brown sounds like a naval architect who has just designed a cruise ship to capsize in a tsunami.
As I say, I'm only about halfway through. I expect that I'll have more to say. My feelings toward the heroine of VFD are forgiving. She came from a small country where the élite has for generations come from a handful of schools, and everybody has always known everybody else. With just a couple of issues under her belt, Tina Brown opined,
America is too big, too rich, too driven. America needs editing. (96)
I agree, but maybe it's a good thing that, unlike Tina Brown, I couldn't do anything about it.
***
Wednesday 3rd
Then there is that magic place, which Tina Brown calls "Transatlantica."
That place between England and America is the only world where I can be happy now. (308)
In the kingdom of Transatlantica, well-dressed people with well-dressed minds work hard during the week but luxuriate in well-upholstered tranquillity during the weekend. There are two capitals. One is very charming, as cities go, and it is surrounded by sopping green lanes. The other is the acme of excitement, and it is within reach of one of the world's longest beaches. A handful of grand old universities nourish rigorous learning alongside quaint, antediluvian tradition. The students are bright young people who go on to rise to the top in their professions and produce more bright young people. Transatlanticans share the general human interest in sex, but they have a peculiar passion for talk. They publish all the books printed in English, and little of cultural note happens outside of their realm.
If you ask me, it was inordinate belief in the magic of Transatlantica that put Donald Trump in the White House and that may put the United Kingdom out of the European Union. Transatlantica does not exist. Its would-be inhabitants share real-world citizenship with millions of men and women who have never heard of it, and would resent it if they did.
For some people, climate change and global warming are the big problem. For others, it's late-stage capitalism and the unintended side-effects of a global economy. For me, it's the tendency of every thoughtful Anglophone to find companionship if not comfort in London or New York. Or rather, it's the tendency of Transatlanticans to imagine that the lives that they feel very lucky to enjoy would be desirable by all.
After the beauty of the [Elkhorn Ranch in Arizona] the Tucson mall was disorienting and depressing: a sprawling, characterless mess of Kmarts and gas stations and drugstores. As we drove around in the blinding rain, or cruised down the fluorescent-lit aisles of throbbing products in the gigantic pharmacy where we went to collect G's prescriptions, I thought how this is an America I will never warm to, America as a huge, vacant, product-filled, centerless, culturally sterile parking lot. It's fiercely alien to me and in a way I'm glad that it is. If it weren't, I'm not sure I'd be able to successfully edit Vanity Fair. I might not have the confidence to choose with uninhibited focus what interests me to read about. (ibidem)
I am no fan of fluorescent-lit aisles. But I can remember when they didn't exist, when American shops were dingy and poky, just like everybody else's. I can remember when, in the Seventies, the big Targets and Kmarts went up in the center of parking lots, their merchandise plentifully arrayed on clean, brightly-lighted shelves. We were all wowed. Nobody expected Tarjay to be charming, but nobody expected it to be ubiquitous, either, and it took a while to realize that these emporia were really warehouses, the merchants having been swept away with the dust. That's when it dawned on educated Americans that their country had become "huge, vacant, product-filled," and so on. But it was only the educated who had these misgivings. Everyone else just parked the car, ran in for whatever was needed, paid for it, and ran back to the car again. No biggie.
Education has failed Transatlanticans in one respect. It has not helped them to live with their uneducated countrymen. To be sure, when Tina Brown was writing her diary entries, it wasn't so obvious that education ought to have forestalled, instead of perversely feeding, the mounting contempt with which educated Britons and Americans regarded their uneducated neighbors — who, of course, soon ceased to be neighbors, as the affluent segregated themselves in expensive conclaves. Education appears to have taught that it's the lack of education that's the failure. I only hope that this mistake won't turn out to be as fatal as contempt for the common people was for the French upper classes not much more than two centuries ago.
It goes without saying that I'd be a happy Transatlantican myself, if I could, if it were possible. But it isn't. I can't even pretend to believe in Susan Sontag's metaphor about Manhattan, as an ocean liner tied up to the docks of America. For one thing, guess where Donald Trump has lived for most of his adult life.
***
Thursday 4th
Regular readers, if asked to free-associate from the name of Tina Brown, would probably sooner rather than later come up with the word "glitz." This isn't because Brown or her Vanity Fair were particularly glitzy, but were rather taking the whole fun of glitz way upmarket. Anybody might look at her magazine, but only educated people could read it, or would want to. That meant us. It had been a long time — more than fifty years — since the likes of us had been tempted by qualities spelled with the letter 'z.' When Tina Brown took over Vanity Fair, glitz is pretty much all we saw. We would not have been surprised to read Brown's judgment of one piece that appeared in an issue of Vanity Fair before she got her hands on it: "There's a brainy but boring Helen Vendler essay next to an Amy Clampitt poem…" (26) Helen Vendler is never boring, but she might, admittedly, be miscast in a publication devoted to the more ephemeral manifestations of wit and sophistication. We would have ironically clucked that Vendler isn't glitzy enough for Vanity Fair, but we would have been wrong to think that that meant there was something wrong with the magazine.
There is very little glitz in VFD. Brown notes several lunches at the Four Seasons over the years — she must have sat through dozens — but it's always for business, and such pleasure as is on offer tends toward the mordant. (The patrons are all "plotting each other's downfall.") The restaurant itself leaves her cold, as indeed it did me the couple of times I was there and Kathleen the many more. "So antiseptic and colorless. Why do power people want to go there?" (ibidem) Why, indeed? After a while, the bold-face names that stud the VFD entries shrink a bit into who they actually are: people Tina Brown knows and, on occasion, must put up with. And do business with. Tina Brown likes to do business, if it's the media business. She loves competition and is always elated by success — no false world-weariness here. Her house at Quoque is a blessed asylum, but, like Horace, she would always like to be in the other place. She is onto that about herself, though, and self-pity never has a chance.
Readers who think of Tina Brown as glitzy might feel justified by the passage that I have copied out below, but I beg them to study it until it becomes clear that no merely glitzy, or even significantly glitzy writer could have composed it. It is a masterpiece of expanding view. Beginning with "what I wore" it widens by sure steps to include the full-throttle, almost hilarious vitality of a Costume Institute opening in the Eighties. I know — I went the year before. (Strictly B group.) Fashion may be vain and silly, but it is also utterly human, and virulently infectious. And I think it's pretty clear from Brown's tone that this is an experience that would pall if it were not always presented in new settings and with new people. There can be only one Costume Institute opening a year. And the secret, which has been lost in the social insecurity state, was that the doors were flung open much wider in those days; the event was not nearly as exclusive as it would become.
It's also worth noting that any man who expressed such open pleasure at simply being somewhere would almost inevitably be gay. Why is that?
I borrowed a silver velvet evening coat from Jackie Rogers to wear over a thin black silk full-length evening sack she made me to hide the bulge. A professional makeup artist came to do my face, which I didn't much like, but it made me feel suitably glam. I loved the excess and finery and ostentation of it all, teetering past the Egyptian mummies and fading frescoes in our silly heels, herding into an elevator in a clash of perfumes and rustle of silks, disembarking into the darkened Costumes of Royal India show to oohs and aahs over outsize gold mannequins swathed in glittering silks and jewel-encrusted turbans, with the appreciative murmur of visiting Indian high society and the excited chatter of Gayfryd Steinberg and her posse. The walkers were out in force — the mincing gait of Peter Schub with Lynn Hyatt one arm and bouffante Judy Peabody on the other. Reinaldo Herrera in a tux has the inverted A waist of the society man par excellence, escorting on his left hand his lofty, expensively-coiffed mother, on his right, Carolina, his Eva Peron-like wife. After dinner we wandered into the Temple of Dendur, where Peter Duchin was pounding the piano and a million candles lit the drafty spaces where the B group, who didn't get seated, sparkled and networked and hustled. As Nick said, the bravery. This is what I appreciate most about the city at night, the life force of New York aspiration, wanting, wanting to be seen. The erratic flames of the myriad glowworms — the striving fashion assistants, makeup artists, art gallery gofers, photography apprentices, gossip stringers, all the glamour wannabes dressed up with their "looks" in place. How they danced. How they gestured and waved and admired one another's glad rags, cutting like flamboyant tugs through the sea of jaded vessels such as the SS Jerry Zipkin and the SS Barbara Walters. This is the moment when the social energy of the city — in Diller's word — metastasizes, when individual crassness and need are absorbed into the bedazzled, glory-seeking hum of "Look at me! I'm alive!" (179)
Bon week-end à tous!