Monday, January 31st, 2011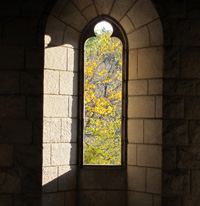 Across, the river, in the Little Egypt part of Astoria, the locals exhibit a progressive grasp of American foreign policy.
Today, there are at least 10 mosques in Astoria, several Arabic newspapers and a flourishing cultural scene that is attracting young hipsters from Manhattan. The 2006-2008 American Community Survey found that roughly 14,000 Egyptians were living in New York City, though community leaders say the actual number is higher since some are undocumented.
For some of the Egyptian-Americans of Astoria, who have long prided themselves on their assimilation into American life, the events in Egypt have tapped into divided loyalties. Many expressed support for "Barack Hussein Obama," revered by many in the Arab world for his outreach to Muslims. But they also chastised him for what they described as his tepid rebuke of Mr. Mubarak and for American hypocrisy in the Middle East in general.
Mr. El Sayed was emphatic that he identified with both the protesters on the streets of Cairo and the man in the White House. "The U.S. has always supported tyrants, look at the shah, look at Saudi Arabia, we even supported bin Laden. So in Egypt we are now playing the same game by supporting Mubarak," Mr. El Sayed said as he prepared his mother's recipe for baba ghanouj, a dish of mashed eggplant. "But I would give my life for this country. We Egyptians here are American, and proud of it."
But others said their patience with Washington was being tested. "Why doesn't Mubarak appoint Obama, Hillary Clinton and Joe Biden to his new Cabinet since they are the ones who are saving him?" asked Hani Abdulhamid, 30, a filmmaker originally from Aswan, in southern Egypt. "They say he isn't a dictator because he works for them."
For those not lucky enough to emigrate to the United States, radical Islamism just might be the only response to American-suppolrted tyrannies.