Monday, April 25th, 2016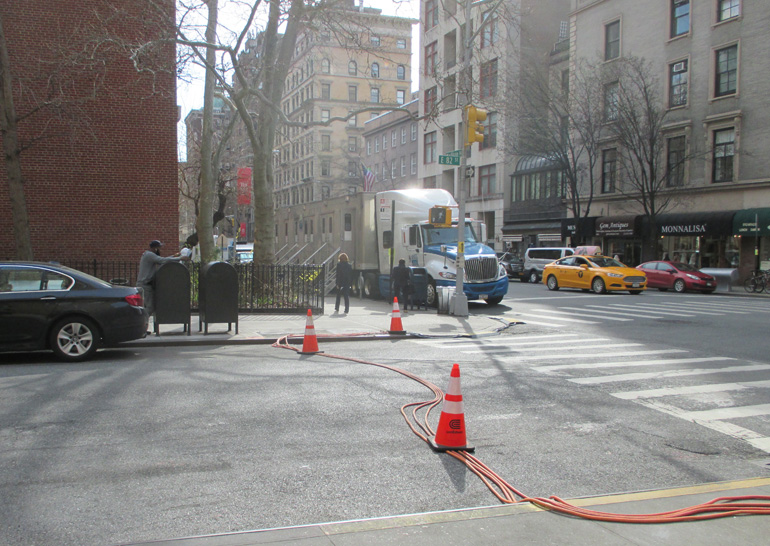 25, 26, 28, 29 April
Monday 25th
In the final pages of In altre parole (In Other Words), Jhumpa Lahiri mentions her last book, Lowland. Except that, writing in Italian, she calls it La Moglie (The Wife). That is the title of the Italian translation by M F Oddera. Presumably, Lahiri was involved in the decision to give Lowland a different title for Italian readers. But it is nevertheless surprising to hear the unauthorized title from the writer's mouth.
Does Jhumpa Lahiri still exist? As a woman of flesh and blood — or flesh and bone, as Lahiri has learned in Italian (carne ed ossa) — the answer is "yes"; but, existentially, as a writer, the answer is, possibly, "no." Existentially, at least, there is another woman going by the same name. She is another woman because she thinks, reads, and writes in another language — if, that is, she still does, now that she is no longer living in Italy. Lahiri ends the book in a state of doubt. What will she do? She is honest enough to say that she doesn't know. How quixotic will it be, in America, to go on avoiding English texts — newspapers and magazines along with books, not to mention panel discussions and whatnot — and to continue to write in a language that she is unwilling to translate?
Lahiri mentions a writer whom I've never heard of, Agota Kristóf, or Kristof as I shall refer to her, as that's how her name appears on the cover of her books. Kristof's books are written in French, not her native language. Her native language was Hungarian. Kristof, who died in 2011, escaped from Hungary in 1956, after the suppressed revolt against the Communist régime, and settled in Switzerland — in Neuchâtel, the Francophone town on the lake of the same name. There, she reinvented herself as a writer in French. According to Lahiri, Kristof never felt fluent in French; she could not write without a foreigner's dependence upon dictionaries. The alternative would have been to write in Hungarian, a language hardly spoken outside the very country that would prohibit publication of her work. In effect, Kristof decided to become her own translator into French.
Existentially, Kristof never existed as a Hungarian writer. As a woman of flesh and blood, she was obliged to leave her native land in order to survive. Lahiri points out these differences from her own case. Everything about Lahiri's foray into Italian has been voluntary. And, no doubt because of her gender, even Lahiri wonders if this foray might not be somewhat frivolous. Other writers, she tells us, often regard her decision to write in Italian with disapproval, wondering if such a project can ever be more than superficial. She is heartened by the example of Agota Kristof, but one must ask (as Lahiri begins to do) if Kristof's example is genuinely available to her. My own opinion is that Lahiri has not quite earned the right.
I say this because In altre parole reads like a translation from the English, even though it was written by the author in Italian and translated into English by someone else (Ann Goldstein). I can't guess how foreign Lahiri's text might seem to native readers of Italian; I fear that they might find it brave but elementary. I don't mean to fault Lahiri's Italian, which seems sound enough. It is her thinking that I question. For example, I question her use of the word "approccio." This word appears in my Cassell's, but only in the Italian-to-English section, where it seems limited to use in diplomatic usage, not unlike the French "tentative." "Approccio" does not appear in the English-to-Italian half of the dictionary. I sense that it is simply "not Italian" to think, as we do in English, of approaching a problem in a certain way. There is another way to put it, one that reflects a different way of thinking about it.
Perhaps In altre parole reads like a translation because it is, as Lahiri claims, her first genuinely autobiographical work. She is writing, throughout, about herself, and as a matter of fact she is an American writer. Who would think in English more pervasively than a writer in English? Moreover, Lahiri is writing about reading and writing. (Scrivo, scrivo, scrivo! One gets rather tired of that word.) In one amusing chapter, her husband comes into the picture. Her husband is the beguilingly-named former deputy editor of Time Latin America, Alberto Vourvoulias-Bush. Whatever his background, he speaks Spanish. He speaks Italian as if it were Spanish. And yet, everywhere they go, his Italian is hailed as perfect, unaccented, even; while Lahiri's Italian, which really is much more correct than her husband's, never makes the grade. Lahiri is exasperated by this: do Italians hear with their eyes? And yet I suspect that her husband's Italian is closer to the real thing because his Spanish is so much closer to Italian. He already thinks the right way.
The way to learn a foreign language is to parrot a good native speaker. Don't say anything that you haven't heard that native speaker say. Don't, in other words, even think of expressing yourself until you have mastered the parrotting and no longer have to think about it. Then you may express yourself — if you still have anything to say. I wonder just how well Lahiri has expressed herself in Italian. I'll never really know, not unless some highly literate Italian who is also fluent in English writes a critical essay that addresses this very question. I expect that Lahiri has used Italian to show Italians how Anglophones think, just as Francesca Marciano does the opposite, in The Other Language — a work that, sadly, has not appeared in Italian. I suspect that Marciano has a more proficient approccio.
Scrivo, all'inizio, per occultarmi. "I wrote, in the beginning, to hide myself." That's my translation. Goldstein puts it thus: "In the beginning, I wrote in order to conceal myself." I do give Lahiri points for not beginning the sentence with "In the beginning," natural though it is in English. "To conceal" is indeed the first choice, in Cassell's, as a translation of occultare, but I think that I should have gone with the third, "to keep secret." In the beginning, I wrote as a way of keeping myself secret. No matter how you phrase it, this is an intriguing statement, because it raises the specter of the writer who is her only reader: the true diarist. In the beginning, Lahiri wrote what she could not say. Why couldn't she say it? And how did her problem with saying things, and her intention to write in secret, propel her into this engagement with Italian?
***
These questions play in my mind as I consider this week's new word, oikophobia. It looks like Greek, because it is composed of Greek elements, but to Plato and Aristotle it could only have connoted madness, for to be afraid, or seized with a violent dislike, of one's home couldn't be anything but crazy. Perhaps that is precisely what Roger Scruton thought when he coined the word, nearly fifteen years ago. But I think that he had something else on his mind. "Oik" sounds pretty much like what an English oikophobe would want to flee: the people who say "Oi!" for "Hey!": common-law Brits.
For further enlightenment on the subject, I turn to James Taranto, a writer for the Wall Street Journal, who in 2010 was weighing in on the kerfuffle caused by plans to build an Islamic center, including a mosque, within a few blocks of Ground Zero, here in Manhattan. Needless to say, Taranto's opinion was that the élitist proponents of the center, in their unwillingness to respect the widespread but vernacular opposition to such propinquity, manifested oikophobia, which he explained as follows:
The British philosopher Roger Scruton has coined a term to describe this attitude: oikophobia. Xenophobia is fear of the alien; oikophobia is fear of the familiar: "the disposition, in any conflict, to side with 'them' against 'us', and the felt need to denigrate the customs, culture and institutions that are identifiably 'ours.' " What a perfect description of the pro-mosque left.
In truth, oikophobia functions elegantly as a disapproving alternative to an already perfectly handy word, cosmopolitan. Cosmopolitan people have long deplored the provinciality of hoi polloi. Thanks to Scruton, the people can just as easily deplore the sophistication of cosmopolitans. For it is indeed true that educated people tend to have more in common with educated people from anywhere than with their own uneducated neighbors. That is, among other things, the whole point of education. Scruton has turned up the heat a bit, or at least Taranto has done so: élitists (another word for "cosmopolitans") take the other side and denigrate their own "customs, culture, and institutions." In truth, cosmopolitans are rarely so strenuous.
As someone who likes to think of himself as cosmopolitan, I agreed with the opponents of the placement of the Islamic center. I didn't share their feelings at all, but those feelings struck me as perfectly understandable. The discomfort of regular people from the boroughs would obviously — obviously — be real enough, and I do not believe in overlooking popular discomfort. There seemed no real need to place the center so close to Ground Zero, or in Lower Manhattan at all. Not far from where I live, the Islamic Cultural Center of New York stands on the corner of 96th Street and Third Avenue. That's completely out of my small orbit, and I have no idea how lively it is; nor do I understand why a second cultural center was planned. (I may have forgotten.) The ICCNY is the oldest mosque in the city, although the current structure dates to the Eighties. Even then, the construction was controversial. I am not aware of any appreciable local Islamic population. Being a cosmopolitan, I'm not personally troubled by that. But I cock an eyebrow. Everybody knows that Islam flourishes in Queens.
Along with the mosque squabble, Taranto borrows from Charles Krauthammer another oikophobic issue, opposition to opposition to same-sex marriage. Here we must note that Taranto is writing in 2010, a long time ago so far as this question is concerned. If touristic and corporate responses to recent legislation in North Carolina and Alabama are any indication, same-sex marriage can no longer be claimed as an American bugaboo; its opponents do look more and more like bigots. Certainly same-sex marriage cannot be viewed as a pill that élitists are forcing an unwilling population to swallow.
Closer to Scruton's area of concern, my cosmopolitan outlook leads me to conclude that the Eurocrats in Brussels must be stopped, or at least saved from themselves. They accent cooperation at the expense of respecting local differences. Local differences are not going to go away, certainly not as the result of Eurocrat wishful thinking, and there is no real reason to wish that they would do so.
***
My real quarrel with Roger Scruton is that he believes in "the tribe" as the basis of culture. From Scruton's An Intelligent Person's Guide to Modern culture:
The core of common culture is religion. Tribes survive and flourish because they have gods, who fuse the many wills into a single will, and demand and reward the sacrifices on which social life depends. (5)
As the statement of a late-twentieth-century onetime Oxbridge don, this is fantastical stuff. What on earth does Scruton know, what can he know, about gods forging many wills into one, demanding and rewarding sacrifices? Nothing that he didn't read in a book is what. Nothing that hasn't been filtered into his consciousness by the more or less biased observers of either the earth's few remaining actual tribes or the more numerous surviving texts that require an indeterminate degree of interpretation. One thing that Scruton downplays is the involuntary nature of membership in tribes. I find no mention in Scruton's discussion of the person who wants to leave the tribe. The person who wants to change it is charged with sacrilege, but the person who wants to leave, perhaps to join a distant tribe, is not imagined. Scruton makes an interesting but, to my mind dubious, claim for the importance of membership in a tribe.
Modern people long for membership; but membership exists only among people who long for it, who have no real conception of it, who are so utterly immersed in it that they find it inscribed on the fact of nature itself. Such people have immediate access, through common culture, to the ethical vision of man. (11)
It is quite easy to infer from this the existence of oikophobes. Imagine living, as one of them, among people immersed in a value structure that you deplore! It is not hard for me to do so; and, what is more, it is altogether too easy for me to feel proud of myself, according to one undoubtable aspect of the "ethical vision of man," for resisting immersion. I grew up in a town that immersed itself in the idea of excluding Jews and blacks from its resident population. Jews and blacks could run the shops and clean the bathrooms, but they could not live within the Holy Square Mile.
And yet I am no oikophobe. I shouldn't want to live in Bronxville, certainly, but I'm uncomfortable about calling attention to its sometime viciousness. It is not my problem; it is not really anybody's problem. I cannot see Bronxville's anti-Semitism as more than a foolishness: it harms only those who stew in it. As a cosmopolitan, I have no complaint. As a memoirist, I am forced to recognize it as a factor in my repudiation of the naive belief that community values are benign and worthy of being cherished. I knew the lesson of "The Lottery" long before I read Shirley Jackson's story.
Up to now, in the novels that she claims are not autobiographical, Jhumpa Lahiri has written about the dislocation of leaving a tribe behind. In the new book, she addresses the much less familiar side of that dislocation. How do you join a tribe? How do you become a writer in Italian? Her tongue and her pen have mastered their part of the task. What's left is for her mind to do the same. Is it even possible?
***
Tuesday 26th
When I find Roger Scruton's remarks on oikophobia — I expect that his invention is well-cushioned in thoughtful verbiage — I may very well find him saying what everybody knows, which is that teenagers suffer severe bouts of the disease. Indeed, oikophobia is a healthy side-effect of adolescence. It's part of the self-defining process that consists of differentiation from everything that's familiar, too familiar to have been learned, so familiar that it has always been taken for granted.
On the basis of In altre parole, I should say that Jhumpa Lahiri suffered a variant of the stable child's oikophobia. It started much earlier and went much deeper. The annoying superficial aspects of it were outgrown in the regular way, but a restlessness with language persisted, as if language were an overfamiliar nanny who overstayed her term of duty. Lahiri wasn't entirely eager for the nanny to leave, because the nanny was her access to achievement in the country that remained strange to her parents.
The nanny was English.
It's an interesting story, and I wish that Lahiri had lingered over it, or at any rate that she will do so in future, in English or Italian as she likes. She doesn't tell us very much in In altre parole (although she does repeat more than a few things, as one does in successive pieces of journalism, and as one does when one is struggling to say things in a new language), but what she tells us, in the context of this Italian book out of the blue, suggests that the roots of her infatuation with the language of Dante and Ginzburg run all the way down to her beginnings.
Although born in London, she arrived in Rhode Island at the age of two; her father is a university librarian. Lahiri's parents came to England and America from Kolkata. At home, her mother did everything possible to maintain a Bengali way of life. Bengali was spoken at home, never English. This is an almost universal immigrant experience, but for Lahiri it must have had an aspect of perversity, owing to her father's profession. He was not a laborer. He and his wife were actually fluent in English, at least in understanding it. The choice to maintain Bengali customs was highly self-conscious.
I saw the consequences of not speaking English perfectly, of speaking with a foreign accent. I saw the wall that my parents faced in America almost every day. It was a persistent insecurity for them. Sometimes I had to explain the meaning of certain terms, as if I were the parent. Sometimes I spoke for them. In shops the salespeople tended to address me, simply because my English didn't have a foreign accent. As if my father and mother, with their accent, couldn't understand. I hated the attitude of those salespeople toward my parents. I wanted to defend them. I would have liked to protest: "They understand everything you say, while you don't understand even a word of Bengali or any other language in the world." And yet it annoyed me as well when my parents mispronounced an English word. I corrected them, impertinently. I didn't want them to be vulnerable, I didn't like my advantage, their disadvantage. I would have liked them to speak English as I did. (151-2)
Countless immigrant children have felt these conflicting resentments. But most of their parents did not understand English very well. Few were knowledge workers whose everyday office language was English. What did Lahiri's parents think they were doing? Did they plan to raise children who would to return to Calcutta? This is only one of a dozen questions that come to mind. Lahiri has answered many of them fictionally, hypothetically, in her earlier books. But she has not given us, pure and simple, her parents' answers. Her answers.
One consequence is that Lahiri's English, while perfectly tuned, is at the same time muffled, because it served her in childhood as a utility. The real language, the language of hearth and home, was something else, something that inspired Lahiri to set much of her fiction in India, and in a fictional India that existed before she was born: the Bengal of her parents. At the end of In altre parole, she acknowledges a recent discovery:
Today, I no longer feel bound to restore a lost country to my parents. It took me a long time to realize that my writing have to assume that responsibility. (221)
To some extent, Lahiri's writing has always been in translation. In altre parole is, indeed, her first book. There is something about English that she has not taken seriously, something that she assumed she knew. She is a born writer, and she certainly knows how to tell stories. But although her prose is recognizably American, it is not a particular kind of English. The French would say that elle vient de nulle part — her tongue/language/accent comes from nowhere. If she had grown up in India, her English might even have a more specific weight. Instead, she grew up in Suburbia, which IS nulle part. I strongly suspect that Lahiri believes that nothing worth writing about occurs entirely within the frame of the United States. When I consider the lengths to which a writer like George Saunders is obliged to exercise his imagination in order to bring Suburbia to life — how marvelous it is, and what an achievement on his part, that he isn't regarded as a science fiction writer — I believe that she would be right.
I don't mean to be oikophobic there. The failure of America to be interesting might well be its greatest achievement. Perhaps. The argument can certainly made that peace and stability are more nourishing than magic and drama. The Chinese curse about interesting times makes a good point. But much of American blandness owes to negative factors: to rootlessness (too much moving around), to projection (shopping malls and the fantasies that drive us to them), to vicariousness (the colossal but powdery edifice of celebrity). Multitasking makes people awake but not alert. And the ignorance, the sheer Dunning-Kruger ignorance. Only in America would "Who's buried in Grant's Tomb?" be considered a joke.
***
Speaking of jokes: Lady Elizabeth Anson, party-planner to HM the Queen, indulged a Times reporter with a bit of tittle-tattle, and we are holding our breath, hoping that Her Majesty is now just too old to do the wrath thing.
During a discussion about the lost art of conversation because of cellphones, she took her incessantly ringing land line off the hook, letting the receiver dangle at her stockinged feet, and leaned in, saying: "I think I can tell this. It's a bit about the royal family."

She described how the queen had had her grandchildren over for dinner. "And she said to me that she found it really difficult," Lady Elizabeth said, "because they didn't really know how to talk each other. And she said, 'I suppose it's because they're always getting up and down and helping somebody and putting something in a dishwasher or whatever they're doing, because they don't have enough staff.'"
This is really horribly funny. There sits poor granny while her twenty- and thirty-something grandchildren peer surreptitiously at their phones under the table, decide to take this or that call, and pretend to take a plate into the kitchen. All right, it's just horrible. One wants desperately to think that Elizabeth is pulling the other Elizabeth's leg, with her explanation of all the "up and down." One fears not. One suspects a nasty game that only spoiled brats would play. If they don't know how to talk to each other, it's probably because they all hate each other. It's the Queen's fault that they're related! One blushes for shame: one oughtn't even to know this story. Presently one feels better: it occurs to one that the late Queen Mum would have had her own mobile, and not bothered to get up and leave the table to use it, either. Anyway, would you tell her? And I don't mean the Queen Mum.
And who doesn't have enough staff?
***
Michael Kinsley's new book about falling apart, Old Age: A Beginner's Guide, was favorably reviewed by Philip Lopate in this weekend's Book Review. I don't intend to read it, because it would just make me more high-strung than I already am. Books like Old Age are warnings about the inevitable, and I have already had mine. I hope for a peaceful, moderately uncomfortable, and very inexpensive death, but I don't fill in the details of that pretty picture. It will fill itself in without any help from me. I get through the day knowing that I may die at any time, and hoping that the specifics of the surprise aren't too unpleasant. I worry more about the short-term future of civilization, which may be dying, too, but, unlike me, not necessarily.
Having already dealt with most of the material discussed in the review, I was free to be amazed by something I'd never heard put quite this way:
Still, the book refuses to wallow in self-pity or offer triumphalist narratives of overcoming victimhood. Rather, Kinsley is intent on being wryly realistic about coping with illness and the terminal prospects ahead. He makes fun of a fellow boomer, Larry Ellison, the C.E.O. of Oracle, who has spent millions in a quest for eternal life, and who was quoted as saying, "Death has never made any sense to me." Kinsley quips: "Actually the question is not whether death makes sense to Larry Ellison but whether Larry Ellison makes sense to death. And I'm afraid he does."
Chuckle, chuckle. It's nice to know that Ellison is spending his money on worthwhile causes. Who knows what scientists will learn, while looking for something that can't be found? "Death doesn't make sense," however, doesn't make sense. Death is the secret of life. The death of the individual underpins the survival of the species.
We ought to want to die, just for the good health of it. Maybe someday, we shall. Maybe someday, all the resources currently being poured into cryogenics and reprints of Atlas Shrugged will make it routine for people to die because they're tired of living. Healthy old people, in their nineties and later, begin to stop paying attention. They've heard everything already. They have no reason to learn anything new. They enjoy life but they prefer it to be peaceful and quiet. Eventually, they simply don't wake up in the morning. There would still be idiots like Ellison demanding Permanent Ego Status, but if this pattern were generalized throughout the population, instead of being limited to a very lucky few, most people just might lose the fear of death. Knowing that death would be preceded by a relaxed stage of withdrawal, they would be happy to hand over the responsibilities and the headaches to their children and grandchildren.
It would be wrong to say that death makes evolution possible — I think. But death certainly makes evolution bearable. Imagine being condemned to live through a few centuries of recent history. Imagine having lived for the nearly two hundred thousand years of recognizably human experience. Death makes evolution bearable because evolution would be utterly unbearable otherwise.
As we grow up, somewhere between our late teens and our early thirties, we organize ourselves by putting faith in a certain arrangement of affairs. Today, for example, a young man with good business prospects plans, unasked, to buy a house with a mortgage. But wait: perhaps this commitment, so common when I was young, is on the way out now. Geezer moment! Young people may well be making commitments to new arrangements that I might find it difficult, after forty years of dealing with mine, to adapt to. We sensible elders may regret the overuse of mobile phones, but nothing we say is going to have any effect; young people will sort it out for themselves. That is how a healthy society functions: young people sort things out, and then they make their contributions of work and children. And then they die, to make room for new younger people, whom they welcome without quite being able to regard them as Hannah Arendt did: as invaders. The world — the natural world as well, but I'm thinking of the world of human beings — is in a state of constant invasion by newborns who know nothing about the world. Happily, most of them eventually learn more about it than Larry Ellison seems to have done.
***
Thursday 28th
Not gifted at dreaming up catchy names or slogans, I usually manage to stifle the impulse. But the impulse is strong today. I want to name the pixie who has taken to haunting the darker corners of the book room. She darts about like Tinkerbelle, but she has the face and long, straight hair of Marie Kondo (as she is known in the West). She does not advise me on the dispersal of old papers or the folding of socks, both of which could keep her busy in here. (The book room is also what might be called my dressing room.) Instead, she hides in the bookshelves, appearing only when I am looking for a book that just might be shelved behind another book. As I scan the spines in the rear, she whispers, That one. She taps a book with her magic wand. Are you ever going to re-read that one? The preliminary answer is almost always "no" — how did she know that? I take the book in my hand, look at it severely, try to remember reading it, and flip to the Table of Contents. I read a paragraph at random. Sometimes, the next thing that happens is that I slip the book into the discards pile. Just as often, however, I deposit the book upon the stack of books to read.
I'd like a name for this pixie so that I could blame her for unexpected turns in my reading. TinkerKon? Good grief, no. Konbelle? No — but there are possibilities there. Kondobella? Condobella looks nicer, and, besides, loosening the connection to the world-famous author of a treatise on how to get rid of stuff is probably in order, because I wouldn't want to make the pixie's namesake look incompetent. KonMari (as she is known in her book) would be very disappointed by my attachment to old books that I haven't read or even looked at in forty years, books that are out of date in some way or other, books that I really haven't got time to re-read. Condobella is more of a challenger. She's not trying to make me get rid of books. She is simply daring me to justifying giving them house room.
Such a book is Edward Crankshaw's In the Shadow of the Winter Palace: Russia's Drift to Revolution 1825-1917, which I believe I read when it came out, in 1976. It's possible, I suppose, that all the John le Carré that I've been reading in the past six months has made Russia look interesting again, or at any rate less dismally nightmarish. To me, Russia has come to be an embodiment of hopelessness. The good things that people profess to find in its culture — the warm durability of the people, the forgiving majesty of the Church, the searing lyricism of the poets — are invisible to me, at least as advantages. All I see is brutality on a grand scale. I'm not saying that things are any better when I am, in the land of banality, frivolity, and thoughtlessness. But I'm used to those. American inhumanity is a rather negative affair — Americans are too distracted by other things to give humanism a thought. In Russia, where high human hopes seem to be talked about all the time, people get beaten up and thrown in jail rather a lot, and they used to be worked to death. There are too many beefy security types who would do almost anything rather than relate to you man-to-man. But what do I know?
In the Shadow of the Winter Palace begins with a study in futility. That is how I should characterize what I have read since the book was pointed out to me the other day. The first eight chapters, out of a total of twenty-two, cover the reign of Nicholas I. I knew that Nicholas I was a reactionary autocrat, but I didn't realize — and here we must bear in mind that the statements, "I read this book forty years ago" and "I have never read this book" are often frighteningly equivalent — that Nicholas was politically impotent! I don't mean that he was incapable or incompetent, although he was indeed both of these things. I mean that he spent his reign, as Crankshaw somewhat zealously reminds us, in a state of fear. His determination to brook no insubordination was couched in terms that betrayed the expectation of insubordination — or worse.
Why, if his power was absolute, if he was truly an autocrat, was he afraid? The answer, quite simply, was that he feared the fate of so many of his forebears, of his own father, the Emperor Paul, the fate that seemed about to claim him on the very day of his accession: death at the hands of his own Guards. (80)
The absolute power of the Tsar was a myth. Perhaps it had always been a myth, but now it was a myth that made no sense. A man of parts might have seen his way to introducing quiet innovations that might lead to more open social and economic conditions, but Nicholas was conspicuously lacking in parts. To the historian, that is, the lack has been conspicuous. Contemporaries saw a robust, handsome man who embodied autocracy, at least until he opened his mouth.
As he saw it, Nicholas had one job: he must make sure that everybody in Russia stayed on the same page. The chorale had been written, and it needed only to be sung — properly. Those who could not carry a tune, or who wished to sing something else, were removed from the choir. The mission of Russia was to go on being Russia. Crankshaw captures what he calls the "fatuity" of this mission in a statement that Nicholas made about the serfs.
There is no doubt that serfdom in its present form is a flagrant evil which everyone realises; yet to attempt to remedy it now would be, of course, an evil even more disastrous. (81)
Nothing could be changed without queering the pitch of the empire. But change could not be avoided; it could only be ignored. Count Kankrin, Nicholas's minister of finance, opposed the construction of railroads. Nicholas overruled him, and a railroad was built connecting Petersburg with Moscow. But there was no money, and not much more will, to build a line to Ukraine; so that armies had to march all the way to Sevastopol to relieve Menshikov's forces in the triumph of dunderheadedness that we call the Crimean War. Industrialization was mishandled in much the same way. A penchant for militarism encouraged the housing of workers in vast barracks, detached from their families. (This set-up has been adopted in crypto-capitalist China.) Had the authorities set out to create a deracinated, disaffected proletariat, they could not have done better. Given the circumstances to which the Russian worker was subjected, it is no surprise at all that Marxism met its first success in what was only numerically the least industrialized country in Europe.
The foundations of Soviet management, moreover, were laid by the Romanovs. It is always interesting to read a good history that has itself passed into history. In the Shadow of the Winter Palace was written in the latter days of the Cold War, and Crankshaw never shrinks from scolding the Russians for failing to grasp the inevitable virtue of the Western way of doing business — a failing that is shown to have its roots in the absolutism, itself quite doomed, that Peter the Great learned from the Bourbon example.
Thus there were no guilds of merchants, tradesmen and craftsmen to combine in pressure groups and build up middle-class power. Peter brought industry to Russia, but he did nothing to encourage the establishment of the relatively open society which was the pre-requisite for the organic growth of Western capitalism, operating through countless small enterprises in furious competition with one another. Peter's mills and factories, and the mills and factories of favoured private entrepreneurs, were thus organised not as the materialization of the personal dreams, ambitions and greed of countless individuals seeking to better themselves, or seized with the love of power or riches, or the sheer delight in making things work, but rather as extensions of the central government, as sources of supply for the central power. (74)
It's almost an effort to remember that, when this was written, it was much less fashionable than it has since become. Freedom was everything, in those days, and Business was beneath serious discussion. It's easy, now, to spot Crankshaw's propaganda as such, but I sense that Crankshaw was not only criticizing the ancien régime in Russia but articulating a new self-consciousness for the home team.
***
Denied conventional outlets, educated Russians took to the life of the mind, producing masterpieces of melancholy and despair from Lermontov to Chekhov. This is the aspect of tsarist Russia with which we are most familiar. At a certain point in Crankshaw's text, I conceived the desire to read The Idiot. I read the second of Dostoevsky's four great novels after I had read the other three, in college — all in the Penguin translation by David Magarshack — and I understood it least of all. The only thing I remembered was that things didn't work out very well for Prince Myshkin (and what kind of a name is Aglaya?). I acquired the Pevear-Volokhonsky translation (2001) several years ago, and it was surprisingly easy to find, without any interference from Condobella. Worn out for the nonce by Nicholas I, I began the novel, and was presently swept up in the comic spirit that may or may not have been intentional. The scene in the Ivolgins' sitting room reminds me of the second-act finale of Le Nozze di Figaro, and when the prince opened the door to Nastasya Filippovna, I burst out laughing — I couldn't help it. Then Rogozhin and his entourage showed up! The melancholy and despair are certainly there, folded into the draperies, but the patina of commedia dell'arte is sparkling. I don't expect it to last much longer.
The torture in Dostoevsky is a matter of never being able to decide whether the author is trying to tell us how hopeless Russia is (which would imply that things could be better) or how hopeless the human condition is (in which case not). There is a visionary quality, but there is also another quality, and this quality is visionary as well. Usually, "visionary" suggests an arrangement excitingly superior to the existing one; Dostoevsky's other vision lacks not only excitement but all other emotions; it is a quiet, living death. Two or three characters will have a conversation about ultimate things, in a cold, dark room in the middle of the night. In the morning, someone will go off to get shot or arrested — c'est la vie. Like Henry James, Dostoevsky is gifted at composing elaborate, utterly novel dramas. His novels are encrusted in decades of Famous Reputation, but this gunk falls away as soon as a leading lady makes her appearance, if not sooner. I'm reading The Idiot as if it had just been published.
***
As I was walking home from the Hospital for Special Surgery yesterday, after a Remicade infusion, it occurred to me to have a look at The Icon and the Axe: An Interpretive History of Russian Culture, by James Billington. I've had this for a long time, but I suspect that my copy is a replacement, and not the one that I read in the early Seventies. In all ways but one, it's in great condition, bearing none of the traces of my youthful attentions. (Tucked into an early page is the stub of an opera ticket dated 22 November 1985.) The problem is that even a thirty year-old Vintage paperback is bound to fall apart when read, because the paper is not acid-free. The pages are richly honeyed at the edges, and the binding is stiff. I've been reading some fascinating stuff about de Maistre — I didn't know that he was a Savoyard — but I can't quote it here because I dare not pin the book open. I am not sure what Condobella will advise, especially as the Kindle edition is more expensive than the paperback.
Not having walked by the river in some time, I saw for the first time that the great flight of steps running up from the embankment to the Finley Walk is under reconstruction. This is a good thing, for the old staircase was pretty crumbly. Everything seems to have been removed, except for a tall supporting slab that may actually be new. The mind boggles, though: what about replacing the Finley Walk? The Finley Walk is in fact the rooftop of a structure whose two lower floors are the uptown and downtown lanes of the FDR Drive. What a fracas rebuilding all of that will be!
***
Friday 29th
Jenny Diski died yesterday. Ever since she began her "cancer diary" in the London Review of Books, two years ago, I have been in denial. I have hung onto my crazy hopes in the teeth of her steadfast indicatives of dying. Misdiagnosis, miracle cures, remission — something would save her. I have been unwilling to accept the imminent mortality of a writer whose sensibility, despite everything, I have come to find profoundly sympathetic. I almost wrote "simpatico," but that would have been dishonest: too cool, too jolly. I am not, in fact, given to feeling simpatico. On the contrary, I'm predisposed to the narcissism of small differences. Perhaps that was the secret of my romance with Jenny Diski's writing: there was no way we would have been friends when we were younger. (Under fifty, anyway.) The differences were not small. I could cherish her work without feeling the need to alter my own.
Her honesty, her determination to get it right, was hugely encouraging. Honesty wasn't a matter of making embarrassing confessions. Embarrassing confessions were a matter of course. Honesty was a matter of not accepting plausible explanations and just-so stories. She knew that we had been very naïve, and she wanted to know why and how — because we'd been so clever, right?
What the American and British baby boomers, who inhabited the Sixties as if they were building a new planet, have in common is that we watched the radicalism we thought we understood and embodied turn into a radicalism we (ignorantly and naively) never dreamed of. Perhaps all the hope and disappointment hung on a simple definition of a word or two. The big idea we had — though heaven knows it wasn't new — was freedom, liberty, permission, a great enlarging of human possibilities beyond the old politenesses and restrictions. But it was an idea we failed to think through. It was a failure of thought essentially, rather than a failure of imagination. We were completely wrong-footed when the Sixties turned inexorably into the Eighties. With Margaret Thatcher and Ronald Reagan presiding, our favourite words — freedom, liberty, permission — were bandied about anew and dressed in clothes that made them unrecognisable to us. But even back then, in the Sixties, while we used the word "liberty" there were others who also used it, sometimes varying it to "libertarian," who meant something quite different from what we intended, and we nodded and smiled, taking them to our bosom, and completely failing to understand that they meant a world that was diametrically opposed to the one we intended to inhabit.

We really didn't see it coming, the new world of rabid individualism and the sanctity of profit. But perhaps that is only to be expected. It's possible after all that we were simply young, and now we are simply old and looking back as every generation does nostalgically to our best of times. Perphaps the Sixties are an idea that has had its day and lingers long after its time. Except, of course, for the music.
So ends the introduction to Diski's memoir, The Sixties, a book that I shelve right next to Lynn Barber's An Education, because both slim volumes are about the same small size and easily lost amid the larger ones. If they have more in common, beyond the obvious shared things (native city, gender, age), I'm unaware of it. For a good laugh, I imagine Jenny Diski working for (and almost idolizing, as Barbour does) Bob Guccione.
I'd have liked to ask Jenny Diski one thing. You've heard that movie-star mantra, Nothing tastes as good as thin feels. I understand it, but I would never believe it, no matter how great I looked. But forget about food; I'm thinking about money. Like everybody, I like having enough money. But I don't feel the charm of making money — I don't get that at all. My father might say, "There isn't any charm," but I don't believe that, either. There seem to be people for whom making money is more fun than having or spending it. They will never feel rich — rich enough to be rich. They will simply go on intensifying their feeling of not being poor. Feeding this perverted hunger, they have infested everything with the bacterial kudzu of "financialization." This was the disaster, these were the people, that we didn't see coming. Was this really not a failure of the imagination?
I always expected to learn about Jenny Diski's death (in my honest moments) in the pages of the LRB, but there she was, in the Times this morning. Very respectable notice, with a nice picture. Note to the inner narcissist: I'm not the only one who's going to miss her.
***
There's a new biography of Wallace Stevens out, by Paul Mariani. It's called The Whole Harmonium. Paul Elie, in the Book Review, hated it; Peter Schjeldahl, at The New Yorker, loves it. But Elie's complaints sound very much like ones that I should make.
Key parallels are left undrawn. When we learn, in reference to a 1943 lecture that Stevens gave at Mount Holyoke, that "for the past 40 years Coleridge as both poet and philosopher had been one of Stevens's mainstays," the comment comes 40 years too late. Introduced earlier, a comparison of the 20th century's great poet of mind to the 19th century's great poet of mind would have opened up a deep channel of insight into Stevens's sense of himself.
So I can't decide what to do. I shall have to see the book, certainly. In the meantime, I've got On Extended Wings, Helen Vendler's 1969 study of Stevens's longer poems. Ever since I acquired a cassette tape of Stevens reading "Credences of Summer," that has been my favorite poem in the world, but it's all because of Stevens's voice, his intonation, accent, and all-round transcendent poohbahderie. He reads "The Idea of Order at Key West," too, and I love it, but it's so short. "Credences of Summer" rolls along like a book of prophecy.
Three times the concentred self takes hold, three times
The thrice concentred self, having possessed

The object, grips it in savage scrutiny,
Once to make captive, once to subjugate
Or yield to subjugation, once to proclaim
The meaning of the capture, this hard prize,
Fully made, fully apparent, fully found.
Don't ask me what this means; at the same time, don't think that meaning doesn't matter. I suppose it means what it says. What is the object? Read the poem. Better, listen to it. Stevens's way with "grips it in savage scrutiny" makes it easy to believe, as Mariani seems to be surprising everyone with the news, that the poet broke his hand in a fistfight with Ernest Hemingway in Key West. (Elie is upset, rightly in my view, that Mariani never tells us whether Stevens read Hemingway, or "any new fiction at all.")
I copied those lines from On Extended Wings, in which Vendler describes them as "a procession of infinitives of purpose," the point being that, while the self does actually grip the object, the making captive, the subjugation, and the proclamation don't actually happen. Her opening chapter, "The Pensive Man: The Pensive Style," demonstrates Stevens's aversion to the present indicative. Things might be, they must be, they intend to be ("Once to make captive…"), but it is not established that they are. This is the sort of insight that one expects from Vendler, even if it always comes as a surprise that knocks you down a bit.
"Must" is not a word of faith but a word of doubt, implying as it does an unbearable alternative. (21)
It took a while for me to pick myself up after that one; I had to read the sentence to Kathleen. We realized, instantly, but without ever having thought about it before, that "must" is never used in legal writing; "shall" takes its place. I'll be honest: I turn to books like On Extended Wings for skeleton keys. I get what I deserve. In her introduction, Vendler writes, "Stevens' [sic] imagery is not particularly obscure once one knows the Collected Poems: it is a system of self-reference, and is its own explanation. I assume here a familiarity with its special meanings." (9) Meaning: I taught you all of that last semester. So, instead of a cheat sheet, I'm given a way of reading Stevens's verbs that seems meaningful. I do understand Stevens better for reading Vendler, but I can't tell you what that better understanding amounts to, what comprises it. I'm fairly certain that it ought to remain unexpressed, except in Vendler's terms. Vendler is not unapproachable, but she is a mandarin.
***
One of the saddest things in the world is that "mandarin" is not only not a Chinese word but also not even much of a Chinese concept. It appears to have come into English, via Portuguese, from a Malay term. In other words, it reflects a Malaysian attempt to make sense of Chinese culture, which has long been present in the peninsula. Foreignness, a sense of the exotic, is built into "mandarin." Back at home, in the Central Country, there are other words, but they are neutral, without affect — none of the pantomime humbug. What we call "Mandarin Chinese" goes by just about the opposite in China: "Ordinary Speech." Of course, it isn't ordinary; it's still the shibboleth of an educated man or woman. It used to be called "official speech," which is certainly more accurate — but the distance between "mandarin" and "official," in English, is too great for relation. "Mandarin" conjures up scholars in Chinese outfits (with special hats), distracted from their highly esoteric studies by problems of local civic administration."Mandarin" conjures all the great Chinese poets who flunked the exam.
It has been a long time since I last thought about "China's examination hell," the ordeal, lasting three days or so, to which would-be mandarins were subjected. It was a sort of New York State Bar exam, but worse, because examinees were confined to a military encampment, where they slept in little huts and scribbled away all day out in the broiling sun or pouring rain. Something like that. What were the questions? Who were the graders? I've forgotten almost everything that I ever knew — just as the world has done, as regards the mandarin exam. I don't mean that the world has forgotten the exams, but it is no longer interested in the knowledge that was tested by the exam. Likening it to the Scholastic philosophers' question about angels dancing on the heads of pins is probably lazy.
The point is that China conducted a long and exhaustive experiment with meritocratic testing, and, in the end, it did not save the régime. Whatever it was the mandarins had to know, it wasn't readily applicable to the business of running China. The experiment came to an end, along with its sponsoring empire, at just about the time that meritocratic testing fully took hold in the West. We, too, shall discover that there is no efficient way of evaluating people whom we don't know.
***
This week's culinary note must be about branzino filets. Agata & Valentina's fish counter has taken to piling them up in a bin, ready to flour and sauté. Nothing simpler! I buy a couple, and toss the package into the freezer. When fish is what I want for dinner, I take the package out and thaw the filets in a dish of seasoned milk — don't forget the pinch of cayenne. Having been floured, the filets go into the fridge for a spell, to set the coating. Then, they're cooked in butter, over medium-high heat, three minutes per side. Maybe two extra minutes, if the filet seems thick. Keep adding bits of butter, so that there is a sauce, and during those final minutes, toss in a handful of slivered almonds. Serve with frenched green beans and rice. Splendid!
Cooked this way, branzino tastes a lot like trout. Trout was the first fish that I honestly liked, and I should cook it if I could find it. But I never see it in the shops. Branzino is a firm fish that does not fall apart in the skillet. It has a crisp, savory flavor that goes with its crisp, savory skin.
Of course, we wonder where it comes from. When branzino, which no one had ever heard of, began showing up, about fifteen years ago was it, we were told that it comes from the Tyrrhenian Sea. Really, we said. (We would ask an Italian-American.) But there's no way that bins of trawled branzino are being flown to New York and sold at a very reasonable price. Is there? We wonder where the farms are. In Europe, apparently. Container ships? Oh, dear.
Bon week-end à tous!