Thursday, May 28th, 2015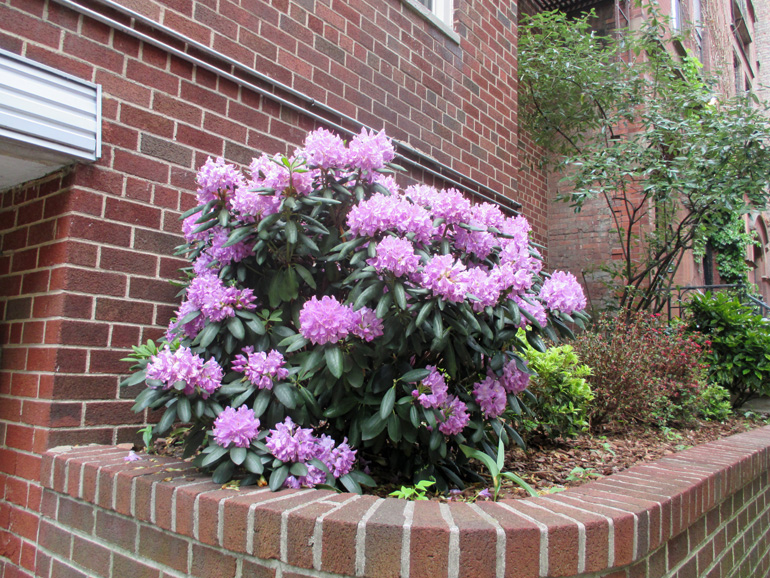 Every Wednesday, I see a different doctor. I'm very pleased with this arrangement, mostly because it works as an arrangement. I don't have to think about it. All my waiting-room time (and I can't complain about having much of that) occurs at the same time each week — after a nice lunch. Bad news is strictly rationed. So far, bad news has been amazingly rare and even then not very bad. I am always prepared for that trend to end, or at least I think I am. The weekly visits have the negative advantage of keeping me out of fool's paradise, which I should certainly fall into if I went so long as a month without being picked and pawed over.
Yesterday, I saw the dermatologist. Half my visits to doctors seem to be visits to Dr Green. I last saw her three weeks ago. She advised applying a topical cream to rough spots on the back of my right hand and along my right arm. This was very hard to do, because you have only one really reliable finger for the two procedures. I made a hash of it for a few days, and then I enlisted Kathleen. Kathleen did such a good job of spotting the likely pre-cancerous areas and applying the cream to them that, after only five applications, the back of my hand near the base of my thumb "looked like Krakatoa," as I put it to Dr Green yesterday. It was raw and red and it itched like hell. Kathleen and I agreed that we ought to discontinue the treatments. That was last week. The protocol for this cream is two applications a day for two weeks. After five applications, one per day for five days, I had to stop. I didn't think that Dr Green would be pleased. I half expected her to send me to the Emergency Room, even though, by yesterday afternoon, the eruptions had calmed down completely, and the nasty red had turned to scaly white. Pretending that nothing was the matter, though, I read my novel in the examining room, waiting for her to come in and pronounce.
"That's beautiful!" she pronounced. Protocols be damned: to Dr Green's eyes, the cream had done its job. I was somewhat bemused. Beautiful, huh? I am not a hypochondriac, just an older man getting to be elderly, saddled with several ongoing chronic conditions (none of which seems to be the fruit of thoughtless self-indulgence), trying to be realistic. My hand was so ugly that I thought about wearing a glove when we went out to dinner over the weekend. And I know that, one of these days, one of the doctors is going to take a look at something and, frowning, go very grave.
But not today! (Yesterday.) My hand was "beautiful"! The cream was working — had worked. No worries! Then Dr Green took a biopsy from my scalp. Such excisions are de rigueur at these appointments, the only alternative being a procedure that "burns out" the cells in an area previously biopsied. Only rarely do I have to make an appointment with another doctor, for Mohs surgery.
Quite often, my next stop after Dr Green is Willy's Barber Shop, two blocks away. Usually Tito cuts my hair. He never asks about the small circular bandages on my scalp; nor do they seem to get in his way. I had to wait a little while for Tito to finish with the customer in his chair, but I had my novel and didn't mind.
In between the dermatologist and the barber, I passed the Video Room. This is not the time to marvel at the Video Room's continued existence. Exist it does, and we ought to make more use of it while it does. I had the idea yesterday of asking for Kingsman: The Secret Service. Had it come out yet? I was told that it would be arriving on the premises later in the day. Would I like to have it sent over to the apartment? Yes, I should, I said.
The problem with renting new releases is that they're due back the next day. I have flouted this rule more often that I care to think, but not recently; recently, I have avoided renting new releases. But it did appear that the evening would be free for video-watching. Kathleen would be getting home at a reasonable hour, and we'd have a simple dinner, after which I'd have nothing to do and, what's more, very likely wouldn't want to be doing anything. Watching something would be perfect. Why Kingsman, you ask? Very briefly: we saw Matthew Beard in a play over the weekend (scroll back a few entries). It emerged that Kathleen had not seen Matthew Beard in When Did You Last See Your Father. In that film, Matthew Beard plays the adolescent Blake Morrison, who grew up to be a poet (true life story) played, in the same movie, by Colin Firth. We watched the video, which I've got in our library, the other night. What was Colin Firth up to these days? I remembered Kingsman, which, as I recalled, didn't do very well when it came out. Colin Firth in an unsuccessful movie — how interesting!
And Kingsman is, indeed, very interesting. Much too interesting, really. I will be taking second and third looks, because I have to figure out why Kingsman is both compellingly watchable and a complete train wreck. I think it has something to do with the exploding heads — the ballet of exploding heads, really. This ought to be gross, but it's actually quite decorative, synched to "Pomp & Circumstance" for a moment — and that's really gross. Then there is the early dismissal of a leading character. We encountered that phenomenon in Tommy Lee Jones's haunting The Homesman, a movie that broke almost every Hollywood rule — something that you could almost predict before the action got going by the endless list of European producers. Like The Homesman, Kingsman plays with a venerable Hollywood genre in a way that is no more likely to be popular with American audiences than sweet-potato frites with tarragon aïoli. Give us the goddam fries!
Another maybe-problem is that Colin Firth plays a dry martini, suave and understated but — not a spoof! — saddled with the conscience of a Parsifal. That pained look that he brought to Mr Darcy nearly twenty years ago seems to have taken up permanent residence behind his face. And while Kingsman is over the top, it does not really fizz. Rather, as I just said, it explodes. There is something slightly orgiastic about death here, something that we haven't seen since one of the greatest market-missers of all time, Zardoz. As Firth's character observes, the quality of the old James Bond pictures depended on the inventiveness of the villain, and the villain here, played by Samuel L Jackson (looking a little pre-cancerous himself, I thought), is very, very inventive. Also very bad. The dark plot-within-the-plot of Kingsman, moreover, involves a hatefully tempting idea that must occur sooner or later to any intelligent person. (The only way to save the earth and its environment is radically to cull its human population.) Happily, this ugly idea is presented with maximum ugliness. There is nothing appealing about the vicious test runs or the sybaritic elites who have bought in on surviving the holocaust. We rejoice that the plot-within-the-plot is totally foiled — but then we go wash our hands, or consider taking a shower, even. Not a spoof!
Finally, working completely against the temper of the times, filmmaker Matthew Vaughn and his team have hit upon the rather delicious idea of having the agent of destruction be played by everyone's smartphone. Delicious, that is, as in sweet-potato frites with tarragon aïoli. Kingsman loudly stands for the proposition that smartphones are for dumbfucks. It appears that these appliances can no longer be turned off. Still want one? It's a question that no ordinary moviegoer wants to be asked.
***
I think I'll just go right ahead and write tomorrow's entry. There were three things that I wanted to talk about today, and I've only gotten through one. I also wanted to write about an Op-Ed piece that appeared in yesterday's Times, in which Republican apparatchick Peter Wehner observes that the Democratic Party has moved more to the left than his own party has shot for the right. This seemed such a ridiculous proposition that I read the piece in 3-D, and what I saw was the complete absence (well, aside from the Affordable Health Care Act and the capital-gains tax) of issues on which there is a traditional left-right opposition. Economic issues, in other words. Wehner's issues, in contrast, were the highly contingent ones, repeatedly taken up throughout American history by alternating parties, of immigration, incarceration, drugs, and climate change. There was a time, after all, when the Republican Party was the more progressive party — remember Lincoln? How about trust-busting Teddy Roosevelt?
There was also a time when the Democratic Party was the home of Dixiecrats, reactionary Southerners who were committed to the welfare of the working man only so long as the working man was white. Wehner's piece, which expressed a bogus nostalgia for the "third way" of the Clinton and Blair governments, totally overlooked the metastasizing role of race in American politics, which, to a far greater extent than American society, has replaced outright racial bigotry with the overt pretense that there are no racial problems to attend to, a coded statement of the wish that poor blacks could be simply "disappeared." As in: into prisons.
Well, enough about that. The third item on my agenda was the novel that I was reading while waiting for the dermatologist and the barber, Nell Zink's Mislaid. It was not what I expected. I expected a more difficult read, with more challenging sentences and more obscure references. I expected not to understand it. It's quite possible that I was too stupid to understand it, to understand that I wasn't understanding it, and I shall follow the book's reception, which has pretty much been a chorus in the key of Wowie!, with the greatest interest. What I made of Mislaid was an Appalachian shaggy-dog story, replete with anecdotal curlicues and unnecessary characters, related in the literary equivalent of high-octane stand-up comedy. Mislaid just may be incomprehensible — who am I to say? But it is certainly and unquestionably funny. Maybe the incomprehensible part lies in its being funny but not a funny novel. Because the argument can be made that the funniness of Mislaid gets in the way of its not-very-latent desire to speak unpalatable home truths about America today. It may be that the funniness of Mislaid is at odds with its satirical objectives.
After all, good stand-up makes you feel that you're in on the joke, right? But what if the joke is really about how you are the problem? Not in the self-recognition sense of stand-up problems, which remind you of sins that you, too, have committed. The sins in Mislaid are sins that you're probably too dumb to see as such. Mislaid makes you laugh, but it wants to make you laugh at yourself, at a self that you wouldn't recognize.
And here is where the sprawling nature of the story becomes a liability. Mislaid wants to scold, but it has no self-discipline. It creates a "crazy" world in which anything can, and does, happen. In this world, a handsome gay male poet becomes infatuated with a lesbian virgin student, gets her with child, marries her, and then, years later, has sex with her biggest undergraduate crush (not a man). Threatened with commitment to a mental hospital, the mother absconds with one of her children, her daughter, for whom she secures a fake birth certificate according to which the girl is black. Her pale blondness means nothing, because the Commonwealth of Virginia, where the action is set, observes the "one drop" rule: one drop of "black blood," no matter how genealogically remote, is all it takes to push a body over the color line. The purpose of this ruse is to make it more difficult for the poet father, who springs from an old Virginia family with Byrds in it, to track the mother and the daughter down. The daughter's name, by the way, is Mireille — why? — and she is known to her father as Mickey. But on the run with her mother, she becomes Karen Brown. Perhaps these names exist in occult, Kabbalist harmony, but they look like dog's breakfast to me. In fairness, I should note that the mother's names are Peg and then Meg. There is at least a certain tidiness about that.
The only way to make a living on the run is to engage in illegal activity, and Meg — inevitably? inevitably? — takes to participating in a drug-distribution scheme. She does not take drugs herself, however, being a Good Mom despite everything else, and years go by before she is obliged, by a celebratory lapse, to inform her comrades that what they are peddling is not cocaine.
"It's the finest coke on the East Coast," the Seal insisted.
"Listen to me," she said. "I know you're experienced and all, but I used to run behind international faggotry, and I know cocaine when I taste it. This doesn't feel like cocaine. Yecch!" She clenched her teeth and shuddered.
"It's the stuff we been selling," Lomax said. "Are you telling me they been shitting me?"
"I'm not a chemist," she said. But seriously, if you were picking somebody to trust, at random, would you pick a drug dealer?"
"We're all drug dealers here," the Seal said.
"Are you wearing a really weird-looking shirt?" Meg asked him.
"It's my sweatshirt I always wear."
"Oh shit. I think it's PCP. Honest to God. Fucking angel dust, man, I can't believe it. You guys are the worst drug dealers in the whole godforsaken world!" She stood up and sat quickly back down. "Fuck!" she added.
"And we had them all paying cocaine prices," Lomax said. "Aw, man. We were dicking people over right and left. Is that the kind of person I want to be?"
Consciences stricken, the Seal and Lomax consider Meg's suggestion that they take up tennis. I'm not making this up, you know. "International faggotry" is funny; I get it; I know exactly what it means; you don't know what dull is until you've been to one of their parties. But what kind of funny?
Bon weekend à tous!