Daily Office:
Thursday, 21 October 2010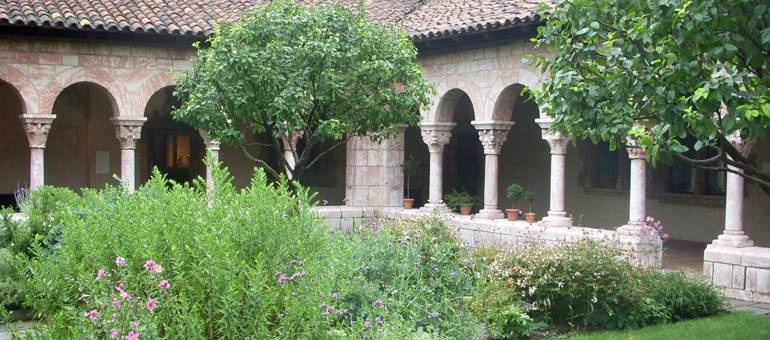 ¶ A report, backed by the NAACP, shows that a number of low-level Tea Party organizations are allied with racist groups. This doen'st come as much of a surprise, but as the semi-official register of the conservative groups' associations (disputed, of course, by the Tea Partiers themselves as a "liberal smear"), it puts the reading public on notice. (Washington Post; via The Morning News)
The report focuses primarily on the more diffusely affiliated tea party networks online and in county-level chapters throughout the country. It also singles out five members of various tea party groups, one of whom has been expelled from the movement, as having ties to anti-Semitic, militia or white nationalist groups.

One person highlighted in the report is Roan Garcia-Quintana, a member of ResistNet who served as media spokesman for a 2010 Tax Day Tea Party in South Carolina and is running for state Senate. He has also been active with the Council of Conservative Citizens, which the report says is linked to groups that defended Jim Crow segregation in the 1950s and '60s.

"I can't talk about what people were doing in the 1950s because I wasn't in this country," said Garcia-Quintana, who was born in Cuba and raised in Savannah. "There's a difference between being proud of where you come from and racism. We should be able to celebrate price as Europeans and Caucasians. What troubles me is it seems like if you're not some kind of minority, you're supposed to be ashamed of that. . . . As a tea party organizer, all I'm trying to do is to be a community organizer."
¶ Larry Fahey claims to "hate" film critic Roger Ebert, but we're in accord with the substance of his argument, at least to the extent that serious moviegoers might contemplate buttressing their own opinions with Mr Ebert's judgments. Movies are not commodities that can be comparison-shopped, and many "bad" movies are worth at least one viewing. (The Rumpus)
Ebert is, at heart, the other kind of critic, the kind that sees movies as products, like cell phones or refrigerators or spatulas. These critics consider it their responsibility not to inspire debate or thought, not to use their cinematic expertise to give the reader insight. Rather, they want to judge a film's fitness for purchase, recommend that a moviegoer either should or should not spend his or her money on the product. These critics are easy to spot. Every newspaper has at least one. They use a lot of puns when they dislike a film. They usually employ a grading system — a letter grade if they want to seem really nuanced, a ten-star scale if they want to make only a passing nod to intelligence, four stars if they're especially simple-minded. They're the Rex Reeds, the Leonard Maltins, the (why, God, why?) Gene Shalits. But this end of the critical spectrum is owned by the man who more or less created it: Roger Ebert.

[snip]

Back to Hollow Man: I have to agree with all Ebert's and Roeper's criticisms of the movie, and of course I'm not suggesting that critics ought not to have opinions; reviews would be pretty dull without a point of view. But what we lose with critics like Ebert is the opportunity to appreciate bad art, or found art, or more importantly, art that actually tries something, but simply fails. To put it another way, by beginning with the basic assumption that there's a universal standard of quality in films, we lose the opportunity to discover surprising, rewarding, unique and even life-changing films — films that may not pass the thumb test, but hold small pleasures and significant moments of clarity, meaning and insight. We lose, for example, the dark undercurrents in Hollow Man, the question of whether people behave well because they're moral creatures or simply because they don't want to face the consequences of indulging their ids ("it's amazing what you can do when you don't have to look at yourself in the mirror," Caine says at one point). We lose its beguiling examination of the male gaze, its idea that what cannot be seen has no meaning. None of these ideas are brought to any conclusion, which is why I would call the film a failure. But there's value and pleasure to be found in what the film tries to do.
¶ At Naked Capitalism, a rousingly populist guest post from Jim Quinn. What we wouldn't give to be able to convince him and his listeners that the most powerful enemy of economic equity in this country is the 1886  Supreme Court decision that conferred Fourteenth-Amendment protections (meant for former slaves) upon the American corproation.
The politicians attempting to buy your vote today are promising new good jobs. One side is going to impose 100% tariffs on all Chinese crap coming into the country. This will revive domestic manufacturing. Another side is going to create millions of "green" jobs. Imagine all the solar panel jobs coming our way. Someone else is going to rebuild the infrastructure of the country, generating millions of made in America jobs. Too bad there are only 7 million people in the whole country that have a construction background. The Federal Reserve is going to print our way to millions of new jobs by reducing the value of the dollar, again reviving our dormant manufacturing sector. I can see Bethlehem, PA firing up the steel mills that have been dead for 20 years and closing down their casinos. Maybe if we hire some more government bureaucrats to administer the implementation of Obamacare and the financial regulations that are eliminating free checking accounts, the economy will miraculously revive. Paper pushers don't morph into construction workers. Criminal Wall Street MBAs don't become petroleum engineers. Unemployed waitresses in Riverside, California aren't moving to Washington DC to get a great job at Ruby Tuesdays.

The delusions continue. Unless American union workers are willing to work for $7 per hour with no benefits, the manufacturing jobs are not coming back from China. The corporate oligarchs and their bought off cronies in Congress sold the country down the river over the last 40 years. Mega-Corporation profits are at record levels as goods are produced by slave labor in the Far East at 80% lower costs than they could be produced in the U.S. With 86% of the U.S. workforce in the service industry, introducing tariffs on imported goods and devaluing the dollar will further put the squeeze on the American middle class who already have been systematically screwed by the ruling elite over the last 40 years. Our society took 40 years to dig this hole. It is now so deep, there is no way out. But, look at the bright side. At least we don't have to watch bread lines stretching down the block when we are watching our 52 inch HDTV, holed up in our 5,000 sq ft McMansions, ignoring the monthly mortgage payment bill, and waiting for our unemployment funds to be direct deposited into our bank accounts. I get all teary thinking about it. This is the iDepression 2.0.

The real people of this country who have worked and saved and done the right things have been beaten down. It is time to stand up to those in power and take this country back. We need the moral backbone of Ma Joad at the end of The Grapes of Wrath:
¶ The big story in today's Times is about football helmets, and how they've been designed to prevent fractures, not concussions. This is an important look at the failure of self-regulatory organizations, NOCSAE in this case, which are funded by the businesses that they're supposed to be supervising.
One frustrated vice president of Nocsae, Dr. Robert Cantu of the Boston University School of Medicine, said the organization has been "asleep at the switch" for five years. Cantu joined other prominent voices involved in youth sports concussions in calling for stronger standards.

Recent engineering advances made by Riddell, Schutt, Adams and other manufacturers have undoubtedly improved the performance of the football helmet, which from its leather roots has always symbolized football's duality of valor and violence. But helmets communicate a level of protection that they do not provide, experts said, in part because of lax industry standards and practices.

As she looked again at the helmet of her 11-year-old son, Hunt, Ms. Sparks said: "You just trust. You care so much about your kid, and then you just trust."
¶ David Shapiro shows up for a literary lions' gala at the Chip seriously underdressed. No problem! A friend at his table "tells me not to worry about it because people will think i am super rich/powerful if i look like i don't care about getting dressed for this." We remember trying that sort of thing on when we were young, but we could never bring ourselves to believe it. (The Awl)
go up to Jann Wenner's son who has one knee on his chair and one foot on the ground and both hands on the back of the chair, you know, one of those chair-assisted standing positions, i don't know if there's a better way to describe it, and i say, "hi i write a blog about music, can i ask you some questions for my blog?" and he looks hesitant but he says "okay"

i say, "do you read pitchfork?" and he says "yes" and i say "how often?" and he looks puzzled for a second, he is trying to discern my motives for asking him this question, and then he goes, "wait! who do you write for?" and i say "it's a tumblr blog, it's called Pitchfork Reviews Reviews" and he looks like he is thinking for a second and then he says "oh… i know about that… okay i don't want to answer any more questions" and then i say "okay i understand", i guess he thought i was gonna try to make him look dumb or something, but that's not what i want to do and i should take this opportunity to mention that he was very amiable as he told me he didn't want to answer my questions and he seemed reserved but not cold. and as i am writing down what he said he goes, "but, like, what questions were you gonna ask me?"

and i say, "beside the questions i already asked i was gonna ask what bands you listened to and if you talk to your dad via Gchat or Gmail"

and then he says, "do you know the band Salem?" and i say "yes" and he says "well i'm going to see them after this", i guess he was answering my question about what bands he listens to, and then i say "that's cool, i like their record, it got a 7.5″ and then he says "they deserved higher actually" and i ask why and he says "it's an amazing album" and then i thank him…
¶ Mark Lilla witness a manif in Lyon, which spurs reflections on the (American) Tea Party. (NYRBlog)
"Président des Riches" was scrawled on a great number of the signs I saw at the Lyon demonstrations, accompanied sometimes by a cartoon of the diminutive Sarkozy, dubbed Nicolas le Premier, in royal garb a few sizes too big. The biggest sensation along at the parade route was a rotund, rosy-cheeked working-class woman who had dressed herself up in a crudely sewn red-white-and-blue costume to look like Marianne, the mythical symbol of the French Revolution, complete with Phrygian cap. The woman had even made a little cap and robe for her black dachshund, who shivered and looked like he wished he could be anywhere else. She climbed up a lamppost to lead chants and show off her signs, one referring to the Bettencourt scandal, smiling for the cameras when asked to.

Watching her I wondered what really distinguished her from an American Tea Party activist in his Colonial Williamsburg faux-revolutionary outfit and three-cornered hat. After his rally at the Washington Mall our musket-bearing friend probably knelt down in prayer with fellow demonstrators, while she, I imagine, bellied up to the bar for a Pernod. But otherwise? They both feel cut out, distrust their leaders, want things to change, and don't want anything to change. Above all they want to speak, and what comes to their lips is drawn straight from the national Id. Don't tread on me! and On va gagner! turn out to mean exactly the same thing: we will be heard. Whether they have anything to say is another matter.
¶ We're knocked out with admiration for Lydia Kiesling, who is working her way through Kar, by Orhan Pamuk. That would be the novel that you may have read as Snow; Ms Kiesling is reading the novel in its original Turkish, one agglutianted clause at a time. Oh, to be young — or old beyond ambition! (The Millions)
When the summer class drew to a close, I returned to Kar, page 16, with my adult dictionary and a sense of purpose.  For a moment, I saw the old chaos before me.  But I forced myself to go one word at a time.  Before long, rather than feeling as though I had  been strapped blind to some infernal machine, I opened my eyes to find that I was actually riding a bicycle very slowly, peddling haltingly but definitively forward down an unfamiliar street.  At first, the effort of keeping my momentum and balance prevented me apprehending the architectural features of this new territory:  

The Kars Police Headquarters was a long three-story building that was an old building that was made from stone that was used for many government buildings that were arranged on Faikbey Street that stayed from the rich Russians and Armenians.

It took me a week of train commutes with the small dictionary to progress four pages, and to perceive what I was reading in a way that seemed distinctly literary.  I am not a translator; I don't begin to understand the alchemy of translation.  But on page 26, for the first time ever, I felt moved by something I read in a language not my own:

In the empty lot next to the Yusuf Pasha District's park, with its unhinged swings and broken slide, in the light of the streetlamps which illuminated the adjacent coal warehouse, he watched high school-aged youths playing football.  Listening to their exchanged shouts and curses, which were swiftly muffled by the snow, he felt so strongly the distance and unbelievable loneliness of this corner of the world, under the faded yellow lamplight and the falling snow, that he felt the idea of God inside him.

In my head, this was beautiful. Â 
¶ At the Guardian, Bettany Hughes writes a nice introduction to the topic of her new book: Socrates, and discusses the political insecurity behind his death sentence. (via 3 Quarks Daily)
Socrates was, I think, a scapegoat for Athens's disappointment. When the city was feeling strong, the quirky philosopher could be tolerated. But, overrun by its enemies, starving, and with the ideology of democracy itself in question, the Athenians took a more fundamentalist view. A confident society can ask questions of itself; when it is fragile, it fears them. Socrates's famous aphorism "the unexamined life is not worth living" was, by the time of his trial, clearly beginning to jar.

After his death, Socrates's ideas had a prodigious impact on both western and eastern civilisation. His influence in Islamic culture is often overlooked – in the Middle East and North Africa, from the 11th century onwards, his ideas were said to refresh and nourish, "like . . . the purest water in the midday heat". Socrates was nominated one of the Seven Pillars of Wisdom, his nickname "The Source". So it seems a shame that, for many, Socrates has become a remote, lofty kind of a figure.

When Socrates finally stood up to face his charges in front of his fellow citizens in a religious court in the Athenian agora, he articulated one of the great pities of human society. "It is not my crimes that will convict me," he said. "But instead, rumour, gossip; the fact that by whispering together you will persuade yourselves that I am guilty." As another Greek author, Hesiod, put it, "Keep away from the gossip of people. For rumour [the Greek pheme, via fama in Latin, gives us our word fame] is an evil thing; by nature she's a light weight to lift up, yes, but heavy to carry and hard to put down again. Rumour never disappears entirely once people have indulged her."
¶ Art Is Murder. (The Bygone Bureau)
¶ Maira Kalman's studio. (Design Sponge)