Wednesday Morning Read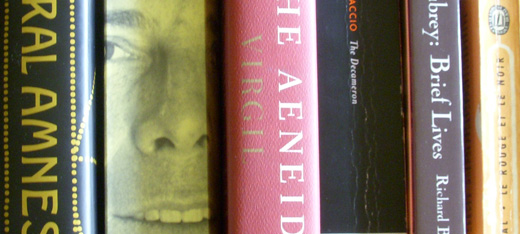 ¶ In the Decameron, IX, ix, the taming of the shrew — an unseasonable tale. Queen-for-a-day Emilia prefaces her story with an exhortation to women to submit to their husbands that is but a prose version of the lyrics to the final song in Kiss Me, Kate. This philosophy would be significant if the women who spouted it were not speaking words written by men.
¶ In Aubrey, the letter "N": Napier, Neale, Newton, Norden, North, Norwood and Noy. More crazy "science": the conclusion to the life of Richard Napier, a physician who regularly consulted with the Archangel Raphael.
Mr Ashmole tole me, that a woman made use of a spell to cure an ague, by the advice of Dr Napier; a minister came to her, and severely reprimanded her, for making use of a diabolical help, and told her, she was in danger of damnation for it, and commanded her to burn it. She did so, and her distemper returned severely; insomuch that she was importunate with the doctor to use the same again; she used it, and had ease. But the parson hearing of it, came to her again, and thundered hell and damnation, and frightened her so, that she burnt it again. Whereupon she fell extemely ill, and would have had it a third time; but the doctor refused, saying, that she had despised and slighted the power and goodness of the blessed spirits (or angels), and so she died.
That'll teach 'em.
¶ In Merrill: Who is Shantihprashad Chatterjee? "The magic child!"
                    [Concerning whom we've gleaned
Such tantalizing facts. For instance, he
Was spoken to at five by Tinkling Voices
From test-tubes in his Junior Chemistry Kit.
At six turned Wine Into Water. Lit at seven,
While gardeners looked on goggle-eyes, His First
Smokeless Fire.]
Google-eyes turn up nothing.
¶ Clive James writes a mash note to Tony Curtis.
To the extent that screen stardom can be broken down into separate gifts, however, Curtis, apart from a physical beauty that was built to last, had another gift that was rare and precious. He was a writer's actor. When he spoke it, the language came alive. Somewhere under the quiff and eventually the rug, Tony Curtis weighed a line for its rhythm and melody, and said it as if it could be said in one way only, and no uddah.