Morning Snip:
Sobbing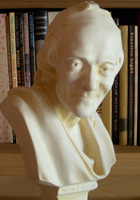 From "Goodbye, Children," the latest entry at Dominique Browning's Slow Love Life:
My younger son Theo, returns to California for one more year of college. He has spent much of the summer with me, so once again, as I wrote about in my book, Slow Love, I've been able to be a Stay at Home Mom with an actual child at home. It took some adjustment. Granola disappeared as if locusts had visited. "You've forgotten the way 21 year olds eat, Mom." The photograph here–which I did not set up, but instead, came home to one afternoon–shows what passed for putting up clothes. In the living room. "But they're up off the floor, Mom." My five-year-old friend Sophia came to visit, clapped her hand over her mouth in mock horror and burst into giggles at the sight of his room. She dubbed him Messy Theo. I tried explaining the virtues of an ordered environment. He tried explaining the irrelevance of chores that were done only to be undone within the same day. And we had great talks, walks, swims, meals, and enjoyed one another's company. We watched rainbows dissolve, and I got to wish him goodnight for weeks, the same way I did every night through his and his brother's childhoods, the way my mother did in mine: "Fais de beaux reves."
By the time you are reading this, I'll be driving him to Providence. And I can promise you, the moment he and his backpack hit the lobby of the train station, I'll be sobbing.