Gotham Diary:
Read All About It
December 2015 (III)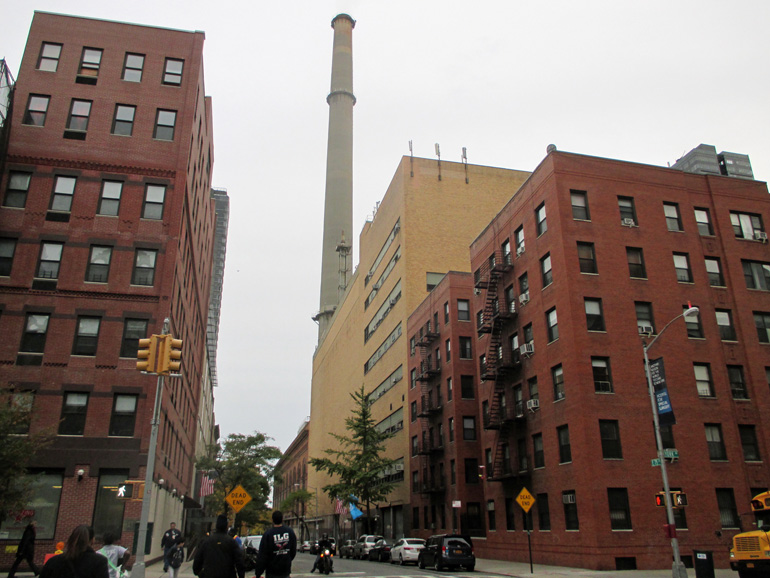 Monday 14th
Working my way through Granta 133, I came to the story near the end, "The Middle Ages: Approaching the Question of a Terminal Date," by David Szalay. At first, I thought the story was apocalyptic, because the streets of Bayswater, in which the story opens, were deserted; then I realized that it was very early on a summer morning. The story is told in free indirect style from the point of view of a thirtysomething scholar whose name, we learn at the end, is Karel. He has grown up in Belgium but his family background is Polish, as is the young woman whom he picks up at an airport in Germany, en route to Krakow, where the young woman lives. Her father, a police chief, is looking forward to the arrival of the vehicle that Karel is driving across Europe from Nottingham — the nature of this transaction remains very murky, and is pinned to the story of the man and the woman by an accidental scrape that Karel inflicts on the paint job by an ill-considered maneuver in the airport parking lot.
The young woman's name is Waleria. Naked in bed, on some earlier occasion in Oxford, where Karel is working on early-English vowel shifts, Waleria consults a Tarot deck. Waleria concludes that the message of the cards is that it is time for Karel to stop thinking with his dick. "That's the headline," she says. Not that she puts it quite that way. But she does touch his penis, to make her point.
How much time has passed since then, I don't know, but from the moment in the airport that Karel tells Waleria about the "scuff" on the car, expressing his worries that her father will be unpleasant about it, I stopped thinking of him as an intellectual homme moyen sensuel and began to see him as a failed adult, swaddled in selfishness. Worse, I found myself to be glued to a nauseating identity with him. I felt dirty and found out. It's true that I have a guilty conscience. It's also true that, as Waleria accuses Karel, I like to have things my own way and have largely succeeded at that objective. Or you could say that I do and have. I ought to point out that this mortifying response was ignited by Waleria's changing the subject from her father's possible displeasure to her own being pregnant. Before he knows what he's saying, Karel has expostulated, "That's shit," and Waleria is sobbing. She loves him; she's not sure that she will have an abortion. Karel (whose name we don't yet know — a blankness that possibly makes it easier for readers with guilty consciences to slip into him) is beside himself with discomfort. He doesn't bother — Szalay doesn't bother — to spell out the reasons why Karel is not eager for fatherhood. This is, after all, one of the oldest stories in the book, utterly unvarnished by some new plot twist. And yet it is riveting.
I have probably spoiled it by speaking of Karel, instead of resorting to "our hero" and conceits of that kind. It is clear from the beginning that the man driving the new car is no hero. He is a skirt-chaser, Waleria has told him. He thinks to himself that the "set-up" that he has with Waleria is "ideal." It's a damning sentence, one that drains his relationship with Waleria of the possibility of love. Waleria, despite her youth, is a successful television journalist in Krakow, someone recognized in the streets by strangers. He believes in her ambition — he believes, that is, that Waleria's ambition will sidetrack her from lovey-dovey ideas about him. They meet at remote airports and spend days in quiet inns. (Once, they met in Greece.) Their home lives do not mesh, which is what makes the errand of delivering the car so strange. The car, in the oddest way, is the relationship unwontedly made flesh.
Szalay is very good at showing how, every time that his skirt-chaser opens his mouth on the subject of the abortion that must now be arranged, he makes things worse. When he says that he doesn't want her to do anything just because it's what he wants, the lie is as lurid as a triple rainbow. He tries not to mention the matter but cannot stay silent. His ideal set-up has gotten all screwed up, and he is no longer happy.
As I say, just because I felt massively complicit with Karel doesn't guarantee that any other reader would, but it does seem clear to me that the story succeeds, if it does, because of complicity. When the oldest story in the book happens to you, it's all new. Its awfulness is not in the least bit ameliorated by its familiarity. I felt that I was Karel. I had knocked somebody up and was fretting about getting rid of the consequences. I was saying stupid but revealing things. I actually "observed" that Waleria's letting herself get pregnant because she loved Karel and wanted to take the relationship to a new level, unilaterally, was not very commendable. Then I sort of exploded with disgust — not commendable?! Meanwhile, I'm reading all this and blushing, perhaps actually.
By the time the story ended, I had peeled away somewhat from Karel (and Waleria). But I got up and went into the kitchen to fiddle with dinner. I had found a steak in the freezer at about five o'clock, and I was nursing it to room temperature. On the way home from Mass, Kathleen picked up a couple of potatoes, and I needed to get them into the oven.
***
Kathleen got home shortly before two on Saturday morning. Her flight had taken off late from LAX, but it landed early at JFK. By Sunday, the only trace of her trip to Sydney on my part was the pile of books that I hadn't touched while she was away. While she was away, I read the first five of the George Smiley novels, by John Le Carré. I hadn't been a fan; nothing, I thought while the Cold War was still on, could be drearier than reading about agents and counteragents and moles and checkpoints. And then, afterwards, I read The Russia House, and wondered if Le Carré's basic story had collapsed with the Wall.
To me, the Cold War was an American nightmare that began right after the War. I didn't understand until fairly recently that it was very different for the British. For the British, the Cold War was a final twist, or nearly, in the unwinding of imperial greatness. There was also the Oxbridge romance, during the Thirties, with anti-capitalism, and its sequel, the wartime alliance with the Soviets in the fight-to-the-death against Hitler. Finally there was the craven hatred, if not of Americans generally, then of braying American brashness. There was the humiliation of Suez. There were people like Chapman Pincher.
You can't imagine David Cornwell (Le Carré when he's at home) and Pincher having an amiable conversation. Pincher seems, in Dangerous to Know, to have known everybody, but for all of Pincher's scorn for British Intelligence — in Their Trade Is Treachery, which I'm looking forward to reading, he makes that case that MI5 was run by a traitor — it does not put him in Cornwell's boat, and Cornwell does not appear in his index. But Le Carré's novels made for a counterbalancing sequel to Pincher's autobiography, and an even greater escape from the wretchedness of worrying about Kathleen, on the other side of the world.
(Kathleen herself had a great trip, and that is what I shall remember.)
My favorite of the five books is, hands down, The Looking Glass War. It simmers on the edge of comedy. It's too serious and sombre for laughter, but the dismal glee of Evelyn Waugh is more than detectable. Smiley is a peripheral figure; the Circus is off to one side, a rival organization. "The Department," as it is called, appears to stand in the same relation to the Ministry of Defense as the Circus does to the Foreign Office. But unlike the Circus, the Department has shriveled. The Circus has poached much of its staff, for one thing. For another, it has not conducted an operation in the field for some time. Its senior officers show up late in the morning and twiddle their way through the day, with nothing much to do. The fun is in watching the Department's chief, a small man named LeClerc, try to parley a new lead about nuclear weapons in East Germany into a return to active life.
A man of Polish background, Fred Leiser, who conducted espionage for the Department during the War, is re-enlisted and, as it were, dusted off. He is whisked off to Oxford and subjected to a month of training; he is also led to believe that the Department is still what it was twenty years ago. You know that everything is going to go horribly wrong for Leiser, once he crosses into East Germany, because LeClerc is living in a dreamland, enabled by cynics and enthusiasts. His right-hand man, Haldane, seems to regard the operation as a smooth way of pushing the Department into extinction, but all he does is to follow orders. We learn early in the book that LeClerc has a gift for minimizing prospective difficulties. His penchant for looking on the bright side is tantamount to proving that there is no bright side.
Kathleen's return found me poised on the early pages of The Honourable Schoolboy, which is much longer than its predecessors and also set in Southeast Asia. I may have to start reading it again at a later date. With Kathleen safely tucked in, I took a new look at the bedroom and saw that the reading pile was too tall; I was in the middle of too many books. So I wrote all the titles down in an Evernote and set to finishing them off.
By Wednesday — I have a Remicade infusion tomorrow afternoon — it will have hit me that Christmas is upon us.
***
Tuesday 15th

The book in my reading pile that I'm most reluctant to finish is Marie Kondo's guide to "tidying" — a poor choice in translation from the Japanese for "getting rid of stuff; I tidy the apartment every week without getting rid of anything. When I finish reading The Life-Changing Magic of Tidying Up, I shall have to have something to say about it here; not, as you might suspect, because I want to appraise its homemaking secrets (which are quite sound, even if I don't agree with each and every one), but because the case studies — the examples provided by clients — so richly illustrate the attempt to modify age-old habits, culturally reinforced for so long that they seem to be hard-wired, to suit modern circumstances. For most of human history (all but a tiny fraction of it, really), inadequacy and want have been the characteristics of nearly everybody's material possessions. Now, within the space of two centuries, whoosh! — our closets are overflowing with useful things that we never use.
My favorite anecdote concerns the woman who cleared out her house by sending all her sentimental mementos to her parents, for them to store. Both mother (also a client) and daughter had to be told that they would not graduate until the boxes of mementos were removed from both houses. What did the daughter think she was accomplishing? Well, it's clear that she wasn't thinking, because if she had been, she would have seen that she was merely postponing a problem, not solving it. She would presumably have to clear out her parents' house eventually. But how clever we are at substituting postponements for solutions.
You could argue that the daughter did solve the problem: she cleared out her house. But the "life-changing magic" that Kondo promises requires more than just getting things out of the way. They must be discarded. Kondo has an interesting test for distinguishing the things that you ought to keep from the things that you can rid of: when you hold them in your hands, do they "spark joy"? That's another translation problem, at least because sparking is so ephemeral and joy is so extreme. (Problem, I say, not necessarily a mistake. There may be something to learn from Japanese itself.) I'll tell you what sparks joy for me: no longer hoarding stuff that I thought I ought to hold on to, but which for the most part I forgot was even there.
When I laid out our current apartment a year ago, I bore a lot of Kondo's ideas in mind, even though her book hadn't appeared here yet. I sequestered all the stuff that was of doubtful utility in rooms and parts of rooms that hadn't been settled yet, and the extension of settlement led inexorably to the elimination of stuff. There are still boxes to go through, and, yes, they're in a closet. It's enormously tedious to go through the past, and not just wearying but depressing as well. Just weeding through photographs can be upsetting. I recently found a small shopping bag from the Museum that was full to the brim of photographs that Kathleen took in 2001. There were three groups of pictures: the view from her office at that time, which included the wreckage at the base of the South Tower of the World Trade Center, along with shots of the Wall Street area in the aftermath of 9/11, with armed guards and American flags everywhere; pictures of Singapore and Amsterdam, which Kathleen visited in October 2001, flying around the world, east to west, in the process, notwithstanding the recent "events"; and a mountain of photographs of Bermuda. Over the weekend, I gave her the easy piles to cull, Singapore and Amsterdam. The Bermuda pile will be harder to deal with only because it is so much thicker. But I'm reluctant to present Kathleen with the 9/11 shots. I may cull them myself, and ask her to approve my decisions. Most of the 9/11 images are of poor quality, but the aesthetics of such photographs are different, and almost more literary than visual.
But when I come into the apartment from outside, or when I go from room to room, I am still conscience of a relief, a relief from the oppression of our rooms upstairs, which were crammed with hidden caches of stuff. This despite almost constant weeding. Here, there is only that closet with its stuffed bankers boxes. The apartment feels genuinely light and airy, and the relief that I used to feel has grown into something more positive, a calm contentment that is not always traceable to or associated with the ejection of rubbish.
Whenever I think about the storage unit on 62nd Street, I am almost crushed by hopelessness: how will we ever empty it? It tires me just to open the door, and I rush to fill a few tote bags with stuff, so that I can escape. Months pass between visits. It is shockingly expensive to maintain, and brilliantly inconvenient to unload. My advice to people who are thinking of renting a storage unit is: don't do it! These moments of despair, however, do not spoil my happiness at home. Unlike the woman who sent everything to her parents' house, I'm living in a space that never held what I need to get rid of.
At least I have stopped accumulating new things. (Credit card statements back me up.) Sure, there are always new books and new discs. But not so many as before, and, at least so far as the books go, I'm managing to stay in equilibrium, donating books to Goodwill to make space to new arrivals. Perhaps it's just age: I really don't want new things anymore. You might say that I no longer believe in them.
***
A more genuinely problematic book is Roger Scruton's An Intelligent Person's Guide to Modern Culture. I have read through it once, but I have hardly begun to digest it. I swerved from agreeing to disagreeing with what Scruton has to say so many times that just thinking about the book gives me a headache.
Roger Scruton is a conservative British philosopher. Although he is only a few years older than I am, he belongs to the pre-baby-boomer generation. This is evident on every page; Scruton could pass for a thinker twenty years older. Many of his ideas are simply old-hat. For example, he believes that it is the duty of adults to train children to preserve social values intact. He dismisses feminism and gay rights out of hand, as simply unnatural. (Although it ought to be noted that he has retracted his homophobic teachings.) He is resistant to the idea of social evolution not, I think, because he disbelieves in it, but because social change in our time has been so rapid and ill-considered — not really evolution at all. On that point, I'm inclined to agree. I agree, too, with his contempt for "youth culture" and for the adults who have heedlessly paid for it. I agree with him about the wrong-headedness of higher education. I could not agree more heartily with his analysis of Theory as a Satanic religion — no exaggeration!
But I disagree with him about religion, about the relation between religion and art, about the importance of rites of passage and other "tribal" survivals in modern society, about modernism itself — just to name the significant bones of contention. I find his protracted discussion of means and ends, in Chapter 4, to be a stew of overcooked words and stale philosophical notions. I have never accepted the idea that there is anything particularly new about "alienation," except that it became a behavioral fashion of the early Twentieth Century. Working through these disagreements would take days; reading the book, I could hardly keep up with them. I tended to agree with Scruton's conclusions while taking exception to his assumptions. I have arrived at many of his positions, that is, by following very different paths, and those paths also lead me to disagree with many of his positions. So the Guide is both very interesting and quite frustrating.
Fundamentally, of course, I don't believe in philosophy. I have gotten rid of philosophy, just as I have gotten rid of clothes, books, and papers that no longer "spark joy." By "philosophy," I mean systematic philosophy, the attempt to explain all phenomena in relation to select metaphysical concepts. I am especially allergic to metaphysics, which I place on a level with video games. Boys' stuff, in other words.
So you might say — this just occurred to me — that, while I have no use for Scruton as a philosopher, I prize him as an articulate observer of the current scene, albeit one confused about — how to put it? — gender issues. I may have to leave it at that for a while.
***
Wednesday 16th

Regular readers will recall, probably with a groan, my Hannah Arendt phase, almost two years ago. If I didn't read everything, I read a very great deal, and, as in all encounters with deeply engaging thinkers, I felt my world change. I was old enough to know that the surface enthusiasm would abate, and that Arendt's ideas would lose their point as I digested them. Eventually, they would weave their way into my own thought, altered to some extent, and I would no longer be aware of them as Arendt's. And that is what happened — with two exceptions.
The first is The World, a conception that makes its appearance in The Human Condition. The World is entirely manmade; it consists of objects (such as, say, the Eifel Tower) and ideas (political life, for example). More to me than to Arendt, The World is the history of humanity — what we know or remember of it. It also comprises our scientific understanding of The Earth and The Universe. The World is nothing less than the object of all education. Although divided into "subjects" for convenience, The World is a seamless whole. It is the society of human beings.
(It may well be that it is because The World is so vast and complex, so beyond any one mind's full comprehension, that I have no time for and only impatience with fantasy. This raises an interesting distinction: where does imagination end and fantasy begin?)
The second idea that I have taken from Arendt is one that I thought a great deal about as I read Roger Scruton's An Intelligent Person's Guide to Modern Culture. It is the idea of Newborns. Certainly Arendt's frequent reference to "newborns" — newborn children — is the oddest thing about the experience of reading her work for the first time. Why does she insist on dragging the most basic fact of life into her philosophical discussions? Eventually, it occurred to me that she is angling to divert attention from another most basic fact of life: death. Death doesn't seem to interest her; she accepts it and moved on without comment. Everybody dies, The End. In contrast, Everybody is born, and who knows? Who knows what the newborns will get up to? Who knows what circumstances will surround them? Will they be given a Washington to vote for, or a Trump? Will they face a plague, or a startling medical advance? What will they think about us? Within how many generations of newborns will we and our problems be forgotten? Who knows? Nobody.
At one point, somewhere, Arendt even refers to newborns as invaders. Here we are, thinking that we're reproducing ourselves, when in fact we're raising the portcullis and admitting a host of aliens! This one thought has been spinning like a top in my brain for nearly two years.
For of course we are not reproducing ourselves. It is a category mistake to refer to the whole business of intercourse, fertilization, gestation and birth as "Reproduction." It might make sense to say that a species reproduces itself in successive generations, but not if the species consists of billions of individuals, living in all sorts of places under all sorts of conditions, some dozens or hundreds of whom may leave a mark upon history. Reproduction is the one thing we don't do. It would be better to rename the subject Newborns and Where They Come From.
Each one of us was a newborn once. Then we "grew up," a process lasting, for official purposes, eighteen or twenty-one years but capable of stretching well beyond thirty. We had children of our own, and they had children. The astonishing thing about grandchildren is that one did nothing to create them. One could do nothing — that is the wearying frustratioin of parents who long for grandchildren. Grandchildren are a forward-view mirror: getting to know them gives us the only idea that we shall ever have of what will happen after we die. The very lucky live long enough to see their grandchildren become adults, people who no longer need the protection of elders. We never quite believe that our children don't need our protection — mothers especially. But grandchildren are independent of us.
Since the Industrial Revolution, we have made The Earth a dangerous place. We used to hope that God would be good to our grandchildren; now we must hope that our grandchildren will be spared the consequences of the damage that we (and our forebears) have inflicted on the environment. This damage, in turn, has made the environment, which used to exist alongside The World, part of it, and a politically combustible part at that. Actually, we must do more than hope. We must teach our grandchildren about The World into which they have been born. They won't have time to figure it out by themselves. And we must persuade them — persuade them — that we have useful things to teach them.
Do we? Do we have useful things to teach them? I believe that we do.
But can we? Can we speak to them persuasively through the din of so-called "youth culture"? This question is particularly lively for men and women of my age, now approaching seventy. For we were the baby-boomers; we were the first to claim that youth culture was the only culture. We were the first to insist that grown-up ways could be ignored. There are signs that the young people of today — the more intelligent ones — are tired of youth culture, which has grown only louder and more vacuous over the decades. That's for the good. But will they deign to listen to repentant baby-boomers?
Who knows?
***
Thinking about Newborns has led me to the conclusion that it is wrong, immoral, to want to live forever. Personally, I think that it's daft, as well. But as I mull over the ambitions that so-called "transhumanists" are nurturing, I see them to be inhumane, anti-human. The transhumanist project, if successful, will rob future generations of the right to be free of their forebears' direct interference. This will endanger the most natural aspect of human life: its evolution.
The young man grunts with relief when the old hands die off and let him do things in his own way. The middle-aged man, especially if he has been what we call "successful," denies that the new crop of young men is as worthy as he was. Their wishing that he would die off is not like his, for they are ignorant and self-absorbed. He cannot believe that he was just like them, once, or that he looked just like them to his elders. This is the egotism of success: it sanctifies the successful man, at least in his own eyes. Successful people are special, and they spend a considerable portion of their material rewards on assuring special treatment. Because they are special, they are spared the everyday tedium of crowds and queues, and because they don't have to deal with crowds and queues they are even more special. It is not difficult for successful people to imagine that they deserve immortality.
What they fail to see is the Midas touch of success: it turns you into a statue of yourself. Spared the frustrations of striving, free for a life of golf and symposia, you cease to learn about the world — for haven't you demonstrably learned everything that you needed to know? You cease growing; you go on being your same old self. If we want to consider just how dismal such endless continuation can be, and how much worse it would be if death were vanquished, we have only to consider two rulers from the not-too-distant past, Franz Josef of Austria and Winston Churchill. They had little in common beyond the fact that they held onto ruling power for so long that they suffocated their successors. They withdrew so late in life that those who followed them were unprepared for the sudden new world that erupted with their withdrawal. In the Austrian emperor's case, the new world erupted before his withdrawal (but partly because he was an ineffective old man), and two successors, his son and his eldest nephew, were withdrawn even before he was. Churchill's persistence saw to it that Anthony Eden would be overly anxious to assert himself when he finally got to the top — and the humiliation of Suez was the result. The old emperor was mistaken by many for an assurance of permanence, a guarantee that things would go on forever as they were. Many of us hate such prospects, but more of us find them comforting.
We need to be trained — educated — to see the future with the same eyes with which we see the past. The good man crowns his success by looking for worthy successors. The great man crowns his by exercising power so light-handedly that worthy successors spontaneously present themselves. He knows that worthy successors will do things as they must be done: at least somewhat differently.
***
Thursday 17th

The other day, casting about for something to read at the Hospital for Special Surgery during a Remicade infusion, I grabbed yet another novel by Penelope Lively, How It All Began. This was the second Lively novel that I read, on a binge at the beginning of this year, and I remembered liking it very much. But there's got to be more to it than that. I like all sorts of books, but I don't re-read them within the year. Lively is unusual in that I find her to be both entertaining and comfortable, and I wonder if I am saying something terrible about her with that comment. The comfort lies in the language, not the situations. But that may not be much of a save. Literature is not supposed to be comfortable.
How It All Began, which is still Lively's latest (2011) and may well be her last, was a delightful companion at the hospital. I remembered some story lines before I opened the book; others sprang forth when characters were introduced. The book works out a conceit that is implicit in every novel: the ramifications of chaos, known in chattering circles as "the butterfly effect." All standard novels trace the working-out of an unpredictable chain reaction. Mr Elton arrives in Highbury; complications ensue (Emma). Lively's contribution is a droll commentary, quite as if everything in her story were really happening, and she not making all of it up. She also invites us to believe that the story is set in motion by one root cause, the mugging of an elderly woman. That is a comfort, too, and one that we can safely accept, because "it's only a novel," and we look to fiction to organize life. In fact, of course, muggings are themselves caused by muggers, whose criminal behavior has its own causes. Everything has multiple — myriad — causes. The paradox of the butterfly effect is that it cannot be demonstrated in the real world.
Lively is a top-notch illusionist. Her characters may be unusual (although most are not), and we may not quite understand them (although we usually feel that we do), but they all have the presence of real people confronted by real circumstances. The first branching of Lively's story occurs when Rose Donovan has to bring her mugged mother, Charlotte, home from the hospital. As a consequence, she cannot accompany her employer, Lord Peters, on a lecture junket to Manchester. Lord Peters, who is in his seventies and reluctant to travel alone, enlists his niece, Marion, to take Rose's place. This substitution, in turn, produces three more complications, first because Marion has only the vaguest idea of what Lord Peters implicitly expects of a companion, and not only the train tickets but the lecture notes are left behind in London. She is also seated next to a banker at luncheon. Rose and the banker would have had little to talk about, but Marion and the banker are soon doing business. Finally, Marion leaves a text message, regretting that the Manchester trip will require a change of plans, on her lover's mobile, and the message is discovered by the lover's wife.
And so on. Each of the characters is shunted out of the ordinary and into an unexpected, although perfectly plausible, situation. And in every case, except perhaps one, everyone ends up more or less exactly where he or she began. Even the exception is not all that divergent. How It All Began twinkles with the suggestion that Penelope Lively has deliberately subverted her alleged project.
The odd thing is that I was finally experiencing something that I'd read about but never found: the novel that can be counted upon at any time for nothing less than friendship: for counsel, for comfort, for distraction, for laughter — all on demand. I've always had to be in the mood for any given writer, so it seems that I am always in the mood for Lively.
Is this a good thing or a bad thing? Not for me, but for Lively.
***
If the foregoing makes any sense, it's tribute to a writerly detachment that I did not possess until late middle age. Kathleen and I were awakened this morning by some terrible news: the lawyer with whom Kathleen moved from her last firm to her current firm was arrested earlier today, on federal charges of conspiring to commit securities fraud. Ordinarily, this is not something that I should mention here, because it has nothing to do with Kathleen beyond the accident of association on other matters, representing other clients. But the arrest will be notorious because the client in the case, also arrested this morning, is Martin Shkreli, a young man who has been much in the news for jacking up the prices of drugs to which one of his businesses holds the patent, and also for paying $2 million — I can't quite bring myself to follow this story — for a Wu-Tang Clan LP. The alleged fraud has nothing to do with either of these matters, either. But it is pointed out that the lawyer, Evan Greebel, used to work at one place (where the fraud is said to have been perpetrated) and now works at another, a pattern that fits Kathleen exactly. I was so certain that my son-in-law would piece the story together that I called my daughter to tell her all about it. She hadn't heard the news yet, but she agreed with my anticipation, and was grateful not to have to wonder whether to be the one to bring it up.
So much is public record — all but the telephone call that brought us the news. All but the shock and sorrow. I saw a clip on CNBC of the defendants being walked across a Brooklyn Street. I couldn't be much more grieved if Kathleen's partner were my son.
***
Saturday 19th

Yesterday got away from me. Or perhaps I was never really there. Kathleen had to be up early, for a conference call — she has spent her life on the phone, since the news broke on Thursday morning — and, when she was done, she got dressed and went into work. I read the paper, and went back to bed. I dozed for hours, but I didn't sleep; the atmosphere of agita, which is what sent me back to bed, saw to that. When I got up, I heated a bowl of soup. I had planned to go out for lunch, but my heart wasn't in it. After the soup, I looked in the closet that we call "the attic," and found not just a few but about a dozen packages of bubbled mailers for Kathleen's 2016 calendar. I shouldn't have to go to Staples after all! I was so happy that I almost looked forward to going to the Post Office.
Once dressed, I tucked five envelopes into my bag and headed over to our brutalist branch; truth to tell, the Farley Post Office hasn't even got enough style to be called brutalist. A comparison with the branch on 70th Street speaks volumes to the socioeconomic history of the neighborhood. I forget the name of the latter branch, but it is an elegant, Frenchified Georgian gem, with marble and soft lighting everywhere. When the Farley branch was built, in the 1950s, Yorkville was a working-class neighborhood; the Third Avenue El was dismantled at about the same time. A gigantic, overlighted room is edged by what would be tellers' counters in a bank, and most of them are usually shuttered. No matter how clean, the place is incorrigibly dingy. It conveys a sense of what life in Russia must have been like in Soviet times. Nobody goes to the Farley branch for fun.
Most of the windows were open yesterday, because of the holidays, and the line, which was not that long to begin with (I was thirteenth) moved along nicely. I was lucky to land at the window of a very helpful woman. Among other things, she stamped the two calendars that I was sending to Europe without obliging me to fill out customs forms, as clerks have always done in the past. And her scale was steady: each of the domestically-bound calendars rang up at $1.42. I was set to buy postage for a hundred calendars at $1.50 each, just to be sure that none would be returned for insufficient postage — in past years, there has been a differential of up to five cents, even though each package is absolutely identical to the others. But the nice lady convinced me that two 72¢ stamps on each envelope would do the trick. The current 72¢ stamp features a butterfly. Mother Nature hasn't evolved a Christmas-colored butterfly yet, but one could wish for something closer to seasonal than yellow and black. But who will notice.Who's complaining.
Keeping busy turned out to be a good idea. It didn't distract me from the shocking upset of learning that the partner with whom Kathleen represented her most important clients had been arrested — news trumpeted to every corner of the earth, thanks to the notoriety of that other, former client (never Kathleen's), with whom her partner was alleged to have conspired to break the law — but it kept me from wallowing. Today, I tidied the apartment, just as I used to do on Saturday afternoons, did a load of laundry, and baked bread. I baked bread twice, in fact, because the first pair of loaves was so slow to rise. Perhaps it was the weather. I ended up baking the two, and they weren't all that runty. The second pair is in the oven now. I shall order a new package of yeast this week — there was something funny about the way it wouldn't quite dissolve.
The bread will be sliced for French toast tomorrow. A neighbor is coming to brunch. I thought about sticky buns, but I should have had to do a little shopping, for pecans particularly. As it is, I'll run out to buy a pineapple in the morning. I'll core and slice it into rings, and then run it under the broiler. That and Nueske's bacon ought to be enough for anybody.
I've almost settled on buying a tabletop Christmas tree, but we'll see when we get there.
***
Better late than never: Bon week-end à tous!