Housekeeping Twaddle:
There He Goes Again, On About His Cooking
25 November 2014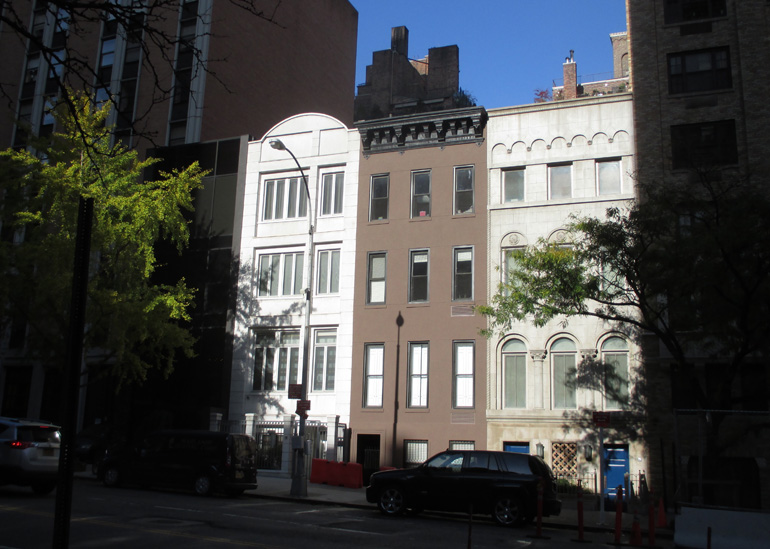 At long last, I took a day off from moving. As noted at the end of yesterday's entry, I spent most of the day writing it. Then, for about an hour, I considered making a mad dash for several move-related errands. During that time, I became aware of being very, very tired. So I sat down at the computer in the bookroom — midday sun had forced me to set up the laptop on the dining table, at the north end of the apartment, and I'd stayed there all afternoon — and wrote a long letter. Then I ordered stuff from The Container Store. Tote bags arrived from LL Bean: both large, both the same two colors of green, but reversed, with the color of one's handles covering the other's body. And both monogrammed, impishly I thought, with varsity lettering. The totes are going to be my bureau drawers for bulky items, and they'll be stowed on the floor of my rather small closet.
Kathleen won't be home too late, and we'll order Chinese. We had an impromptu little dinner party last night. On Friday, I had to borrow an article of domestic utility from our old neighbor on the higher floor. At her door, I asked her to tea on Sunday. On Sunday, I called and revised that to dinner. So our neighbor arrived shortly after seven. Dinner was on the table by eight, and I even remembered to take the Camembert out of the refrigerator, although, with the weather we've been having, room temperature isn't warm enough to make the cheese runny. I sautéed rounds of tenderloin to what turned out to be perfection, and I made a mental note of time and heat setting. What I had taken, at Fairway, to be a sweet potato or yam turned out to be some new variety of regular potato with a greenish tinge — nobody liked it much, but how could I have known? That and a pot of my old microwave macédoine of mixed vegetables, which I hadn't made for years, having exchanged the microwave for a second regular oven (a mistake). The new apartment comes with! So I cut up zucchini and summer squash and shallot and cherry tomato — this is my basic version — and toss the pieces in olive oil, vinegar, oregano, and salpep. ("Salpep" was an abbreviation that I used to use on Microsoft Word; it would display salt & pepper. Why not just call for salpep?) I pour everything into a covered dish or a compote, depending on the quantity, and cook it for four or five minutes in the microwave.
There was nothing special about this menu, and, but for the nice cabernet that I opened, it was just another everyday dinner. (Well, the Camembert was special.) Our neighbor surprised us with dessert: the most delicious éclairs that I've ever had, from the new French bakery around the corner on Third Avenue, Maison Kayser (too new for the Web site!). Shortly before ten, our neighbor went back upstairs, and by half-past ten, we were watching the Lewis episode with Juliet Stevenson.
What was different about this "first dinner" was the ease and pleasure of putting dinner on the table. It's a pleasure to be in my kitchen, and the dining table is just through a side door. I can leave the table without leaving the conversation. I felt last night that I was getting off to a good start.
My ideas about cooking have slimmed down in the thirty years since we set up a hardwood table in the blue room upstairs. In those days, I was still fairly ambitious, by which I mean that I wanted to follow a lot of recipes for the first time. It's a useful phase for any home cook, because the experience teaches how to deal with surprise and how to improvise, largely but not entirely the same thing, and both crucial skills. Another takeaway is the ability to get different dishes freshly to the table at the same time: this is the point on which many new cooks falter. And of course there are the techniques and flavors that would not be encountered in the same-old routine. I'm still on the lookout for new recipes — Marcella Hazan's buttery tomato sauce became a staple immediately, and I try to have the three ingredients on hand at all times. (They are: butter — most of a stick — canned crushed tomatoes, and a sweet onion.) But I'm no longer remotely ambitious. My interest has shifted entirely, away from the cooking, which merely has to be good enough to serve, and toward the pleasure of my own company at the table. I've been doing what I've been doing for so many years now that I am genuinely befuddled when awarded praise. It's like being thanked for reading a book — but then, I suppose not.
I suppose not. I think of all the women I know who don't like to cook, or who like to cook like men — rarely. I think of Kathleen, who enters the kitchen about as often as Louis XIV, but who is much more grateful for this privilege. I remember how unusual I am — something that really has to change. There was a time when I considered putting together a collection of recipes under the title Cooking For Mashers, and sharing the insight that the way to a woman's… I'll let you fill in the rest. But as I didn't teach myself how to cook as an accessory to seduction, it might be inauthentic and misleading to assume the voice of a wizened Lothario.
***
Whilst watching episodes of Lewis, I keep handy my three Pitkin Guides to Oxford. Two of them are recent purchases — Oxford Colleges and Morse in Oxford. The third I found when I unpacked the books for the living room. As it's in the other room, and I'm (see above) very tired, I'm going to paraphrase its title as Oxford Town and Gown. It belonged to my mother-in-law, and tucked into it is the itinerary for a ladies' club tour of Oxford in 1984. Aside from lunch and a bit of leisurely loitering at Merton, the ladies kept up a mad pace, running through colleges in fifteen or twenty minutes apiece. If I were a genius like Alan Bennett, I'd use the schedule to construct a comic play. The women — ladies — who would set out to "do" Oxford in a day would never get any closer to it, academically, than Cheltenham College.
I ordered Oxford Colleges when I saw, on its cover, the edifice that kept catching my eye in the pans that open so many episodes of Morse and Lewis. It caught my eye because of a certain bogus quality. And I was right: All Souls', with its symmetrical rectilinear spires, topped by what I call, variously, "haircuts" or "product," is not even as medieval as Christ's Church. It's pure Gothic Revival, the work of the excellent Nicholas Hawksmoor, the architect of the bell towers of Westminster Abbey, if you please, and it dates from the first half of the Eighteenth Century (Hawksmoor died in 1736). The long look that a Pitkin guide affords makes it obvious that the whole building is a gigantic fake, Middle-Ages-wise, but I doubt that Hawksmoor or his clients thought of it as such. They were interested in applying the "Gothick" style, like a coat of paint, to a building of modern spaciousness and convenience. All Souls' would have seemed an improvement, and not at all intended to fool anybody.
Pitkin Guides — we don't have anything like them over here. If I were Alan Bennett, I should know how to present these introductions to Ye Olde England as the trashy little luxuries that they are. (There is, apparently, a Guide devoted to the six wives of Henry VIII.) Glossy and succinct, Pitkin Guides capture the spirit of efficient but tasteful tourism — it's their very tastefulness that makes them trashy, which is really my regrettable way of saying that nobody familiar with the subject of a Guide would own it, except in secret and in a spirit of mockery. Also, abominable conceit.
***
And I wrote this, too.