Gotham Diary:
Genius
8 November 2012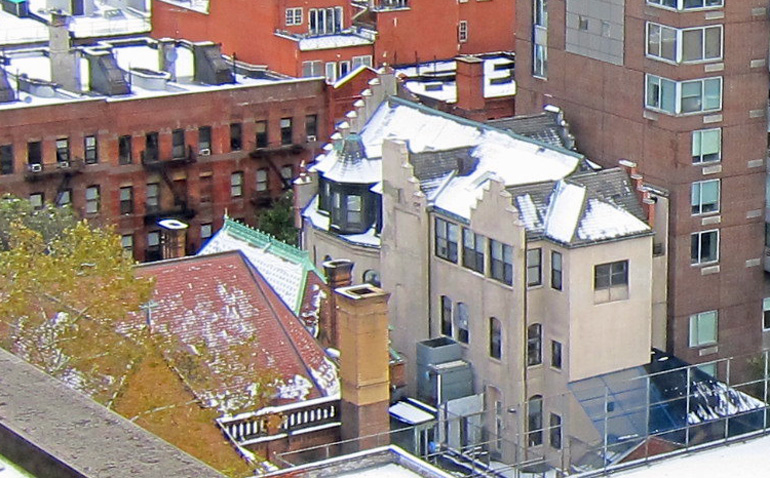 Permit me to begin on a scholarly note: most of what I have to say about genius just occurred to me the other day while thinking over Virginia Woolf's autobiographical writings and, for context, re-reading parts of Hermione Lee's 1996 biography of the writer. My thoughts are entirely sketchy and impressionistic. Aside from a glance at Wikipedia, no study of any kind was involved.
What I brought to this deliberation was something between a hunch and a conviction to the effect that "genius" is not a helpful concept, not a meaningful label. It means nothing more than "very smart person," where "very" may be exchanged for any number of emphatic adverbs ("extraordinarily," "unusually," "immeasurably," &c). In other words, it is not a grade; it does not signify a class. "Genius" is a romantic word, loaded with hokum.
As the Wikipedia entry points out, genius was the ancient Roman term for a family's "tutelary deity," whatever that was. It picked up something of its modern sense when the genius of certain families came to be thought of as the explanation for their prominence in affairs. But until the Nineteenth Century, genius was a possession, not an identity. You might speak of "the genius of Shakespeare," but without claiming that "Shakespeare was a genius." The genius of Shakespeare is reflected in his plays, in the the works that this genius inspired. Shakespeare taking a walk or a nap was not being a genius.
The idea of being a genius seems to have emerged in response to the grandeur of Romantic art and philosophy. Did Kant and Hegel write about genius? It doesn't matter. They came to be regarded as geniuses themselves, as were Keats and Shelley, posthumously. Mozart and Beethoven also became geniuses after their deaths. (In Beethoven's case, the reception of his late quartets is a gauge of the development; thought to be the product of a diseased or deranged mind when they were first played, they came, by virtue of their craggy inscrutability, to be proofs of genius.) Genius was sublime.
***
Genius was allowed to be eccentric. Tennyson dressed like a tramp. Genius was not obliged to behave like a gentleman — witness Carlyle and poor Jane. Geniuses, as the Victorian era deepened, became a sort of upmarket Barnum attraction. Here is a picture that Woolf paints of her mother's youth:
Little Holland House was her world then. But what was that world like? I think of it as a summer afternoon world. To my thinking Little Holland House is an old white country house, standing in a large garden. Long windows open onto the lawn. Through them comes a stream of ladies in crinolines and little straw hats; they are attended by gentlemen in peg-top trousers and whiskers. The date is round about 1860. It is a hot summer day. The tables with great bowls of strawberries and cream are scattered about the lawn. They are "presided over" by some of the six lovely sisters, who do not wear crinolines, but are robed in splended Venetian draperies; they sit enthroned, and talk with foreign emphatic gestures — my mother too gesticulated, throwing her hands out — to the eminent men (afterwards to be made fun of by Lytton); rulers of India, statesmen, poets, painters.  … The sound of music also comes from those long low rooms where the great Watts pictures hang; Joachim playing the violin; also the sound of a voice reading poetry — Uncle Thoby would read his translations from the Persian poets. How easy it is to fill in the picture with set pieces that I have gathered from memoirs — to bring in Tennyson in his wideawake; Watts in his smock frock; Ellen Terry dressed as a boy; Garibaldi in his red shirt — and Henry Taylor turned from him to my mother — "the face of one fair girl was more to me" — so he says in a poem. But if I turn to my mother, how difficult it is to single her out as she really was; to imagine what she was thinking, to put a single sentence into her mouth! I dream; I make up pictures of a summer's afternoon.
It is difficult to put a sentence in Julia Jackson's mouth, I surmise, because she is a young girl in the shadow of geniuses. The presence of genius drives out triviality and invests everything with significance. Everything, even the household chores. Woolf describes the process in "Reminiscences," a journeyman piece composed under the influence of Henry James, before she found her own voice, with an ingenuousness that it's impossible to imagine her older self not taking issue with.
She [Julia Stephen] delighted to transact all those trifling businesses which, as women feel instinctively, are somehow derogatory to the dignity which they like to discover in clever men; and she took it as a proud testimony that he came to her ignorant of all depressions and elations but those that high philosophy bred in him.
In her mid-twenties, Woolf (or Virginia Stephen as she then was) still bought this brand of the feminine mystique. It would take years for her to acknowledge and articulate her disgust with her father's genius act.
This frustrated desire to be a man of genius, and the knowledge that he was in truth not in the first flight — a knowledge which led to a great deal of despondency, and to that self-centredness which in later life at least made him so childishly greedy for compliments, made him brood so disproportionately over his failure and the extent of it and the reasons for it — these are qualities that break up the fine steel engraving of the typical Cambridge intellectual.
There is a glee in this deconstruction of her father's aura that makes "A Sketch of the Past" just about the most exciting thing that Virginia Woolf ever wrote.   
***
Even when that disgust was disgorged (beginning with To the Lighthouse), Woolf continued to live and write as though the "dignity," of which her mother was so solicitous, continued to glimmer in her life, a lamplight that would give all other things their contours of significance. The most menial chores would be relieved of drudgery by the presence of this light. But the light did not shine for her as it had for her mother; Virginia herself wished to be a genius. She was able to wish it, without sounding the depths of her father's miserable self-doubt, and the prospect must have seemed provisional to any woman born in the 1880s, growing up a thicket of geniuses all of whom, with the arguable exception of George Eliot, were male. But her relentless high-mindedness interfered with her sense of humor. It placed a high lower limit on admissible fun.  
Had she been able to forget this dignity from time to time, she might have left us much more in the vein of "Am I a Snob?", a speech that she wrote in the Thirties to be read before old friends. What does it mean to be a snob? It means setting true values aside, hobnobbing with aristocrats, and having a lot of guilty fun.
Margot Asquith — "a lady whose birth is no better — perhaps worse — than my own" — was, nevertheless the Countess of Oxford when she wrote to Virginia to ask a fatuous favor: "When I die, I would like you to write a short notice in The Times to say you admired my writing, and thought that journalists should have made more of me." It seems that Virginia had actually allowed that Margot was a "good" writer. "This, coming from you, might have turned my head as you are far the greatest female writer living."
Now I was not, I think, flattered to be the greatest female writer in Lady Oxford's eyes; but I was flattered to be asked to lunch with her alone. "Of course," I replied, "I will come and lunch with you alone." And I was pleased when on the day in question Mabel, our dour cook, came to me, and said, "Lady Oxford has sent her car for you, ma'am." Obviously, she was impressed by me; I was impressed by myself. I rose in my own esteem because I rose in Mabel's.

When I reached Bedford Square there was a large lunch party; Margot was rigged up in her finery; a ruby cross set with diamonds blazed on her breast; she was curled and crisp like a little Greek horse; tart and darting like as asp or an adder. Philip Morrell was the first to feel her sting. He was foolish and she snubbed him. But then she recovered her temper. She was very brilliant. She rattled off a string of anecdotes about the Duke of Beaufort and the Badminton hunt; how she got her blue; … about Lady Ripon, Lady Bessborough; L Balfour and "the Souls." As for age, death and obituary articles, The Times, nothing was said of them. I am sure she had forgotten that such things existed. So had I. I was enthralled. I embraced her warmly in the hall; and the next thing I remember is that I found myself pacing along the Farringdon Road talking aloud to myself, and seeing the butchers' shops and the trays of penny toys through an air that seemed made of gold dust and champagne.

Now no party of intellectuals has ever sent my flying down the Farringdon Road. I have dined with H G Wells to meet Bernard Shaw, Arnold Bennett and Granville Barker and I have only felt like an old washerwoman toiling step by step up a steep and endless staircase.
I think that Virginia Woolf felt like an old washerwoman a lot.