Gotham Diary:
Niente, cont'd
24 September 2012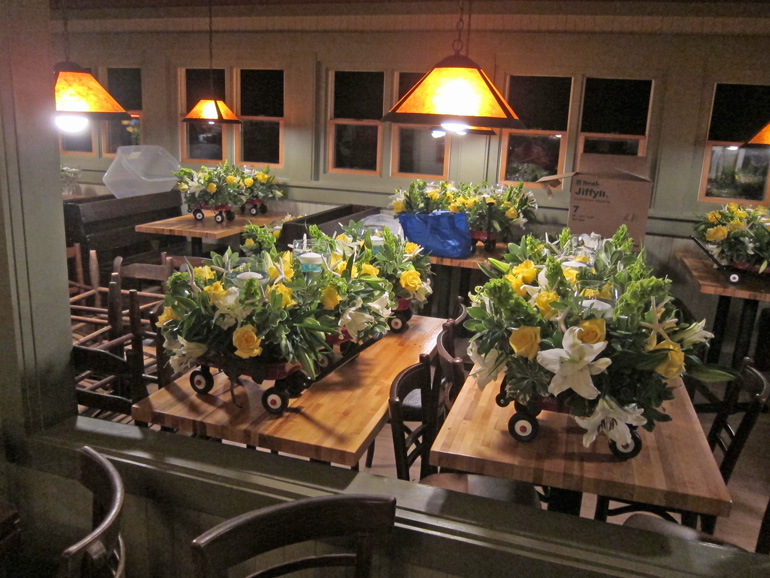 A souvenir of Fire Island 2012: the night before we left, we had dinner at Maguire's, in Ocean Beach, where preparations were underway for a wedding the following afternoon. The flowers had already arrived — in their little Fire Island wagons. I've been thinking, ever since the last few days of vacation, that a wagon would be handy in town. Not one of these miniature numbers, but a real kid's wagon. But you can be sure that I'm not going to buy one until I know exactly where I'm going to store it.
***
That's what the weekend was all about: finding places for things. Or not, as in the case of the "Alice" china, a Laura Ashley pattern that served as everyday tableware at our country house. I've been edging it toward donation to Goodwill for years. The balcony allowed me to postpone the act; I buried it in the base of the hutch out there. Now the hutch itself is gone, and so will the Alice be, by about lunchtime today. There were two mugs and a very pretty (but very vernacular) old Sunsweet prune juice bottle that were dear to Kathleen; I persuaded her to keep them at the office for the duration. That leaves me with a stack of Fiesta plates in different colors; two broken candlesticks that I'd like to take over to Glass Restorations in case something can be done with them; an espresso cup and saucer from the Café de Flore (I actually envisioned having these turned into a bijou lamp, which was funny and decisive — never!); four oversized chargers from Tiffany, two in cobalt and two in a mottled turquoise that goes with nothing in our china cabinet, into which, by the way, the chargers are too large to fit; and a spongeware tankard that I used to drink tea from before upgrading to Fitzhugh. Oh, and the oil lamp.
The oil lamp is a French number in the Grecian style from, I should say, the early days of the Third Republic. I don't know what the metal is — Ray could tell me, when he gets here to wash the windows — but the oil well is very heavy crystal. My mother bought it as an accent piece for her coffee table, and it looked pretty cool with the very contemporary straight-sided chimney that she found for it. That broke, of course, not long after I came into possession. I had a shade made at Oriental Lampshade; it was a silly idea, but one that taught me how welcome electric light must have been. I think that it is time to let the oil lamp go. I suppose I'll have to clean it up a bit first, and discard the (unscented) oil in the well.
I forgot the four Venetian glass goblets, more inherited loot. There are eight altogether, and the other four are tucked into the sideboard. They're not goblets really but more like octagonal dessert bowls, mounted on very long, thin stems that scream "fragile!" I don't use them often, but I do like them, and they make custards and mousses taste twice as special (which is different from "twice as delicious," an impossibility). I really do not know what I am going to do with the four goblets.
These objects cover, without crowding, about a quarter of the dining table. They do not appear to amount to a lot of stuff. Once upon a time, I'd have pushed them under a sofa, but those days are over: things must now be stored appropriately. And there is no appropriate storage room for them in the apartment, not unless I get rid of other things. Nor do I see the point in lugging them down to the storage unit. (The Venetian goblets, maybe.) In round after round, over the weekend, the other items on the table (covering it completely on Friday) have moved on, one way or the other. The remainder has me stumped — but only at the moment. By the end of the week, at the very latest, it will have moved on, too.
Ray Soleil has just called from 86th And Lex. Will he manage to wash the windows before the gargoyles flap in to bolt the balcony door shut? There's no end to the excitement around here these days.
***

Update: Yes, he did. Ray also tucked the Venetian goblets, all eight of them, behind the coping atop the bookcase, where they're visible only to extreme paranoics. Please remember that, in case I forget.