Weekend Note:
Locked Out
7-8 July 2012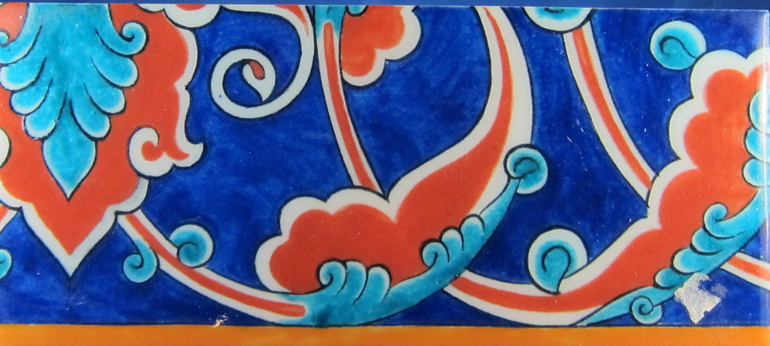 We're having a heat wave — and Con Ed is having a lock-out. At least two managers, stepping in to do the rank-and-file work, have been hospitalized for burns. Our fretful neighbor down the hall gobbles on about the risk of being stuck in the elevator during a sudden blackout. "Because," she goes on, as if to add something, "You don't want to get stuck in the elevator during a blackout."
The other day, she had a different kind of lock-out to worry about. Another neighbor's grandson, not quite a year older than Will so therefore about three and a quarter, locked his mother out of his grandparents' apartment when she went to the laundry room down the hall to put some clothes in the dryer.
I was coming back from tossing something down the garbage chute when I saw the mother at the door. I thought that she was letting herself in, and I didn't think anything of asking after her father (our neighbor), who hasn't been well. I wished that I knew her name; I've known her for most of her life. She was just about starting out in elementary school when we moved into this apartment. She and her older brother both married years ago, and they both have sons. The daughter now lives in Astoria, I believe, but she is a frequent visitor, and I always like to see her boy, who is very handsome. He has a Spanish grandmother, and a grandfather from Bombay, and his other grandparents are Japanese. I didn't realize what he had just done — his mother was, alas, not letting herself in — until one of the building's handymen swept by with an enormous ring of keys. That's when our fretful neighbor appeared. 'Oh, good, someone's come up!" I myself remained fretful. The last time I locked myself out of the apartment, none of the keys on that ring turned our lock, and I can't remember how I got back inside. It turned out to be just as fruitless for our neighbor's daughter. I offered my own key, but it didn't even  fit the lock on her door.
I wishdrew to our apartment but left the door ajar. I tried to work but could only think of the little boy, confused inside his grandparent's apartment. Our neighbors' apartment has a balcony, but it is in the outer corner of the building, and there is no adjacent balcony, so no one could do what one very agile flight attendant did, shortly after we moved into our place, when she locked herself out of the flat next door. Right: she climbed over the railing and stepped along the edge, with her back to the abyss. I wondered how difficult it would be to rappel or otherwise drop down to our neighbors' balcony from the one above. These hopeless thoughts were obsessive and sickening, and I wasn't getting any work done.
Then I heard the cheering and the laughter. It seems that the little boy settled down enough to do what his mother told him to do, and unlock the door. Universal applause! But I thought as I went back to work that in my day the child would have been scolded and possibly spanked, with all the love in the world. Parents put a lot more stock in fear in those days than they do now. I like to think that it is a change for the better, and I hope that it is not just pretty to think so.  
***
I spent the afternoon with Ms NOLA yesterday — summer hours! It was too hot to do anything interesting, but we decided that we would fix dinner together and that her beau (M le Beau) would join us, as of course would Kathleen. At first, we contemplated a composed salad, with tomatoes and some delicious piemontese rib eye that I would slice paper-thin. That probably would have made sesnse, given the heat, but we went in the other direction altogether, and prepared a basically Italian meal, with a primo of pasta and a secondo of roast chicken. We cheated on the chicken; we bought herb- and garlic-marinated chicken halves at Fairway. I gave them a try the other day and they weren't at all bad. I could probably come up with a more interesting marinade myself, but you can't marinate a chicken at the last minute; it takes hours (and hours). But Ms NOLA goosed it a bit, with cayenne and, at the end, green onions. This was served with sautéd corn tossed with chives.
The pasta sauce was the focus of our invention. The minute we got back from the store, I ran a Vidalia onion through the mandoline and drizzled the slices with olive oil. In the course of two hours, the onion caramlized beautifully and reduced from the bulk of a softball to three or four weightless tablespoons of intense allitude. (Correct me on that; I'm working from allium.) Meanwhile, we dumped a large can of crushed San Marziano tomatoes into a small Dutch oven and seasoned it with white wine and nutmeg; as it bubbled along nicely and slowly, we added more wine. When it was time to put the chicken in the oven, we also slid in a pint of cherry tomatoes, daubed with butter and marjoram, tossed in one of those lion's-head bowls with a lid.
The sauce was a study in foods cooked for a long time playing well with others that were hardly cooked at all, and the result was a robust summer sauce that made the best of the weather instead of fighting it. While the water boiled for the spaghetti, we combined the slow-cooked elements in the Dutch oven, stirring in roast tomatoes (with their bubbly, buttery cooking liquid) and the caramelized onion into the crushed tomatoes. Then we added a grated zucchini and a lot of garlic. At the last minute, a quantity of chopped parsley was tipped in.  At the table, we passed a bowl of chopped basil, which Kathleen doesn't care for, and a wedge of organic parmegiano reggiano, along with a grater.
Ms NOLA did almost all the work, seriously, especially the chopping and the grating. She decided when to add what (although she always asked for my opinion first, only to hear that I left it up to her). My one new idea (new to me, that is) — that the grated zucchini would boost the lightness of the sauce while practically melting invisibly into it — turned out to be a good one. The downside of my being spared all that hard, hot prep was that I sat down to table in wide-awake mode, and didn't shut up the entire evening.
The next morning, I have washed all the dishes and gathered up the linens into the clothes hamper. The empty bottle of Médoc has been carried down to the recycling bin. Ms NOLA took all of the leftovers, at my urging, so there is nothing left of dinner, not even a slice of the scrumptious almond-and-apricot tart — nothing, that is, except the fantastic fragrance of a delicious sauce.
***
I may not have done anything interesting on Friday afternoon, but I did go to Crawford Doyle, which I would classify as disgraceful, given the pile of books, right here in the apartment, that remain to be read. I bought four books, two of of them criminal purchases — redeemed, however, by the curious and unlikely fact that I have read them both as of this writing. I have done nothing else this weekend, but I have read Midnight in Peking, by Paul French, and The Rules of Civility, by Amor Towles. I read the first on Saturday and the second on Sunday, boom boom.
The two justifiable purchases were After a Funeral, one of Diana Athill's memoirs, and An Everlasting Meal: Cooking with Economy and Grace, by Tamar Adler. I'm reading all of Athill, anything I can get my hands on, so I don't need to excuse that acquisition. An Everlasting Meal has been making a strongly favorable impression upon Ms NOLA, and, having read the wonderful chapter on rice, I can see why; among many other attractions, it is not lost on me that Elizabeth David is one of Adler's touchstones. In short, it was never going to be the case that these books would get stuck in a pile and make me feel guilty.
But the other two books — pigs in pokes, almost. I'd seen The Rules of Civility, but resisted it, for reasons that I'll explain when I write it up. What decided me for it was Ms NOLA's remarking that her mother read it and liked it. A redoubtable recommendation! As for Midnight in Peking: How the Murder of a Young Englishwoman Haunted the Last Days of Old China, I'm afraid that I must confess (although I'm brazenly unashamed) that the dust jacket sold me. I can't at the moment actually read the credits, and applaud the designer; it's too dark at the moment. But I'll write it up, too. An immensely exciting read! Both books ought to be adapted for the screen right away!
These two purchases were indefensible because there was no good reason to be sure that I wouldn't dislike the reading of these books, and give up on them after ten or fiftee pages. It's bad enough to buy the books by Athill and Adler; I know theat I'll read them, but where will I put them? In the event, helped, perhaps, by weather that made anything but reading, and reading of an escapist nature, simply horrid, I swallowed both books whole, like two delicious oysters. It felt shockingly wrong to stay planted in my chair, hour after hour, turning the pages — and yet you probably think that that's how I spend every day! If only!
Interestingly, both stories are about ten years older than I am. Much of Midnight in Peking happens in 1937, and almost all of The Rules of Civility is set, in Manhattan, in 1938. I have always believed that ordinary modern women never looked better than they did in 1939; I only wish that I knew it for an experienced fact. The conviction certainly gave both books a patina of chic.