Gotham Diary:
Sitters, cont'd
8 June 2012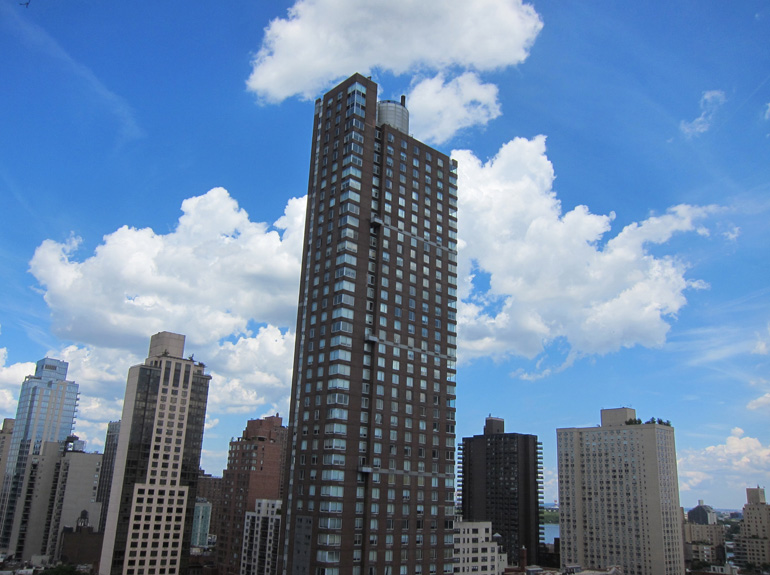 The weather was so lovely, yesterday morning, that I was tempted to trot down to the Shake Shack for an early lunch. I had planned to stay in and get a lot of paperwork done, but by 11:15 I'd taken care of the first and most important item of business, and my spirits tended outwards.
The problem was, I had nothing flat to read. I was caught up on the litloids, and more or less completely put off The New Yorker by the double science-fiction issue. Books are an ordeal to read at the Shake Shack; there's nothing to weight down the pages. And then of course there's the occasional mess. So I had a bright idea: I'd stop next door at Barnes & Noble and pick up an unusual periodical. (I'd stop in at the CD department as well, to find something suitably odd for my Spanish Songbook playlist.) Bingo.
But by the time I'd picked up a copy of Port, the new British magazine about which I can remember reading something, but not what, and dawdled over CDs (selecting a box of Schumann chamber music, a disc of Debussy and Ravel from the Seoul Philharmonic, under Myung-Whun Chung, and a Simone Dinnerstein recital), the Shake Shack had gotten very crowded. Getting a table and holding onto it would be tricky. It was at this moment that I realized that I'd forgotten to bring a napkin. The only way to keep the mess "occasional" at the Shake Shack is to bring along a stout cloth napkin.
What to do? Tough it out at the Shake Shack? How about heading to the Seahorse Tavern, for one of their very different burgers? Virtue prevailed: I stopped in at Fairway, where I had to get a loaf of raisin bread anyway, and picked up a Cobb salad. I came home and read the next chapter of Kwasi Kwarteng's examination of six imperial muddles, The Ghosts of Empire: Britain's Legacies in the Modern World. Having staggered through Iraq, Kashmir, and Burma, I've arrived at Sudan. Together with the fifth section, on Nigeria, these are all accounts of modern hotspots that might be more stable if it hadn't been for the Union Jack.
If the little thwartation at the Shake Shack had occurred on any day earlier this week, I'd have run home panting and weeping. I don't understand why, but I've been rather a mess this week. Monday was awful, and Tuesday wasn't too much better, until I fetched Will and forgot about myself with him. On Wednesday, I coped evenly enough, but I still felt tired and inane. I spent much of the afternoon and evening piling things up to deal with yesterday. Kathleen and I did have a nice little dinner of veal chop with steamed potatoes and corn on the cob.
***
One of the week's many site-related disorders was yesterday's somewhat truncated entry. I dashed off the final sentences before heading to the dermatologist's office, and somehow thought, when I came back home, that I'd finished the piece. Perhaps I had. There was no more to say about Randy Paar. We never did meet, which I regret only because it would have been amusing to talk about Ra-Ra — although maybe not. I'm genuinely grieved to learn of her death, which seems untimely or accidental. It appears that she lived in Greenwich; that's why she was on a platform at Grand Central at eight in the morning, on her way to work presumably. She fell, off the platform and onto the track, and was taken to Bellevue Hospital, where she died a few days later. Is that what happens if you're in an accident at Grand Central Terminal? Next stop: Bellevue? It makes one shudder.
Miss Nelson retired while I was still in school, and moved back to Portland. I stayed in touch with her; I still have, I hope, some of her carefully-written letters. At some point, someone wrote to tell me that she had died. I have no idea how old she was, but she was certainly beyond middle age. Nelsy could be dreary; a medical humorist would have taken no time to pronounce her melancholic. Her face was fixed in a worried frown. You'd have thought that she'd have been naturally drawn to the Bach organ fugues that I was asked not to play when she was in the house, but no. I was fond of her anyway. I wasn't fond of Ms Rogers. She had a nasty edge, and she was also the first older person in my life who believed that the world is going to the dogs. I thought that it was just her idiosyncrasy at the time, but the power of her disagreeableness has checked my own inclination in this direction, now that I am at least as old as she was when she couldn't hide the disappointment of having to spend an evening with my sister and me, instead of with Randy Paar.