Gotham Diary:
Low-Key
19 November 2011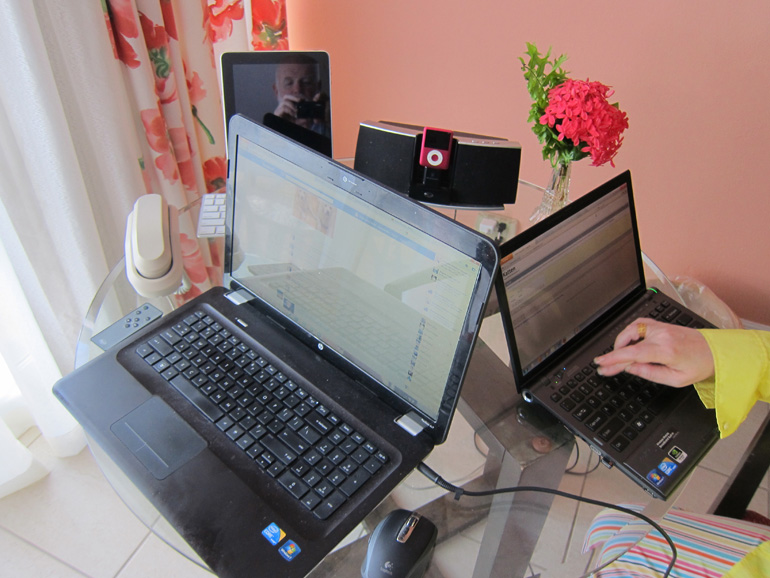 In the middle of dinner last night, I was startled by the sudden presence of a friendly stranger who wanted to shake our hands and who was wearing, I eventually observed, a chef's blouse. He wasn't really a stranger; Kathleen remembered greetings on past visits. But because it is impossible to turn my head to see anything, I quite often don't see people I'm talking to, especially waitstaff. If I nod at someone in passing, to say "good morning," I carry away only the dimmest impressions of physiognomy, and those are soon forgotten. To fix someone's face in my mind, I'd have to come to a complete stop, raise my head as I can do only when I'm not walking, and stare — an odd thing to do. But perhaps I ought to consider it, because this year, for some reason (it's my fifth visit, although it feels totally umpteenth), the people in passing aren't just saying "good morning" or "good afternoon." They're saying "Welcome back! Good to see you again!" People who at first blush appear to be fellow guests say this. As we get closer to Thanksgiving, I won't be surprised if some actual guests do hail me with welcome/again cheer. I'll have to take care not to ask them for another glass of pinot grigio.
The impression that I have been coming to the Buccaneer Inn all my life is very strong. Weirdly strong. To some extent, the hotel embodies everything familiar and agreeable from resort hotels that I've visited since childhood. It is "low-key," very comfortable but not opulent; lively but not noisy. There is a vague sense of campus life; it's possible that I would have done better in college if college hadn't reminded me of a resort hotel. (A very Spartan resort, not at all "low-key" — although everything that I read about Princeton suggests that "low-key" is exactly the right term for undergraduate life at that university.) A small battalion of maids and groundskeepers and "people behind the desk" keep the hotel purring along smoothly, as though we were aboard a permanently-moored Cunarder from the old days. That comparison is apt, because just as the luxury liner (basically a mail coach/Chinatown bus with a thin crust of fancy staterooms on the top decks) was done in by the cruise ship (a packed stadium without a game but with much more comprehensive refreshments), so the resort hotel has been challenged by the casino. There are casinos in St Croix, but there is no gambling at the Buccaneer. That's why the airlines put up their flight crews here.
But still, the Buccaneer is a specific place, with its own topography. And that topography is really quite unusual; at least, I've never been anywhere like it. The main building of the hotel, along with a string of outbuildings one of which contains the room that we've stayed in twice before, stands on the ridge of a foothill, hard by the sea. At the bottom of the slope, there are more accommodations and an open-air restaurant that can be used as a hall for occasions. (There is also a pro shop, serving the golf course that winds around the hill, near the entry gate; I just noticed it for the first time the other day. I knew there had to be one somewhere.) There is Up Here and Down There.
Walking up the hill is arduous, no matter what shape you're in, and there's no way to avoid a bit of climbing every day, because breakfast is served Up Here but midday meals, whether at the restaurant by the water or at the "grotto" by the swimming pool at the other end of the property, are available only Down There. No matter where you stay, you have to climb for or from breakfast or lunch. You can call the front desk to have a van give you a lift, but an important part of synching with the "low-key" ambiance involves stout self-reliance when it comes to getting around. (Except for golfers, of course.)
Maybe all that hill-climbing over the years has simply driven memories of earlier visits to other resort hotels to ground. (Now I really wish I'd brought along Proust.)
The self-portait in the photograph above was entirely unintentional. I was actually thinking that I ought to swipe the iPad into displaying something. It never occurred to me that I was shooting a glass, darkly.
Oh! PS! We rescued the suitcase with the craft materials in it from our aforementioned abandonment. Turned out that it was being held under my name, not Kathleen's, even though there was nothing about the luggage tag that mentioned me. I was, apparently, the man in the traveling party. Cherchez l'homme. Anyway, it all worked out very nicely. Thanks for the good wishes.