Gotham Diary:
Arrivés
18 November 2011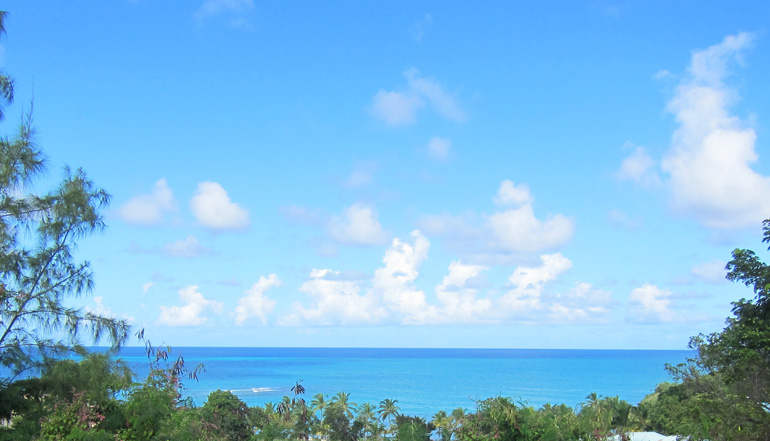 Here's a view that changes only if I frame it differently.
Kathleen was so worn out by wondering if she'd get me here in one piece that we left a piece of luggage at the airport yesterday; retrieving it has not been an easy business, so far. It wasn't that I was particularly difficult in transit, but rather the possibility that at any moment I might just melt down. On the flight from Miami to St Croix, which was a lot smoother than the flight from New York, Kathleen even played Sheherazade, quizzing me about the career of, of all people, Joan Crawford.
I'm puzzling over the remains of the past couple of days with forensic interest. We have the corpus delecti right here, in the entries that I wrote (and in a few letters as well). In some ways, my bitching and moaning about having to leave home, board a plane, disrupt my routines were same old same old. But it turned out that many aspects of the crisis were new, in positive ways.
Most noticeably, the crisis was extremely compressed. It was a matter of two and a half days. Until Monday morning, I simply blocked my anxiety center's access to the coming trip. It had plenty of other things to worry about, and I concentrated on those. (And how did I manage that, for the first time ever? It occurs to me that, just as my arthritis and most of my other complaints are the result of my immune system's not having enough in the way of genuine pathogens to fight, so my grandson is a magnificent magnet for all my free-floating anxiety, whenever he is not actually present. [And I believe that my anxiousness, like my immune system, must have been hard-wired by the time I went to school.])
Second, and even more interestingly, the more rational parts of my brain, if I may speak in what seems like such an antiquated way, were preparing for the trip in very sensible ways. I knew that on Monday, I would go to the storage unit to pick up my lightweight shirts. On Tuesday, I would get a haircut. On Wednesday, I would go to Crawford Doyle in search of fresh reading matter for the trip. (Also: when we came home from Fire Island, I put all of those adapters and cables and thingummies that you need when you travel in one drawer, knowing that I'd be needing them in nine weeks.)
The result of these two developments was that the shock of packing, once I acknowledged that it was time to get ready to go, devastated me on Monday, but that was all right, because, even if I felt terrible, I had set up a plan and didn't have to think about what to do. I was miserable, almost seasick, for two days, but you wouldn't have known it from my preparations. By the time I climbed into the car to go to LaGuardia, everything was in order, and I was at least completely neutral about what was going on.
The third thing that was new was the manner in which I got over my dread of taking a vacation. At Crawford Doyle, I bought Diane Keaton's memoir, Then Again. I thought that it would be fun to read, and indeed it was, just a few hours later, when I ought to have been doing other things. Instead, I was Gchatting with Ms NOLA about bulimia, adoption, and how some people, beautiful as they are when you, get to be much better looking when they're older. We didn't chat for long, because I really did have to be doing other things, but it occurred to me that I could do most of those other things while watching Annie Hall.
Annie Hall is far from my favorite Woody Allen movie. I don't dislike it, but it seems preliminary to me, which Manhattan, practically his next picture, most certainly does not. (Neither does Interiors, the intervening film; but Interiors turns out to be the first of a clutch of beautifully bleak movies that Allen has made over the years; Another Woman is my favorite, while Match Point is actually thrilling. While unmistakeably the work of Woody Allen, these titles seem to me to stand to one side of his typical output, which amounts to a response, not an homage, to the great European filmmakers of the mid-Twentieth Century. Manhattan is the first fully-formed mainstream Woody Allen movie.) The good thing about my watching other Allen films much more often is that Annie Hall is always fresh, which it really ought to be; it's actually rather delicate — fragile. This is partly because Diane Keaton is, effectively, a child actress, younger in a way than Jodie Foster in Taxi Driver. Oh, she may have been biologically close to thirty, but she was barely halfway to the mature greatness, the all-American comic mastery of The Family Stone and Something's Gotta Give. When Annie Hall was over, I had to watch Morning Glory (Keaton's second film with Rachel McAdams, whom she mentions very favorably in her memoir). I couldn't believe how much more than was to Diane Keaton in Morning Glory, even though it's a supporting role, than there is in Annie Hall. That's because Annie Hall is, of course, Woody Allen's fantasy. Colleen Peck is a real bitch. (Albeit a real bitch with a heart of gold and a crackerjack sense of the absurd.)
By the time Morning Glory was over, I had not only packed, but done all the ironing as well. which meant that I had a supply of pressed handkerchiefs to take to St Croix.  I had organized all of the last minute (bathroom) packing on the dining table, along with books, electronics, and even the beach towel that I've been using as a blanket lately. (I used the beach towel to wrap up the Klipsch iPod player and the iPad keyboard deck.) When we finally went to be at 11:30, I was ready to go. We were up at 5:30, in the car at six, and at the airport by 6:30. We arrived here at about 4:30 yesterday afternoon (Atlantic Time), and Kathleen took a nap right away. It was only when she woke up, before dinner, that we missed her second suitcase, a small purple roller filled with craft items mostly. Wish us luck on that one.