Gotham Diary:
Way Out
4 November 2011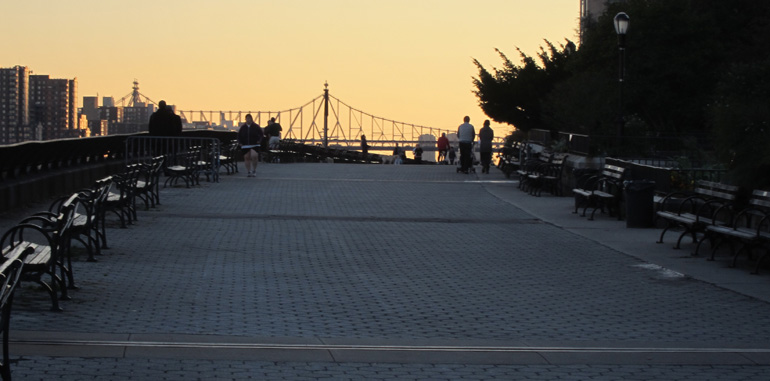 In the end, as all the more astute reviewers have pointed out, Blue Nights is about the double-faced problem of outliving one's friends and relations. You mourn, and you fall apart. Joan Didion captures the awfulness of it pretty well in just one (incomplete) sentence: "Sitting in frigid waiting rooms trying to think of the name and telephone number of the person I want notified in case of an amergency." So far as remaining family is concerned, she can choose between a brother who lives in California and a nephew who makes movies and is frequently "on location."
Kathleen is at a funeral, this morning, of a woman who died last weekend of a cerebral hemorrhage. She was in her late seventies, and until the massive stroke felled her, she enjoyed perfect health. She wasn't taking so much as a single prescription drug. She'd had a very happy summer with her family, and was just now settling into the fall routine. Instead, she came to a swift end. That is one way to die — I can't help thinking that it's the best way to die, although it's immediately shattering to the family. Last spring, the mother of another friend died of a cancer that was quick for cancer but certainly not swift. Was that less shattering? These things can't be compared. In the Bronx, the mother of a third friend goes on and on, an invalid for decades now, complaining, ailing, still holding onto her spot in this vale of tears.
But I digress. Joan Didion isn't talking about different ways of dying. She would insist that she knows nothing about dying, and suggest rather that what she is not talking about, in Blue Nights, is different ways of surviving, ways of surviving the different ways in which people die. Her husband died suddenly, like the woman whose funeral Kathleen is attending — although, in the case of John Gregory Dunne, there were plenty of warnings, plenty of cardiac interventions. His death had a conventional, almost admirably masculine quality about it. They knew it was coming, and, when it came, it was fast. The death of Joan Didion's daughter, Quintana Roo, however, remains completely mysterious. It began with what seemed to a flu, passed quickly into deadly infection, and wound up with — what, brain death? We don't spend anything like the time that The Year of Magical Thinking devoted to hospital-type situations. Didion had plenty of time to mourn her daughter before her daughter died. Then — this is another mystery; perhaps all these thoughts about adoption had gathered before — she thought about the motherhood that did not die when Quintana Roo died, and that is what Blue Nights is about. It was an odd motherhood in many ways, most of them touched only glancingly in the memoir. The one matter that Didion feels her way into is the unpleasant surprise of having trouble coming up with the name and telephone number of someone to call in case of emergency.
It's a very sobering read, at least for someone my age. I'm only about fifteen years younger than Joan Didion, and, being a man, I will probably fall apart sooner. Heavens, I've been falling apart since my mid-thirties; that's when the ankylosing spondylitis set in. (My reward for stopping smoking, come to think of it.) Â I even enjoyed a stretch of Proustian invalidism while convalescing from a serious (long-neglected) bout of mononucleiosis in college.
In the kitchen, I stow the meat slicer on a high shelf. It is not a lightweight appliance. I have no trouble reaching it down, now. I wonder how long that will be the case; I wonder each time I reach it down. I keep my cellphone in my pocket at all times — except, of course, when it's charging, and when, as right now, I forget to unplug it in the morning. I shall probably make it into the bedroom alive. But the thought of Joan Didion lying on the floor of her apartment, unable to reach any of the thirteen telephones in her house, has haunted me from the instant I read it. I know what that's like. (My reward for giving up martinis.) And I hate to think, not of death and dying so much, but of the time when either Kathleen or I will have to find the name and telephone number of someone else to contact in case of emergency.