Gotham Diary:
Absoluely, cont'd
18 October 2011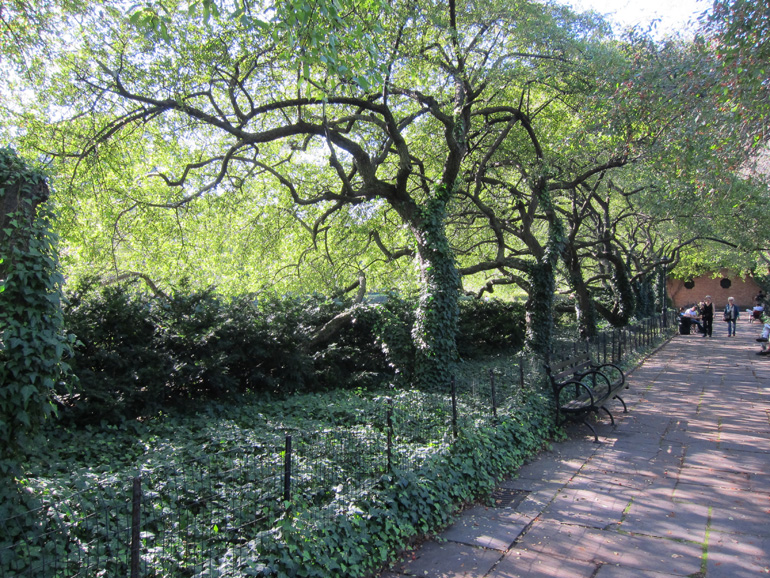 When I sat down to write, yesterday morning, I did not intend to spend so much time in Tompkins Square Park; I wanted to say a few words about a new new book. That I hadn't finished the book isn't what kept from writing about it later; there was no later, so far as writing was concerned. The morning, afternoon, and evening all went to housekeeping and cooking and having an out-of-town friend to dinner. I did manage to finish the book, though, and I think that I can recall a few of the clever things that I meant to say about it.
I ask myself: what would I made of this book if I hadn't had its dust jacket? There is no "about the author" page at the end of the bound text, so I wouldn't have known that the author of Éminence: Cardinal Richelieu and the Rise of France, Jean-Vincent Blanchard, was born in Canada and raised in "Europe," or that this "is his first book in English." I learned all of that — plus the fact that Blanchard teaches at Swarthmore — from the paragraph beneath the author's photograph, in which, I must say, he has the air of a sixteenth- or seventeenth-century gallant.
But I would have known from the text that Blanchard is francophone. My favorite solecism concerns the seditious antics of Louis de Bourbon, comte de Soissons, and the French verb ignorer.
Ever since the assassination plot at Amiens in 1636 and his subsequent flight from the court, the comte de Soissons had lived in Sedan, at the northeast border of France within the territories of the Holy Roman Empire. This town was a sovereign entity that belonged to Frédéric Maurice de la Tour-d'Auvergne, the Duc de Bouillon, and it protected its independence with some of the best fortifications in Europe. Because he ignored at the time the reason for Soissons's flight, Richelieu had found it acceptable to allow the count to retire there for a period of four years. With this period coming to an end, Soissons worried that the cardinal harbored ill designs against him, in all likelihood because he had finally discovered the real reason for the count's retreat from Amiens.
This passage makes complete sense only if you read "ignored" in its French sense, which is pretty much the opposite of ours. In English, you can't ignore something until you're aware of it. In French, being unaware of something is the only way to "ignore" it. What Richelieu was unaware of, at the time of Soissons's flight, in 1636, was the count's participation in a plot to assassinate him. When the plot came to nothing — predictably, you might almost say, because the feckless ringleader, the king's brother Gaston d'Orléans, got cold feet at the last minute — Soissons and Gaston fled Amiens, for no very good reason. Richelieu didn't discover the reason until 1640, in which year Soissons had another go at it, only to be shot himself (possibly by himself) before the attempt.
On the whole, Éminence is an extremely readable French book written in English. I don't mean to pick on the slight infelicities that dot the text, which for the most part add more zest than confusion. Rather, this is the sort of history book that is written in French. There is a great deal of you-are-there staging, and formal declarations are quoted extensively, as if they actually meant something. Well, of course they did mean something, but it has long been the habit of English and German historians to discount the sentiments expressed in ceremonial exchanges. Our historians generally assume that evidence of anything, such as it is, is partial and misleading. Blanchard's approach is critical in this way only when the evidence might be self-serving.
There is also what I'll call an absence of background. Is it assumed that the reader knows about the twists and turns of the development of the modern sovereign state, a development in which Richelieu had as active a role as any man alive in the past 500 years? Or it is deemed irrelevant? Is, that's to say, Professor Blanchard resisting the "Whig" way of writing history, with one eye on ultimate outcomes? Richelieu couldn't know that he was putting an end to medieval France and founding the highly centralized organization, with its monopolies on death and taxes, that we expect the sovereign state to be. He was simply exerting the king's power as effectively as he could, suppressing rival power sources along the way. Richelieu didn't live to read, much less supervise, the treaties of Westphalia that ended the Thirty Years' War, a conflict that had raged on and off throughout the extent of his career as France's virtual prime minister. We tend to see Richelieu as a modern mastermind, but in Blanchard's assessment, which I find astute, he appears to be an exemplar, if an unusually gifted one, of the French aristocracy: "sense of opportunity, amazing decisiveness, and courage were the cardinal's most extraordinary political qualities; these were the heroic traits that allowed him succeed, often in spite of himself." I would not for a moment suggest that Blanchard has rewritten The Three Musketeers from a point of view more sympathetic to the cardinal, but his history is much closer to Dumas's narrative in character and eventfulness than a "serious" anglophone study would be.
I can readily imagine that Blanchard's subject would have thanked him graciously for his attentive but engaging scholarship, but chided him, at the same time, for relying on bad influences (as Louis XIII was prone to do), in this case the editorial staff at Walker Books, who clearly do not have the best interests of publishing at heart; whereupon the cardinal would have packed off the lot of them to the dungeon at Vincennes, where prisoners tended to die of natural causes. People complain about the death of the book all the time, but it is the dearth of editorial responsibility that is actually undermining the authority of the codex.
And what d'you know — there is an author's note, right after the index. The pages must have been stuck together. No mignon photo, though.