Gotham Diary:
Indian Summer
10 October 2011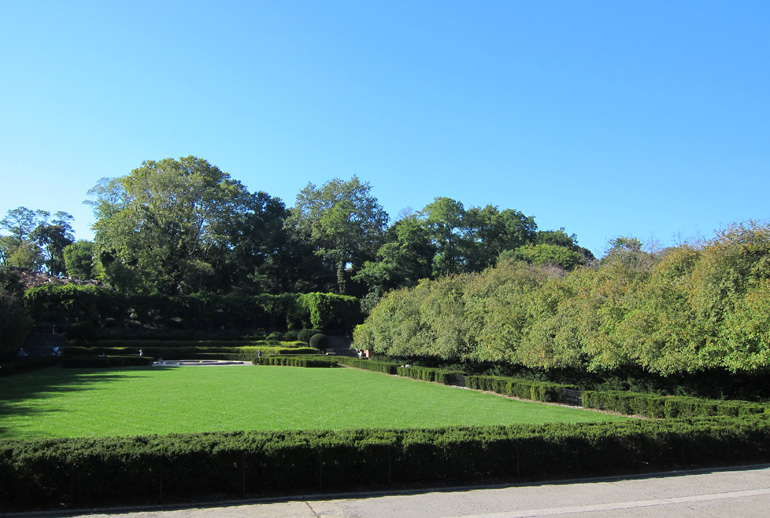 In the end, I did have my way: late Friday afternoon, just before I piled into a taxi bound for Alphabet City and a few hours with Will (who spent the evening quietly mesmerized by ancient episodes of Sesame Street, unaware that they were older than his mother), I not only polished off but posted a page on Helen DeWitt's corker, Lighting Rods. You can read it at Civil Pleasures, here. 
And I went to the movies, too. The Ides of March had a murky scene that didn't not make sense until I thought about it later; perhaps I missed something. Otherwise, it was a first-rate civics drama. Like a few other movies about "insider politics," The Ides of March informs the viewer that the façade of unity that any candidate and his supporters present to the voting public is something of a legal fiction. The difference between a legal fiction and a lie is the adult recognition that civic affairs would cannot proceed without legal fictions.
Party unity is not a genuine legal fiction; it's a political fiction. The adoption of children and the eternal personhood of corporations — now, those are legal fictions. (They may both need a lot of work, by the way, but they're both vital all the same.) Like them, political fictions enable us to get on with important business. The Ides of March reminds us, indirectly, that political fictions must appear to be largely true; whether they're political, legal, or narrative, fictions crumble when they generate cognitive dissonance.
All of this is another way of saying that, if politics is dirty business, it's none of your business. Your business is to vote for the candidate most likely to implement the policies that you support. Your business is not to like the guy. This very important lesson in democracy has been learned, over the past two hundred years, by no more than 12% of the population; the unreconstructed 88% are endangering the experiment, and that is no fiction.
George Clooney, who directed The Ides of March, gives himself one big scene, and, as big scenes go, it is small and dark. He is confronted by his campaign staff's second banana, played by Ryan Gosling, in a deserted restaurant kitchen that's also not very well-lighted. Clooney knows how to invoke the many, many film scenes in which professional kitchens, with their knives and their clublike pots and pans and their capacious sinks and their heavy appliances, have been put in the service of movie mayhem. Neither actor so much as picks up a toothpick, but the showdown is thorough, and "the good guy wins." Which is to say that both men win, and both men lose, and nobody gets hurt, and a magnetic politicans with a John Edwards problem in his past goes on to become President of the United States. The movie leaves it to you, which is worse: the cover-up of the candidates romantic imbroglio with an intern, or his capitulation to a powerful senator who wants to be the next Secretary of State, where he will presumably argue for positions contrary to his president's.
If nothing else, the Ryan Gosling character finally understands the nature and importance of political fictions, and we feel his pain. We know how it is.