Gotham Diary:
Satire
29 September 2011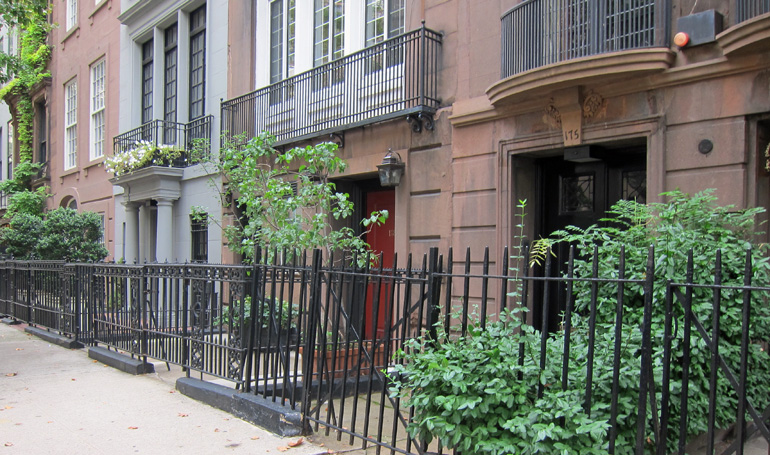 Bay scallops for dinner last night. Once again, I couldn't get them to brown — could this be the overcrowding in the pan that Julia Child warns about? — but they were tender and delicious, and we gobbled up every one of them.
Whatever we do tonight, I won't be cooking. This evening promises to be interesting, especially given the lousy weather that's forecast. In the earlier part, I'll babysit with Will as usual, so that his parents can have dinner by themselves. Then I'll head to Kitano, a restaurant bar in Murray Hill, for Chip White's second set. We know Chip through one of Kathleen's Brearley classmates, who met him when she ran her own jazz CD label. It's precisely because we do know Chip, who's a very nice guy, that we don't make more of an effort to show up for his gigs. I know exactly what he must feel, because I feel when friends ask me what's new, and I've just written it all out here. So I've booked a table for two, and Kathleen will meet me there. Another late night, but well worth it. Such, in any case, is the plan.
Waiting for the dermatologist in her examining room yesterday morning, I glanced through Bookforum and came across Rhonda Lieberman's rave review of Helen DeWitt's new novel, Lightning Rods. Did you read The Last Samurai, DeWitt's widely-praised novel of umpteen years ago ("a hundred years ago," I said to Kathleen, and, taking me literally, she was very surprised to hear that there was a new book)? I did, and I remember some of it — in particular, the riding round the Underground with the prodigiously gifted kid — but I don't think that I got it. But I was ready to give DeWitt another chance, especially after I stumbled upon her very occasionally updated Web log, paperpools. Lieberman's enthusiasm was so infectious that I whipped out my cellphone and called Crawford Doyle. They had a copy, and I picked it up after lunch. I can tell you that Lightning Rods is very funny, but that is all that I can tell you right now,  as I am only on page 4. Also the plot is highly salacious. Go ask your father.
***
Actually, the plot of Lightning Rods is hardly salacious. There's very little in the way of carnal congress, and almost all of it is cloaked in the zippy euphemisms of a golf tutorial.
And then he thought Well, since it's there.

So he set aside his skepticism for the moment and availed himself of the facility. It was quite a strange experience in some ways. Still, it was enjoyable enough for what it was.

Anyway, almost straight away he noticed that he was experiencing an unusual sense of well-being. …
I'll have to read this book several times, I'm afraid, to tease out the qualities of its prose that make Lightning Rods so funny. The idea is outrageous, but it's the writing that keeps you going. The tone of voice is so capable, confident, and easygoing that you don't actually sense its stunted depravity. Not for an instant does Helen DeWitt abandon the tone of a self-help guru admonishing a would-be salesman not to be too hard on himself, a writerly disicpline that makes reading the book as warm and cuddly as DeWitt's satire is icy and bleak. When you read on the dust jacket that the novelist lives in Berlin, you wonder if that's far enough from America for her comfort.
It's the language that is her target. I don't that DeWitt has anything against commerce per se; in fact, commerce doesn't really figure much more than sex. Every now and then, somebody types a memo or sends a fax, but, for a novel spoofing office life, we spend very little time among the cubicles. It's unclear what lines of business the companies are in — the companies other than the one that shares its name (officially?) with the title. Lightning Rods, the company, is in the business of preventing sexual harrassment litigation; let's just put it that way, and its deployment of "bifunctional" temp workers and specially fitted lavatories would stale as quickly as an undergraduate prank did not DeWitt's prop it up with an unrelenting command of the patois of motivational self-forgiveness. 
If you ask most people what's the hardest thing about being a salesman, they will usually say the rejection. "People always trying to get rid of you," they say, "that's what I'd hate." Or sometimes they say it's the travel that would really get to them, all those hotel and motel rooms blurring into each other, it must get really lonely. Or sometimes they think it would bother them to be selling things to people that they don't really need, pressuring people into buying things they were not really able to afford.

Well, at one time or another every salesman has probably felt all of those things. But the thing that's hardest about the job is something you can't leave behind you by getting another job. A salesman has to see people as they are.

Most people spend their lives trying to avoid doing that very thing. Most people see what they want to see. But a salesman can't afford to see people the way he might like them to be. He has to see them the way they actually are. And he also has to see them the way they'd like to be.  Because no matter how badly people want something, if they don't want to be the kind of people who want that kind of thing you're going to have an uphill battle persuading them to buy it. He has to see what it is they don't like about the way they are and convince them that the way they are is OK. Or he has to see what it is they don't like and persuade them that he has just the product to fix it. That's the hardest thing about the job.
It says a lot about the quality of information that's passed along in Lightning Rods that, the first time we hear the hero's name, he's talking to himself.
He said, "Come on, Joe. You can do better than this."