Gotham Diary:
Trim
23 September 2011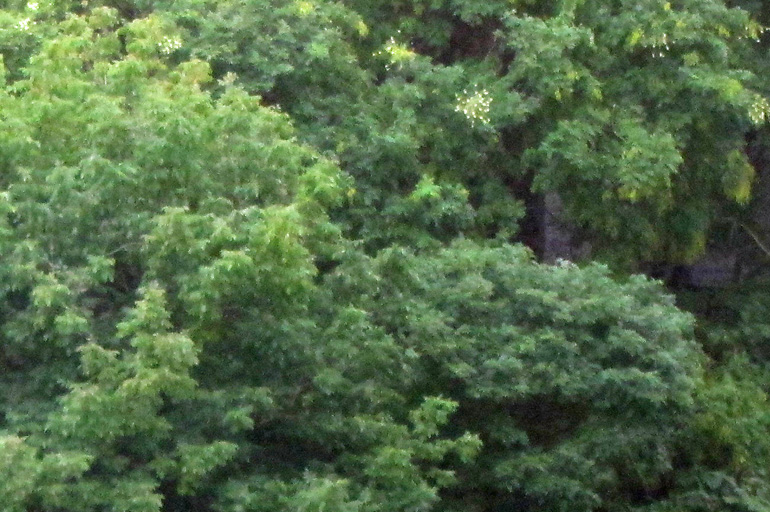 What I had to go through to take an out-of-focus shot! All right, maybe it's not out of focus; maybe it's a little beyond the lens's capacity. I had to RTFM to find out how to use the camera's self-timer, and I had to fish the tripod out of a dim corner. I had to remember to zoom in on the scene. The "manual," by the way, is nothing of the kind: it's A Short Course In Canon PowerShot S95 Photography, and I'd hate to see the Long Course. There is no index, and the instructions for using the self-timer appear on page 76, something that you find out only by reading the text on page 17 that points you there. Or you could just scroll through the Table of Contents with your index finger, hoping, hoping… I don't usually mark up books, but I think that I ought to make an exception here.
I did not go to the movies yesterday. I got a haircut and lunched on a club sandwich at the Hi-Life. In the late afternoon, after I'd said goodnight to Kathleen in London, I went over to Fairway. I had a short shopping list, but I started out in the meat and fish section downstairs, because I was looking for ideas for dinner. I wasn't hungry, and almost everything looked unappetizingly heavy. Even a game hen — half of a game hen — seemed too much. So I wound up with chicken livers. Talk about heavy, right? But a few go a long way. Several weeks ago, David Tanis offered an interesting recipe in the Times: French Chicken Liver and Green Bean Salad with Garam Masala. I didn't have the clipping with me, of course, but I was confident about improvising. Having (I later discovered) confused this recipe with another, I misremembered the Indian accent as a Mexican one, and bought a bottle of Cindy's Chipotle Ranch dressing, along with a small head of frisée, a Belgian endive, an ounce of baby spinach, a Crispin apple, and a bag of Fairway's own croutons. I had to go back downstairs for the croutons — there is still much to be learned about Fairway, but the tiny thrill of rolling my shopping cart onto a freight elevator (something that I've done from time to time at Eli's over the years) hasn't worn off — but they valait le détour.
I sautéed four livers in clarified butter (two would have been enough), and pointlessly deglazed the pan (would you have tossed the resulting very brown syrup into a salad?). I tossed the greens with half of the apple, cubed, and I kept adding more Cindy's. At the last minute, I grabbed a hunk of Emmenthaler and cut it into very small cubes. Toss, toss; still more Cindy's. The result was very earthy, and it took a while for the chipotle to make itself known. I still can't decide if cherry tomatoes would have been an improvement. A poached egg, chopped bacon, and raw mushrooms would all have been wrong, at least for last night's appetite. My chicken liver salad was earthy — very earthy. But it wasn't heavy.
It was a day for taking care of little things, and I'm afraid that today will be the same. I worked a bit on my Emma essay — I'm making the case that the novel's structure is implicit in its choreography (so to speak) and its corresponding shifts in linguistic tone — so it wasn't an entirely brainless stretch. The "problem" with getting up very early in the morning is that the afternoon yawns like a vast and vacant cave: you're not used to having so much extra time. You might say that the whole point of getting up very early in the morning is to have as much time as you need to get everything done, and to manage your day accordingly, instead of flying from task to task in a frenzy, always doing the things that must be done but never, or only rarely, getting to the more interesting items on the to-do list.
But I'm not happy about what I'm reading. Blame it on Gchat. I misunderstood Ms NOLA's references to Amy Waldman's The Submission, which were frequent when the book was being talked about everywhere else, for raves. In fact, she had put the book down, as I was tempted to do midway through the first chapter. The best thing that I can say about this novel is that it makes a very good scenario. I can see the movie that will be made of it. The worst thing that I can say about it is that I haven't mentally cast this imaginary movie, as I do whenever I'm engaged by the characters in a novel. There is a glibness about The Submission, a professional savvy that gives the book the pop of beautiful food photography. Except you can't eat it because there's no actual food there. You can only go out and write your own 9/11 novel. I'm not far in, but I'm afraid that I'm hooked. Maybe it will get better, and I'll start to care about Claire and Paul and Mo.