Daily Office: Matins
The Information
Friday, 22 April 2011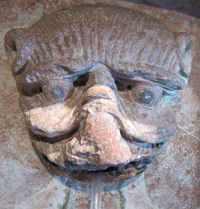 If we thought that convicted fraudster Lee Farkas could get past the colophon, we'd wonder if he had been reading James Gleick's new book.
Mr. Farkas did not prove to be a very good witness on his behalf. He insisted no crime had been committed, but his understanding of the law seemed to be a little unusual.

Patrick F. Stokes, a deputy chief of the Justice Department's criminal fraud section, asked Mr. Farkas if he thought Taylor Bean's agreement with Colonial Bank allowed the mortgage firm "to sell fraudulent, counterfeit, fictitious loans" to the bank.

"Yeah, I believe it does," he replied.

"It's very common in our business to, to sell — because it's all data, there's really nothing but data — to sell loans that don't exist," he explained. "It happens all the time."
PS: Floyd Norris filed this report. That makes the second time this week that our eye has been caught by a Times news story masquerading as a column. Trend?
PPS: What we really do wonder is whether this story belongs in our "Idiocracy" collection.