Monday, August 31st, 2015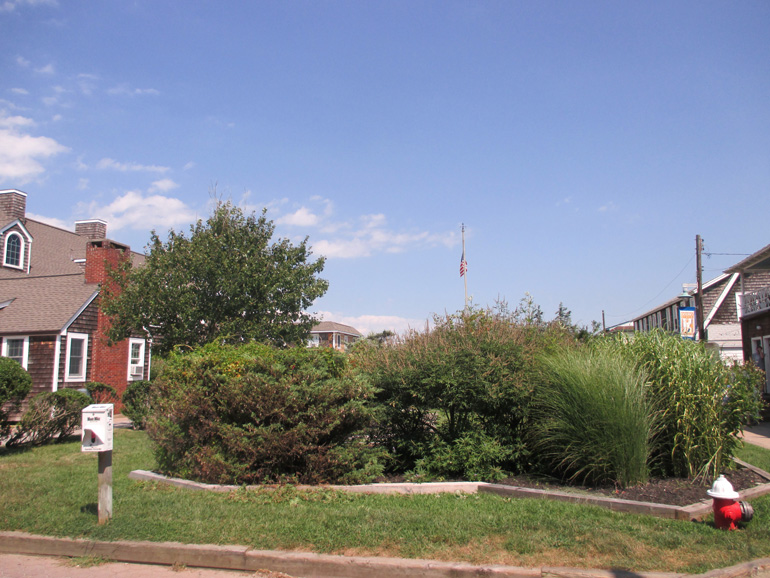 Monday 31st August
Having bid farewell to Ocean Beach last Thursday, we returned to an interesting apartment. All was well, at least once the refrigerator was emptied. Everything was a bit dusty, and almost everything still is. I have, however, reasserted dominion over the bedroom. Among a thousand other actions, this involved a) unpacking the suitcase to retrieve the extremely heavy HP laptop that I lugged out to Fire Island at the last minute because I wasn't sure that the sleek new Lenovo that I haven't got round to using was loaded with everything that I should need and b) tearing two closets apart in search of a fresh vacuum-cleaner bag. The big laptop, onto which the bulk of our non-classical musical collection has been loaded, and nicely organized in iTunes, will be parked in the bedroom, where it really does belong, because that's where the library of non-classical CDs is stored. That is also the room in which Kathleen is most likely to cooperate on the construction of playlists for her pleasure. As for the closets, the foyer is still littered with a couple of shopping bags that I'm working up the courage to get rid of.
I meant to get to the bookroom over the weekend, but I never did. In the bookroom, there are books that need to be put away somewhere — but where, if the bookcases are already full? There are also papers, lots of piles of little papers, receipts mostly. Getting the bookroom in order is my task for today.
But first, an entry for this Web site. Long or short? Long — no matter how much I write today. I've decided on a permanent shift of format, following the preceding two entries' innovation. Entries will henceforth stretch out over the five weekdays. One thing that I expect to happen is the limitation of opening material, Aristotle's famous "beginning," which you are reading now, to Mondays at the top. The other daily subentries, I hope, will begin in medias res. The general idea is to move beyond the column and toward the chapter.
***
Although I benefited enormously from this year's Fire Island stay, learning to relax and even to practice some cognitive behavior therapy tricks, I was fairly gloomy by the time I left, because in my solitude I was daily more depressed by the feeling that we — the human race — have piled up a mess of conflicting political and social arrangements, generated a miasma of Earth-challenging chemicals, and spun off a constellation of gadgets that point us in no direction. The complications are more than we can handle. The traditional solution to overcomplexity is war, revolution, or some other kind of upheaval, but I don't think that we can afford that option anymore. The loss of self-esteem entailed by general collapse would make the worst of us tyrants, and the best of us suicides.
My despondency had several topical causes. The Donald, for instance. Having come to regard the Republican Party not as a truly conservative organization but rather as a profoundly anti-social phalanx that guards rabidly selfish narcissists, I do enjoy watching Trump stomp through it like Godzilla through Tokyo. As Paul Krugman has argued, Trump is no worse than any of the other would-be candidates. He's better, maybe, because he seems to mean what he says. It's very clear that the others don't. They may rail against "political correctness," but they have their own versions of it, their own pretentious claims that impatient voters have long since seen through. Trump is telling it like it is. But of course he's doing no such thing. He's just bellowing pipe dreams, proposing a future in which he inspires "America" to throw off the constraints that have weakened if not altogether undone its claim to be top dog. Knock yourself out, "America."
Then there were Greece and Puerto Rico — Puerto Rico especially. Greece is not nearly as stuck with the Eurozone as Puerto Rico is immured in the half-baked concrete of a conception of overseas territories that few Americans understand. There is no doubt in my mind that most Americans, if they think of Puerto Rico at all, see it as a tourist destination (no passport required!) in the sunny Caribbean, a place that needs water, power, and sewers in order to service hotels and the people who staff them. They have no idea that Puerto Rico is enduring a harrowing withdrawal from windfall tax breaks that were eliminated years ago. Transition from an agricultural, low-wage, post-colonial economy to a self-sufficient, more educated one has been stalled for nearly a generation. And yet the usual cluster of responsible parties, people who ought to know better — in government (both territorial and federal) and on Wall Street — have behaved as if Puerto Rico really were another Golconda. Endless streams of debt that can probably never be repaid have faced ordinary Puerto Ricans with the prospect of emigration as probably the best option. I have a hard time saying even that the élites screwed up, because screwing up takes some imagination.
Finally (for now), there is the Ashley Madison thing. If you don't know about the hacking of a cheating site for married people that attracted (among others) a hundred thousand US government and military men, but very few actual women, then I am not going to disabuse your innocent ears. What makes me weep is that none of the contestants in this challenge runs the risk of winning Darwin Awards. Because, boy, are they dumb.
Intractable global problems; idiots on parade — what could be more newsworthy? The ultimate horror is the virtual placenta that binds hypnotized smartphone users to a media complex that metastasizes serious complexity into cheap sensation. One day, as I was walking up Ocean Walk to the Pantry, I was overtaken by a quartet of thirtysomething women, two by two, all chatting away amiably. But three of the four were carrying smartphones in their right hands. Not in their pockets. Not in their purses — they weren't carrying purses. All they felt they needed were their smartphones, and these they had at the ready, in their hands. Why? Since when do human beings socialize while wielding devices? Are you with your friends or aren't you? A clearer case of the absence of critical thinking I can't imagine.
No, the irony of it doesn't escape me. My wife happens to be the one woman who keeps her phones' ringtone levels too low to hear anywhere but in a bank vault, who forgets to call at appointed times, and who doesn't seem to grasp the idea of incoming. This is somehow all the more vexing (for me) now that one old problem has been eradicated: Kathleen's phones are always charged.
***
How to talk about Talk, Linda Rosenkrantz's 1968 "novel," now republished by NYRB as the edited transcript of actual conversations that it is? The usual angle seems to be to compare it to Girls and Broad City, to see it as a wildly precocious reality show. But it's not a show. On The New Yorker's Web site, Molly Fischer complains about this.
Even with such apparently juicy material, blithe self-exposure quickly grows dull. Their mutual trust comfortably established, Marsha, Emily, and Vincent unleash endless confession, allowing one another to stand in for the analysts they aren't seeing over the summer. Nobody has to coax anything out of anyone. "I haven't told you about the big breakthrough I had last week," one will say, just before explaining the big breakthrough she had last week. At one point, Marsha and Vincent show their genitals to one another, in a matter-of-fact way that suggests toddlers rather than sexual adventurers. For all their world-weary posturing ("It's been an awful lot of sacrifice and pain, darling, but I had no choice," Emily says, of analysis), what registers most sharply is their innocence—particularly as concerns Marsha's tape recorder.

This innocence, I think, rather than a diminished hunger for intimate revelation, explains why "Talk" did not grip me. Confession is not riveting because of its details—or not primarily so, at least. It is riveting because of the stakes involved in disclosure. The speakers in "Talk" are proudly liberated from a previous era's strictures (while talking among themselves, at least), but they haven't yet recognized what the new era's might be.
But that's just what I loved about Talk — its innocence. To me, this innocence isn't so much a matter of the absence of wariness about tapes and videos and evidence as it is one of the talk cru. This is the language of legal depositions, that horrifying patois that comes into being only when what we say is reduced to words on a page, showing us all to be mouth-breathing morons. Here is Marsha, Rosenkrantz's stand-in, talking about her sister.
I made her feel disgusting — that was one of her lifelong traumas. I think I was jealous of her, but I would lie to myself and say what bothered me was that we just didn't have much in common, she wasn't the type of person I liked to be with, she was phony, But I wasn't jealous, of course not — I just didn't happen to care for her personality. That was when she was about three. Because don't forget she had suddenly appeared after twelve years of my only child-dom, this pishy little kid who could do everything I couldn't do, not only the manual things with her hands and athletics, but she could talk to people, she wasn't shy. I mean all she did was get born and two minutes later she's doing all the banes of my existence, flushing mice down the toilet and everything else.
Dull? Not at all — the language is as shocking as a donkey in a drawing room. It is language that never appears in print that people pay to read. The absurdity of everyday speech cannot be imagined! No matter how carefully the Becketts of literature listen to lost souls, they cannot bring themselves to transcribe what is actually said. For that, you need a court reporter or a tape recorder. What's innocent about Marsha, Vincent, and Emily, the three characters who speak in Talk as they pass the summer time in Amagansett, is not their willingness to share the details of their sex lives and their "analysis," but their unawareness of the fun-house mirror that captures the things that we actually say. Most of us begin ruminative sentences with no idea of how they're going to end, or of the rudiments of parallel structure that most educated people command, when they write, without giving it a thought.
… and two minutes later she's doing all the banes of my existence: even if Shakespeare were a thousand monkeys typing away indefinitely, he'd never think of that one.
***
Tuesday 1st September
Wouldn't I just love to know what Joan Didion thinks or thought of Talk. (If anything at all.) Perhaps she read it when it was a novel, back around the time of "The White Album," her essay about apocalypse in Los Angeles. ("The Doors were different. The Doors interested me. … The Doors were the Norman Mailers of the Top Forty, missionaries of apocalyptic sex.") At no point in "The White Album" does Didion sound like Marsha, Vincent, or Emily; without thinking, one wants to characterize her style as mandarin — even though it is actually somewhat easier to follow than Talk's unedited ramblings. But Didion is no less aware than Linda Rosenkrantz and her friends that a new freedom is breaking up old social contracts. I want to re-read "The White Album," partly to realign my own rather greener impressions of the period. (The Doors did not interest me; they frightened me.)
For the moment, though, I'm reading about Joan Didion. Tracy Daugherty's The Last Love Song: A Biography of Joan Didion may have been written without her cooperation, but it is forcefully Didionic. It is as unsympathetically sympathetic as one feels Didion herself would be, were she to take up a biographical project. It tells the story of a gifted critical observer whose deepest personal commitment is to her profession, as a reporter of what she sees. She performs her other obligations dutifully but with detachment — the detachment of a critical observer. Daugherty has already chilled his text — I've reached the period of Quintana Roo Dunne's infancy — with drafts of what promises to be a harsh judgment of Didion as a mother. Didion was hard on herself in Blue Nights, but she drew back from sharp conclusions. Daugherty, I expect, won't.
There seems to be some confusion about whether or not Joan Didion is a shy person. Is she "vulnerable," as she and others have claimed? The simple truth seems to me to be that Didion is a writer. Writers — real writers — relate to the world with written words. Their texts are their garments; without them, they are naked, and, yes, vulnerable. It is possible, even easy for men, to project a persona. This is optional and even meaningless, to the extent that the writer is not interested in living among non-writers on their terms. The persona is always an invention, but, like standards, it can be developed and improved (ie, made to fit better) over time. As a writer, Didion was never shy or vulnerable. Her persona, it seems to me, was inspired by a kind of impatience.
Some of this impatience might have been directed at herself. In only two of the many photographs that Daugherty reprints can Didion be seen to smile. One of the smiling pictures happens to be the first of the lot, and it tickled me until I figured out why. Not a classic beauty, Didion is attractive in a stylish, intelligent way. She looks like someone who knows useful things. Except, however, when she smiles. When she smiles — for the camera; I'm not speaking of personal experience (the one time that I saw Joan Didion read, she reminded me of Wendy Hiller's character in Murder on the Orient Express: "My doctors have advised against it [smiling].") — her face stretches out goofily into an uncanny resemblance to the mascot of Mad Magazine, Alfred E Neuman. (There is a third picture, dating from 2000, in which what might pass for a smile looks to me more like making a face.)
I'm attracted to Joan Didion because she has used her pen to make a truly conservative case against her own class, arguing, implicitly, that, if the élites can't or won't live up to their capabilities, it is unrealistic at least to expect hoi polloi to do so. I like it too that Didion conveys a belief that being "nice" is not a particularly grown-up thing to be. What I don't like is a certain perceived close-fistedness. Daugherty talks of her imbibing her father's proclivities as a "gambler": I associate gambling with a want of kindness and generosity. I'm also repelled by "The West." Having given us Goldwater, Nixon, and Reagan, the West and its voters have undone the Republican Party. I do not admire pioneers, and I feel that their settled descendants ought to forget "the pioneer spirit," whatever that means. (In Where I Was From, Didion seems to have reached a similar conclusion.) But it is also true that the actual West makes me uncomfortable. Arid climates disturb me. Brown hills and red rocks depress me. I know that all natural wonders are produced by violence, and I suspect them all of fraud. I wouldn't care for the West even if they spoke English there. (According to Daugherty, Didion holds what they speak is "Okie.") I find myself quite often at odds with Didion's takeaways. But I can never fault her expression of them.
As medieval iconography tells us, critical observers carry a scale with a set of weights. The weights used by angels conducting the Last Judgment are of course divine in origin. Where does a mere mortal, even a smarty-pants like Joan Didion (who didn't, however, get into either Stanford or Phi Beta Kappa), get hers? I should suggest that the best critics derive their standards from the language itself, and that, as, speaking with care is a skill that takes years to develop, standards take years to develop, too. Didion famously lodges an acknowledgment of development near the beginning of "The White Album": "I am talking here about a time when I began to doubt the premises of all the stories I had ever told myself, a common condition but one I found troubling." Didion would go on to become a relentless interrogator of stories, as witnessed by her ruthless deconstruction of the Terri Schiavo case, which appeared in The New York Review of Books ten years ago. There, Didion hammers away with lawyerlike advocacy against the decision to remove the comatose woman's feeding tubes — a position hardly popular with NYRB readers. Her appeal is not to law but to the leveling common sense that is always obscured in enthusiastic controversies.
In fact any notion about what Theresa Schiavo wanted or did not want remained essentially unconfirmable, notwithstanding the fact that a Florida court had in effect accepted the hearsay assertions that she had said, at one point, in reference to her husband's dying grandmother and at another while watching a television movie about someone with a feeding tube, "no tubes for me." (Imagine it. You are in your early twenties. You are watching a movie, say on Lifetime, in which someone has a feeding tube. You pick up the empty chip bowl. "No tubes for me," you say as you get up to fill it. What are the chances you have given this even a passing thought?) Most commentators nonetheless seemed inclined to regard Theresa Schiavo's "directive" as a matter of record, even as they undercut their own assumption by reminding us that the "lesson" in the case was "to sit down tonight and write your living will." Living wills, it was frequently said, could be "Terri's legacy."
Joan Didion has spent her life sieving truth from cant. I fully share her conservative horror of life in a fool's paradise. I prefer to speak about human affairs more hopefully; habitual pessimism can be gratuitously corrosive. But I detest received wisdom and party lines, and watching Didion explode them is both inspiring and highly entertaining.
Goodness: it just hit me. The offstage friend whose name and problems come up most often in Talk is known as "Sick Joan."
***
Wednesday 2nd
This morning, after the Times, I read the first two pieces in After Henry, Joan Didion's fifth collection of essays. The first was the title piece, a tribute to Henry Robbins, the FSG editor who, more than any other third party, helped Didion and her husband, John Gregory Dunne, to establish the economic foundation of their free-lance careers. Henry Robbins believed in them. Along with Robbins, Didion mourns the old-style personal support that Robbins provided, now famously missing from the publishing world. (In one instance, Robbins took a night flight out to Los Angeles just to read a Didion MS that she did not want to send to New York.) "After Henry" is brisk, only a few pages long. It shivers over the murder of youth by mortality: Before Robbins died, Didion writes, "I believed, by way of contemplating the future, that we would all be around for one another's funerals. I was wrong."
The next piece was "In the Realm of the Fisher King." This is one of Didion's essays about the Reagans, and what utter frauds they were. They were frauds to the extreme degree of not even knowing it. Nancy Reagan presented herself as a "lady," nicely turned-out, always on time, easy with bland smiles. To Didion, who, in the complicated, even contradictory way of upper-class Americans everywhere, really was a lady (if also a tramp, fond of slumming with bikers in gas stations), Mrs Reagan (definitely "Mrs"!) was only an actress, and not a very impressive one at that. She was at home in the studio system, which took care of everything. She hadn't a clue about seating the guests at a White House dinner. Didion retells a funny story first published by Michael Deaver, in which the Reagans attend services at a very picturesque Episcopal church in Virginia's hunt country. Deaver, as the advance man, has worked out the details of the sermon with the pastor, but the pastor has neglected to inform Deaver that Communion will be served. Nancy Reagan, a Presbyterian in Hollywood, is flummoxed by this surprise: she is not going to drink from a common cup. Thinking that dunking her wafer in the wine will do, she manages to drop it into the chalice. The President, having been instructed to do everything that his wife does, politely drops his wafer into the chalice, too. Didion likens this episode to an imbroglio out of I Love Lucy. You can still hear her laughing.
But the Communion story is not just a funny anecdote. It is the symbolic centerpiece of Didion's visualization of the Reagan White House as a sound stage on which a movie about the Fisher King, the keeper of the Holy Grail, is being shot. The magical thing about this movie is that there is no crew. All the people who are making the movie are also in it. They are also its audience. Political reality has been set aside and replaced by a bogus liturgy of libertarian fantasies. The President, as Hierophant-in-Chief, is as vacant as his cult. (Didion begins the essay by retailing Peggy Noonan's statement that the President sharpened his own pencils and responded to letters from ordinary Americans that had been culled from the mailbag by staffers whose job this was.) The fraudulence of the Reagans was a projection, not by the Reagans themselves (they lack the substance for such an effort), but by their supporters and bankrollers. The deception was successful only because no one (excepting Didion and a few like-minded Californians) could imagine such a stunt. Didion doesn't follow forward, but of course the "Fisher King" was a hard act to follow, and George H W Bush, who, however rich and remote (remember that supermarket check-out line?), was nonetheless grounded in the scrum of political life, completely lacked the Reagans' magic. He could not help reminding — re-awakening — Americans to the resented truth that the White House is not situated at the foot of a rainbow.
In the course of reading these two pieces, I came across many of the bits and bobs that Tracy Daugherty has recycled — artfully and purposefully — in his biography of Joan Didion, The Last Love Song. From "After Henry," there is the bit about Quintana Roo Dunne joining the Robbins children in trick-or-treating, one Hallowe'en, in the Robbins's building on the Upper West Side. (I'd like the recipe for the chicken in tarragon aspic that Didion mentions in an adjacent sentence.) From "In the Realm of the Fisher King," there is the bit about how Hollywood wives take their after-dinner coffee in the hostess's bedroom, where there are large bottles of perfume. After Henry is collected in the Everyman's Library edition of Didion's nonfiction, We Tell Ourselves Stories in Order to Live — a very interesting title, given Didion's determination to deconstruct our stories — and I expect that more than two readers of Daugherty's biography (but fewer than ten?) will construct a concordance, annotating sources and extracts in the respective volumes. From this a second text of Didion's non-fiction might emerge, consisting of all the bits that Daugherty didn't use.
In the Times this morning, rock star Chrissie Hynde is said to be "something close to rock's Joan Didion." Ha ha: Dwight Garner goes on to write,
With her new memoir, "Reckless," Ms. Hynde proves that she can compete with male rock stars in another essential way. She's written a book that's just as slack and disappointing as so many of theirs have been.
So much for being Joan.
***
I was too young, in the late Sixties, to worry that the United States was falling apart. I didn't know enough about the United States that, for this fear to make sense, must have existed before the alleged collapse. I knew that the Fifties were a bad joke — had there ever, in the entire history of design, been anything so monstrously preposterous as the Cadillac's tailfins? I knew something else, something slightly to the side of America's problems. I don't know how I knew it, but I knew that the Soviet occupation of Russia would pass, and that Russia would go back to being Russia. I knew that the apparently Soviet behavior that drove American leaders crazy had nothing to do with Communism and everything to do with the kind of Bismarckian geopolitics that Communism claimed to have superseded. If I thought that my journals would tell me, I just might hold my nose and peruse them. But I should have been too self-absorbed, in those days, to write about Russia.
If I had only followed the thought through, I should have seen that the problem with the United States was that its leaders were alone in being deluded about the Communist menace. For the general public, the Cold War meant only one thing: the possibility of nuclear annihilation. For Washington types, nuclear annihilation was the almost irrelevant, merely possible outcome of an intricate and beguiling game of diplomatic go. This game determined the entirety of American foreign policy and a great deal of its domestic policy as well. The Civil Rights legislation of the mid-Sixties is an example. It is often forgotten that white Southerners were given to attributing civil-rights activism to Communist infiltration; ironically, at the federal level, this was oddly true: Jim Crow was an embarrassment in our game with the Soviets, and had to be gotten rid of. The Cold War interposed a decades-long disconnect between Americans and their government; indeed, the disconnect persists, having outlived its cause. The Cold War generated a menu of raisons d'état that shared a common, highly intoxicating ingredient: the justification of extraordinary powers. Why would anyone in Washington want to give up ordering from it?
In the late Sixties, the country wasn't falling apart; it was waking up to the new arrangement between government and governed, and complaining. Why, I remember collegiate bull sessions wondering, did we always support horribly tyrannical dictators in the world's banana republics? Why did we prefer to provide the more undemocratic régimes with the most foreign aid? Another question that I recall: Does the Central Intelligence Agency really exist?
How quickly that discontent faded; how soon the uprisings came to an end. We boomers — those of us lucky enough to escape Vietnam without having to go there — duly recalled that our birth had been blessed by a good fairy: things would work out nicely for us. We accommodated ourselves to the new American constitution and invented hedge funds. Now, according to a mighty tract in the current issue of Harper's, our principal concern is to make sure that our children and grandchildren don't get any ideas about upsetting the apple cart. William Deresiewicz has been taking shots at higher education for years now, but in "The Neoliberal Arts," he has made it impossible for a thinking person to take American higher education seriously. Everything that he has to say is both obvious and bouleversant.
More anon.
***
Thursday 3rd
Loose change: In this morning's Times, there's a piece about the club scene in Ocean Beach. Needless to say, the racket of these revels cannot be heard in the Summer Club, which lies to the west of Ocean Beach; out where we are, there might be a local party, but it rarely lasts past half-past eleven, or even past ten. But we're well aware that crowds of young people cross the Great South Bay each weekend to party in the bars along Bay Walk. Most of them depart on the 1 AM ferry, or sooner. The police, who ride around on bicycles, have everything under control, at least in the town. Boys will be boys, and every year or so somebody drowns in the course of an ill-advised late-night swim, while just as surely some doofus jumps into the Bay from the ferry returning to Bay Shore. (Bay Shore and Ocean Beach are such stunningly unimaginative place-names that they contribute a deglamorizing film of soap-opera banality to the journey between them. I rather cherish the protective coloration.) But for most fun-seekers, Ocean Beach is a safe proposition. There are no cars, for one thing. And the bars, numerous enough, are no farther from each other than a hop and a skip — forget the jump.
As we walk home from our early dinners, we watch the tide of loud girls and stalking boys flood the town. The girls are always loud, but when the boys are loud they are much louder than the girls. One senses that established couples do not participate in this idyll. One is thrilled to be ancient. We amble along away from the lights, and soon the hubbub can't be heard.
Also in the Times, Dwight Garner waxes enthusiastic about Mystery Train, Greil Marcus's book about — well, I'll let you fill that in. Mystery Train is about to be forty; Garner read it when it was almost ten years old, and then he read it again and again, all in the same year. He buys every new edition, because Marcus is till expanding the back matter, which now, Garner tells us, exceeds the length of the original text. I am not familiar with Mystery Train, any more than I've ever been inside the Island Mermaid in Ocean Beach. I shall probably remain unfamiliar with it. One of its six major sections, Garner writes, is about Elvis.
I remember hating Elvis Presley. Was it in kindergarten or first grade? Second? My aesthetic embryo was developed enough to take deep offense at "You Ain't Nothing But a Hound Dog." Aside from the dreadful grammar, I didn't know what a hound dog was, and it sounded like a hot dog to me, and calling somebody a hot dog was revolting. And I haven't even got to the music yet, or the look of the man — yikes! I like all kinds of music, except country and rock 'n' roll. Country is brain-dead church music. Rock, along with its hip-hop epigones, betrays the essence of music in being noisy and violent. Really good rock — I'm thinking of a song like "The Weight" — is not noisy and violent, but it is often loud and assertive. I don't care for assertiveness in music; I've never heard Beethoven's Fifth with pleasure. I like music to be complex. Steely Dan, for example. I never think of Aja as rock. (Do you?)
When I was young, I understood that most people my age liked popular music, but I'm surprised to find that this fondness (to put it mildly) has persisted into the sunset. Of course, I never much liked it to begin with. More groans: when my sister got old enough to buy 45s, her first choices were "The Lion Sleeps Tonight" and "Tell Laura I Love Her." I heaved! This was my first experience of really bad music. "The Lion Sleeps Tonight" has attained a goofy period charm, but the other song is just embarrassing — as a song. It's not even ridiculous enough to be good parody material.
Now I'm learning that, at least when she was young, Joan Didion liked to drive out to the cemetery and listen to country music. That's the sort of thing that, piled up in Tracy Daugherty's biography, makes me wonder why I'm reading it. Well, I'm reading it because it's good stuff; I'm learning to approach it as a novel, with "Joan Didion" as the central character. The real Joan Didion lives in her work. Her work is more important than she herself is. All too soon, she'll have died, and her work will be all there is. Then the endless sifting will begin, as generation after generation decides what's important enough to keep and know.
***
But will they? Reading William Deresiewicz's denunciation of American universities, I had to wonder — and that it could be wondered about at all was terribly painful — if the discipline of objective social memory, a skill-set developed in the past couple of centuries, no more, is in danger of abandonment. "Objective social memory" just hit me now, and I see right away that it is as good a definition of what I mean by "humanism" as I've ever come up with. It also defines "history." "Objective" means, of course, that mental impressions must be supported by some kind of documentary (independent) evidence. "Memory" must be personal, not received. I can't talk, for example, about the novels of Sir Walter Scott, because I haven't read any; all I know is that they are nowhere near as popular (widely-read) as they used to be. I am not worried that the world is going to forget about Sir Walter Scott. I'm sure that there are literary scholars (professors and graduate students) who keep his tomes dusted. Well, for the moment. Deresiewicz suggests that such scholarship may be facing extinction. Certainly its continuation at the great universities is grudgingly supported at best.
It must be understood that Deresiewicz's prophesying is ongoing. He has been complaining for some time. The latest chapter, the essay in the current Harper's, is preoccupied by the displacement, in university life, of the humanities by business curricula. This is, Deresiewicz shows, self-defeating for educational institutions, because
business, broadly speaking, does not require you to be as smart as possible or to think as hard as possible. It's good to be smart, and it's good to think hard, but you needn't be extremely smart or think extremely hard. Instead, you need a different set of skills: organizational skills, interpersonal skills — things that professors and their classes are certainly not very good at teaching.
So, smart university students develop their own "parallel college," in the form of extracurricular internships.
I was electrified, early in the essay, to read this:
Pinker is correct. He is emblematic of everything that is wrong with elite American education.
I hadn't gone quite that far in my thinking, but I have regarded Steven Pinker as a seriously wrong-headed man ever since I read his claim, in The Language Instinct or somewhere, that creole and pidgin dialects can be just as expressive as "standard" language. Well, sometimes, perhaps. But I reject the notion that the Authorized Version (King James) of the Bible would be anywhere near as monumentally articulate, about the holiest and most mystical matters, if it were translated into, say, Haitian. I believe not only that powerful poetry is untranslatable into other languages but that this untranslatability is the source of poetry's power. Each human language is a different facet, a different face cut into our capacity for communication, and each language showcases different ways of thinking about the human condition. The idea that one language is as good as any other is insulting to all languages. Pinker's implication seems to be that we ought to develop a global vernacular, a universal demotic — perhaps based on English, already so widely present around the world — that would make it easier, among other things, to conduct business operations.
Deresiewicz looks closely at the bogus vernacular that business-speak has begotten upon the universities. He deconstructs three favorite terms, "leadership," "service," and "creativity." While I still believe that the first two words can be salvaged, the last one has been gutted and replaced by a pod-person.
"Creativity," meanwhile, is basically a business concept, aligned with the other clichés that have come to us from the management schools by way of Silicon Valley: "disruption," "innovation," "transformation." "Creativity" is not about becoming an artist. No one wants you to become an artist. It's about devising "innovative" products, services, and techniques — "solutions," which imply that you already know the problem. "Creativity" means design thinking, in the terms articulated by the writer Amy Whitaker, not art thinking: getting from A to predetermined B, not engaging in an open-ended exploratory process in the course of which you discover the B.
I would argue that this is the creativity that is nurtured in writing programs, which are, after all, intended to produce marketable texts, thoughts that are liquid assets.
The worst of it, however, is that higher education is settling for its lowest common denominator: training young people to preserve the status quo. That is an objective that my reading of Hannah Arendt has converted from something mildly regrettable into something luridly horrible. Arendt herself didn't, to my knowledge, quite work out the relationship between Newborns and the World, so don't suppose that I'm summarizing her. She did, however, articulate these aspects of the human condition quite well. Human beings incidentally create the World — a complex of artifacts that, for one reason or another, survive generational change. Generational change, in turn, is the result of the constant "invasion" — Arendt's exciting word — of Newborns, each of whom must be taught how to live among human beings. It is the Newborns — the more intellectually gifted among, them, anyway — who, as they grow into maturity, reconfigure the World. To go back to my earlier example, they decide that Sir Walter Scott is not as interesting as their grandparents thought he was. In fits of violence, they may, like the armies of ISIS, destroy ancient ruins that are our only link to distant epochs. Everything in the World depends on the support of Newborns. This is why education is the most important, the central human activity. Markets have nothing! to do with it.
Training young people to preserve the status quo is invariably fruitless, because it's boring for young people. Fewer and fewer of them see the point of such plodding curation. When they stop caring, the status quo is swallowed by passionate, violent upheavals in which some part of the World is simply destroyed.
Deresiewicz shows that Princeton, for one, is on this wrong track.
Neoliberalism disarms us in another sense as well. For all its rhetoric of freedom and individual initiative, the culture of the market is exceptionally good at inculcating a sense of helplessness. So much of the language around college today, and so much of the negative response to my suggestion that students ought to worry less about pursuing wealth and more about constructing a sense of purpose for themselves, presumes that young people are the passive objects of economic forces. That they have to do what the market tells them. A Princeton student literally made this argument to me: If the market is incentivizing me to go to Wall Street, he said, then who am I to argue?
I'd tell the student to wash his mouth out with soap, for speaking that dreadful word, which to Steven Pinker, presumably, is a perfectly useful synonym for "inspiring."
***
Friday 4th
All day long, I've been thinking that it was Saturday. Kathleen took the day off. We spent the morning reading this and that. At one, we began to get dressed, and, an hour later, we climbed the steps to the Museum. Once in, we headed for the Petrie Court Café, where we didn't have to wait very long for a table. Kathleen, troubled by a peripheral bug, had a cheese plate. I had the French dip sandwich. Both were very good, although I needed two napkins to protect my shirt from the jus.
The Café, not surprisingly, turned out to be the only pleasant spot in the Museum. Everywhere else — well, it wasn't so much the holiday-weekend throngs as it was the self-parked people stalled in the middle of traffic. More than a few looked overwhelmed by the sheer muchness — the crowds, the art, the rooms-and-more-rooms. Kathleen made it clear that she was not going to linger over anything. She would try to come back when things were quieter.
So we confined ourselves to the musts. The China fashion show, the Sargent show. "What is 'Through the Looking Glass' supposed to mean?" Kathleen asked. That's the title of the China show. I replied by asking if she didn't know better than to interrogate fashion statements. "What they tell you is so embarrassingly dumb that you wish you hadn't asked." The show is, in a word, bizarre, considered as an exhibition. Everything is difficult to see and most things are disruptively placed. Much of it is also dark. "Hung Over on the Bund" is what I'd call it. The Astor Court, paved with highly reflective tiles so as to suggest a pond, in which a gigantic image of the moon is reflected, wasn't so exhilarating the second time; over the life of the show, those tiles have warped a bit. Kathleen was very impressed by the embroidery on Guo Pei's gold ball gown, but she didn't get the kick out of the pleated plate dress that I did.
While Kathleen circled the jewelry counter at the gift shop (finding nothing, as usual), I picked up one of each of the 2016 desk calendars. I need one of them already: tickets for a jazz series have arrived, and most of the dates fall next year. I've also looked at the schedule for the Paul Taylor season in March; as a Friend, I get to order tickets before they go on sale, which I am going to do any minute now.
***
When we got home, I read the last fifty pages of the Joan Didion biography. They were so death-soaked that I began to wonder if Didion herself were still alive. Tracy Daugherty dismisses one Didion project (something about Tom Dooley) with the pronouncement that "she would not complete it." That suggests incapacity of some kind. Didion is only 80.
The reading that Ms NOLA and I attended in Central Park is covered on page 563. "Then the skies opened up…" How soaked we got! How long ago that was — when I think of all that has happened since.
Names drop thick and fast toward the end of The Last Love Song. Who showed up for Dominick Dunne's memorial service. Who showed up for Quintana Roo Dunne's, also at St Vincent Ferrer. Joan Didion seems to have known everyone. She and her late husband also seem to have been great fans of a restaurant two blocks from here (and much, much farther from their apartment), an Italian place that Kathleen's old beau liked when it opened, thirty-odd years ago. I thought it was okay, but the table-hopping and air-kissing were unappetizing for someone who was not a member of the club. During the year that my father was president of the country club in Bronxville (1965), my mother installed herself as Madame President, and we couldn't get through Sunday dinner in the grill without two or three interruptions by passing couples. (Stand up. Shake hands. Answer questions clearly. Sit down.) I can't say that minded all that much at the time. I always welcomed relief from the more-than-occasional fraught discussions that I couldn't help stumbling into. But I learned that when there's a lot of that sort of thing going on, and none it really involves you, you're in the wrong restaurant.
Now Kathleen is napping. She says that she'll be happy with raisin bran for dinner. Maybe we'll watch Network later. She asked about it the other day. I've only seen it the once, when it was new; all I remember is that it didn't do anything for me. People all over town opening their windows and shouting that thing about not taking it anymore — very unappealing. Certainly no kind of solution. Also, isn't there a character whose idealism is smashed by commercial brutality? Damsel in distress! I wish I could remember what I thought about television back then. But all I know is that, in 1976, I wasn't watching much of anything. I had a little black and white television set; I think I'd asked for it for Christmas. This was so that I could watch Mary Hartman, Mary Hartman, which I did for a while. I watched Saturday Night Live, too, of course, but that was at somebody else's house: I remember it in color. Actually, the first season of SNL, as an ongoing parody of commercial television ("Jane, you ignorant slut!"), captured fairly well my opinion of the medium, such as it was. Soon I'd be in law school, where television might just as well have not existed; and, after that, now a considerably more critical thinker, I'd be an ardent student of Neil Postman. I'm still surprised that anyone with a brain can watch television after Broadcast News. Anyway, passing by the Video Room the other day, I thought I'd rent it, and see what it looks like after all these years.
At the end of his book, Daugherty dumps his opinion of Didion's work onto the end of a passage about whether women understand Didion better than men do. "…her range has been vast and her style has become the music of our time." A bit too blurby to take seriously — and one would wonder how it came to pass, that bit about the music of our time. Daugherty's biography is too detailed, too fine-grained to go in for epiphanies, although he does note, several times and in several ways, Didion's transformation from observer to critic in the 1980s. "In spite of her particularities, she is, finally, one of the most inclusive writers of the era: politics, history, war, the arts, popular culture, science and medicine, international relations, the passing of the years." This sounds much better in context; extracted, it's empty. It is no simple virtue for a writer to be inclusive. The claim that I should make on her behalf is that she became an outstanding judge of public society — the society of talked-about people, places, and things — by honing her grasp of that talk and writing about it with superb clarity.
There is a relentlessness in Joan Didion's criticism that tempts readers into thinking of her as tough, and, therefore, as masculine. A beguiling woman on the outside, a tough guy on the inside. I suppose I may lazily have subscribed to such a view myself, before reading Daugherty's biography. But I now think that she was trickier than that. Yes, she was a womanly woman in person — she was stylish, she was a great cook who loved to entertain and decorate houses, she desperately wanted to have a child, and she even remembered the names of her friends' children and how they were doing. But she was a woman on the inside, too. A very smart woman who grasped early on that most of what boys write and publish as journalism is simply gossip dressed up in "objectivity." Gossip is something that a smart girl understands much better than any man, and "objectivity" isn't much of a veneer. She was tough in the way that a really good schoolteacher is tough: she didn't let her readers get away with anything if she could help it. I can only wish that this were the music of our time, and I forgive her yearning to be carried off into the sunset by John Wayne.
I still say that there is way too much about Nick Dunne in The Last Love Song. Not only that, but most of it, if not disrespectful, is quite unflattering. It's as though Daugherty or his editor thought it prudent to have two strings to his bow, along with a more poisoned arrow.
Bon weekend à tous!