Thursday, April 3rd, 2014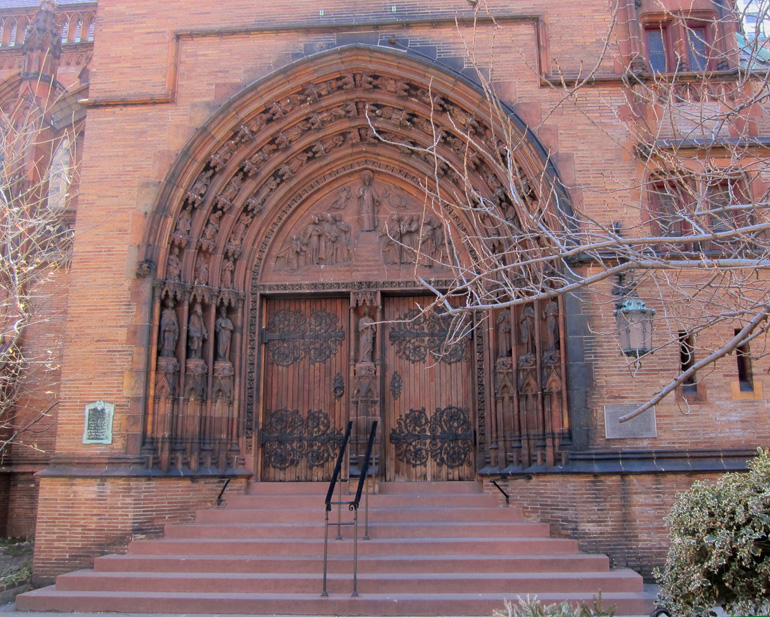 Last night, I watched Roman Polanski's 1988 thriller, Frantic, with Harrison Ford and Emmanuelle Seigner. There were a couple curious things. First, I remembered only two scenes clearly, the rooftop cliffhanger (in which Mr Ford's character gets rid of his shoes and socks) and the finale; but only the rooftop business did I remember before the movie began; the ending, I had completely forgotten until it was there before me, and then I remembered it all. Funny. Second, I liked the movie. I didn't like it the first time, when it was new. I think I can see why: it's a movie about dread, not excitement. It's not so much, Where's my wife and how can I find her as What if I never see her again? When I bought the DVD a few days ago, I surmised that Frantic was a template for at least two of the big hits that Liam Neeson has enjoyed in his maturity, Taken and Unknown, and Frantic bore this out, but only as to story and complication; the earlier movie is, still, a lot less exciting. But: Paris. It's rare to see an Anglophone movie that captures the City of Light as well as any good French picture does. But of course Mr Polanski hails from Poland, not California.
The most curious thing, however, was the sense of the passing of time. I watch old movies as a matter of course, without feeling any remoteness, but Frantic made me unusually conscious of the thick pile of years that have passed since it was made. Because Harrison Ford is one of the great action movie stars, Frantic is thoroughly compelling, especially for viewers who have outgrown the need for raw excitement, and it is almost amusing to watch him huff and puff and make things look difficult (always a trademark of his action style) twenty-five years ago. More! His unlined face and leonine head of hair seem almost comical — as if there were a style of commedia dell'arte so sophisticated that Harrison Ford himself was a stock character, requiring only a few bits of costume.
Being older (and knowing that she would soon disappear), I paid a lot of attention to the kidnapped wife at the beginning. She's played by Betty Buckley, who is so good that you understand why she has to be removed from the action: it would never happen if she were in charge. And yet that's completely wrong, because it is her decision to respond to the phone call from the lobby in person that triggers the plot. Back in 1988, I probably thought that Ms Buckley seemed so much older and wiser than Mr Ford that it was hard to believe that he really appreciated her, and even last night she looked, well, older. But that's Hollywood for you; he was born in 1942 and she in 1947 — the most normal difference imaginable for a married couple. But Ms Buckley is very unlike, almost the opposite of, Selah Ward (born 1956), who plays the trophy wife opposite Mr Ford in The Fugitive. Betty Buckley's character not only knows more about Paris than her husband but has seen more of life itself. From the beginning, then, Frantic had, last night, the air of a catch-up game.
***
Watching Frantic was all I was good for, after a ronde de printemps that ought to have left me staggering — Ray Soleil will know what I mean by that. He was with me the whole time, from the visit to the florist to the rest stop at Penrose. In between, lunch at Demarchelier, Crawford Doyle, the Museum, and an urban nightmare. About the florist, the restaurant, and the bookshop, I need say nothing, except that I was grateful to the point of stupefaction to find them all still there in the spring. Of course I'd been to them all during the winter, now and then, but always under the psychic carapace of hibernation that protects us from the cold. As on Tuesday, I could not get over how nice it was to be outside, doing things.
About the Museum: we went to look at the Carpeaux, and then (a first for Ray) the Marville. The work of both artists struck me by its ties to the Eighteenth Century; both Carpeaux (for all his "romanticism") and Marville are fundamentally ancien régime artists with Second-Empire accents. (The Marville show catalogues have sold out— bravo! The Museum hopes to have another printing by May. I cursed myself for not wanting to carry the book around after prior visits.) One thing is for sure: there will be no more talk about Atget without an awareness of his far more objective predecessor. Marville doesn't deprecate Atget, but he does make us realize that, Berenice Abbott's modernist admiration notwithstanding, Atget was an inspired loony.
The urban nightmare was occasioned by a demonstration on Park Avenue mounted by the "residential workers" — the doormen, porters, handymen and others who make Manhattan's larger buildings habitable. Their union's contract is up for negotiation this month, and there's the possibility of a strike at the end, right after Easter. Why Park Avenue is the spot for a rally I have no idea, but by the time Ray and I left the Museum, traffic on Fifth and Madison Avenues had been halted by the police, as was downtown traffic on Park Avenue. Making this nuisance truly impossible was the clatter of a helicopter parked overhead. Oh, for a drone! The security state is one thing, but Boys with Toys are quite another, and, by the way, I caught a fire truck using its sirens on Second Avenue yesterday simply to get into 85th Street and expedite its return to the firehouse. For shame!
The want of taxis resulting from the brouhaha made it necessary to stop at Penrose. Mrs NOLA had told me about it, not perhaps thinking that greybeards might not be the favored clientele. It's a perfectly nice bar — it calls itself a "local" — and we couldn't have been more nicely treated. But, perhaps because I sat facing the door, and it was the beginning of Happy Hour, I was brought to a state near enchantment by the look on the faces of people — men and women both, but especially men — as they came in. They looked so hopeful. There was a happiness about this look that I hasten to note — nothing needy or "experienced" about it. You might have thought that a new route to romantic bliss had been announced in Time Out. By the time we left, my reasons for feeling that I didn't belong there had nothing to do with my age.
At home, there were bags from the florist to unpack, and boxes as well, including one from Amazon that contained On Revolution — as yummy as the box of dark chocolates from See's Candies. (I miss calling it "Mrs See's." The old lady is still on the box, in a Betty Crocker sort of way.) I made a pot of much-needed tea, and Ray and I fell into talk about old movies. When he spoke highly of some Elvis Presley numbers, I threatened to tie him down to make him watch Bedtime Story, the utterly unfunny original of Dirty Rotten Scoundrels. Soon, however, I was at the computer, ordering away, and, any day now, my film library will include Midnight Lace and Rome Adventure. Ray is very persuasive, but he also has a stellar track record — as long as you don't listen to him on the subject of Elvis. I told him that I'm willing to forgive the Dowager Duchess of Devonshire her infatuation with the master of Graceland; and that I won't be indulging his until he boasts a title just as grand.
I'm still trying to figure out, though, why I ordered Disney's Planes. Will is in San Francisco!