Monday, December 2nd, 2013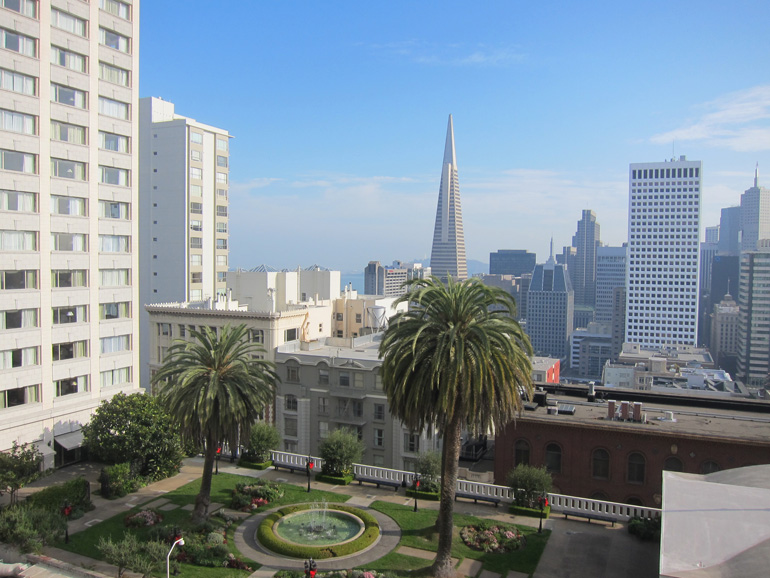 Whether or not I had planned to post entries from San Francisco — and I rather think I hadn't — the question went moot when the new little machine that I brought out with me failed to work. I expected to be very put out by that, but I wasn't. If it had worked, I'd have made notes of the novel that I was reading, that's all. I wasn't in San Francisco to work, which is to say, think. All the thinking that I did do was in relation to that novel, Henry James's final masterpiece, The Golden Bowl.
I began re-reading the novel — for the fourth or fifth time  — as the plane taxied out from JFK, and I reached the last page about five minutes before we landed back in New York. Reading late James on a plane isn't easy, and I didn't make much headway. Our suite at the Fairmont Hotel, atop Nob Hill, provided a far more congenial environment. My freedom to attend to the novel's intricacy was amply guaranteed by chambermaids and room-service waiters. When I wasn't with my daughter and her family, or on my way to or from their house, I kept my nose in the Penguin Classic. But more about The Golden Bowl anon.
***
Kathleen and I did step out for one brief bit of local sightseeing. We crept down the hill to the shops around Union Square. Kathleen had a list of three to visit. One sold yarn, and another sold fabric. We bought nothing. We bought nothing at the third stop, either, and that was rather sad, because I've always found something at Gump's that I had to have. Actually, there's a Gump's box on its way to me right now, containing things that I ordered from their catalogue before we left. I thought about that box as we trod the thick carpets at the otherwise rather depleted-feeling store. Gump's isn't what it used to be. But then, neither is San Francisco. Gump's was just the sharpest symptom. And how curious it was to reflect that the Internet was the disease! In San Francisco, of all places!
San Francisco's physical setting is remarkable, and will presumably remain so for years to come. Let's hope that its climate is steady, too. But even as the city intensifies as one of the world's hubs of information technology, its unique character fades. The simplest way to capture what San Francisco used to be like is to watch Alfred Hitchcock's Vertigo. I made my first trip to the city not very long after that film was made; indeed, I stayed at the same hotel where, on this latest junket, I re-read The Golden Bowl. That was 51 years ago. San Francisco was unlike anywhere I'd ever been. Yes, there were the hills, and the cable cars, and gaudy Grant Street's Chinatown fronts. But there was also a sporty formality that was kissed by the fair weather. Why not dress up? Nowhere in the United States, outside of midtown Manhattan, did so many women seek and find their chic. I didn't know it at the time, but San Francisco was still a high colonial city, an outpost abroad. It might as well have sat on the other side of the Pacific — if any other city that I've visited was anything like it, it would have been Hong Kong.
And, just as New York City had Tiffany — just the one, in those days, at Fifty-Seventh and Fifth — so San Francisco had Gump's, and you had to go to San Francisco to shop there. Gump's specialized in pearls and jade, rather than gems, and it offered household furnishings with an Asian air, as indeed it still does. But you don't have to visit the store anymore, and, if you do, you can't count on finding something that you never imagined. We saw some very fine things, but we might just as easily have found them back at home. There was nothing for sale that would have floated over the bar against new acquisitions.
In this, of course, San Francisco is just like anywhere else. Bazaars, for so long a principal attraction of travel, have dwindled to naught. I don't blame the Internet entirely. I remember the misgivings that I had when Gump's opened a branch in the Galleria in Houston, way back in the Seventies. No good will come of this, I thought.
The Internet has not, I can report, diminished the warmth of being in the same room with loved ones. You still have to travel to spend time with people who live elsewhere.
Megan's new home has a large kitchen, with a table and chairs at one end. A kitchen table! Kitchen tables are as rare in Manhattan as are kitchens big enough to hold them. I planted myself at my daughter's and didn't budge, except to give Will occasion to announce that "Doodad goes potty a lot." We walked along the beach a few blocks away, and Megan took us for a spin down the coast to Half Moon Bay, but what I'll remember best is sitting with my back to the front window and talking with Megan while she put Thanksgiving dinner together. Dinner was served; I didn't have to move. It was delicious. Later, we had a serious discussion about the world that Will will inherit from us, and I took another chair when I returned from a bathroom break. But aside from testing an armchair in the living room and finding it quite comfortable, I stayed in the kitchen. It was perfect.
Need I add that I was under orders to remain idle. Kathleen was permitted to trim the beans, and Ryan did a bit of chopping, but I didn't so much as offer advice. You might have mistaken me for an old-school patriarch, unfamiliar with wooden spoons and measuring cups.
It was perfect.
So was The Golden Bowl.
As for San Francisco, it may no longer be as distinctive as it used to be, but it's still a grand old town, and, but for the distance, we couldn't be luckier that it's the one for which Will and his parents forsook New York.