Friday, August 30th, 2013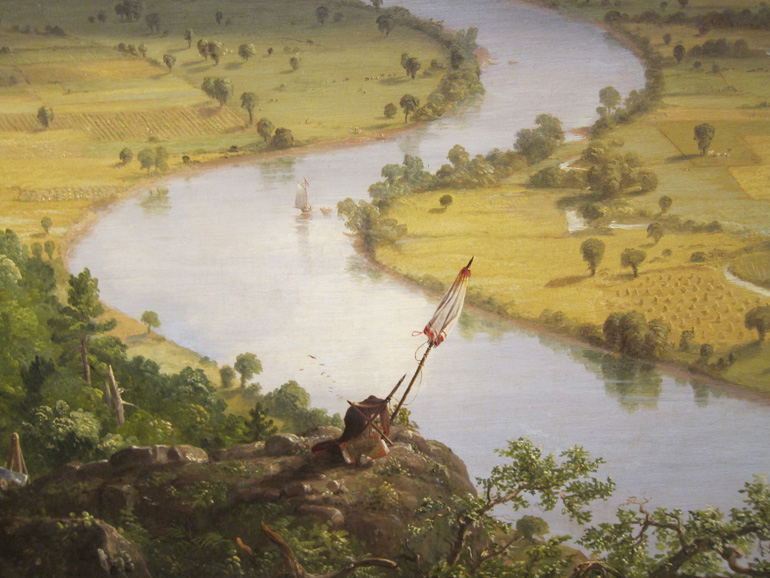 Clues? It's the Connecticut River. And the image shows but a small patch of a large painting.
I've only recently begun pulling out my camera at the Museum. I recall being shocked, ten years ago, when young Asian tourists seemed to be taking snaps of everything at the Louvre. Was this allowed? The consensus seems to be that, as long as there's no flash, there's no harm done.
Only the other day, though, did I see the fun that could be had.
In other images, we had a Face Time call from San Francisco last night — a lovely surprise. Ryan was still at work, but Megan and Will had just gotten back to their temporary housing from school pickup and househunting. Perfectly aware that his mother needed a steady arm to hold the iPhone, Will scrambled all over her like a monkey — a very big monkey. He told us that he is in California, and he asked us where we were. (He also asked why my eyes were closed. Gawd, I thought, I haven't hit the vodka yet!) Kathleen had the bright idea, after the call was over, of holding the phone sideways, so that we could both be in the picture, instead of just the space between us.
Megan and Will looked great, and it was great to see them.
***
I spent hours yesterday sniffing around Friedrich Hayek, trying to find out what the big deal is. One of the books that I'm reading is The Great Persuasion, by Angus Burgin. It's a somewhat academic account of — but that's what I'm not sure of. Something to do with the Mont Pélerin Society and the recrudescence of free-market, laissez-faire thinking. I'm in the middle of the chapter about Milton Friedman, who if nothing else inspires Burgin to write with verve. If Friedman was robust, Hayek was fastidious; he seems to have been almost too neurasthenic to develop clear and distinct ideas. I don't understand the whole "Austrian School" thing. What, exactly, is aggregate demand all about? It goes in one ear and out the other. And Keynes: why is it that, even though I don't understand what he's talking about, either, he nonetheless always seems to be right? Does it all come down to rhetorical effectiveness?
I will hand it to Burgin for expressing my problem with economics in terms that do not highlight my stupidity.
Given Friedman's indisputable influence on the political thought of both his time and the present day, he has received remarkably little scholarly attention outside the economics profession. He has been the subject of one short popular biography, several books of ideological analysis and synthetic condensation published well over a decade ago, a scattered collection of isolated articles, occasional polemics from his political foes, and countless cursory mentions in popular newspapers and journals. Milton Friedman's rise to public prominence, despite its world-historical force, has yet to be historicized. This failure is in part a reflecion of the academic abandonment of the history of economic thought, which has been marginalized by economics departments focused wholly on the development of contemporary analytics, ignored by historians of science who maintain a restrictive understanding of the parameters of their field, and bypassed by historians wary of the relationship between abstract academic debate and processes of social and political change. The hybrid nature of Friedman's career poses a further discouragement to research, because he blurred the lines between popular politics, forays into political philosophy, and work in technical economics that can prove difficult for nonspecialists to comprehend. The irony is that scholars have abandoned inquiry into these modes of analysis even as their importance to our public life has grown. For better or worse, we now live in an era in which economists have become our most influential philosophers, and when decisions made or advised by economistic technocrats have broad and palpable influence on the practice of our everyday lives. No figure is more representative of this development than Milton Friedman.
I'm not sure that I'd use the word "historicized," but I love "economistic technocrats." The point is, economists in the wake of Friedman have defected from humanism, and the humanists have sighed "good riddance." As Burgin is too academically polite to say, that's crazy! Just re-read the penultimate sentence until you get it.
I was not at all surprised to learn, earlier in Burgin's book, that Hayek's Road to Serfdom achieved its postwar fame largely thanks to a bowdlerized Reader's Digest condensation. Hayek himself never got over the shame of it.