Monday Scramble: Shelving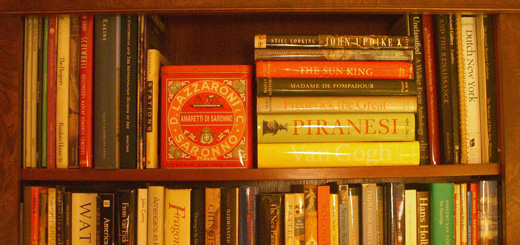 This entry is over twelve hours overdue, but for a very good reason. The bookshelf that I ordered from Scully & Scully last October arrived today, and for seven or eight hours Quatorze and I worked like drays. We joked that we would sleep well tonight, but we were too punchy to believe any such thing. The hulking industrial shelving that I'd ordered last fall to serve as a combination staging area and placeholder gave way to a far smaller, but also far more capacious, burl walnut book case, The metal unit was emptied, dismantled, and donated to Goodwill — all this afternoon. For most of the day, the dining table was a war zone of competing piles, each one screaming for attention by trying to be uglier and less orderly than the others. Quatorze did all the heavy lifting, as well as moving an inconvenient phone jack and carrying over a decade's worth of Museum Bulletins from one room to the other. I was prepared to let the project drag on for a week. Quatorze was determined to see it through all in one day, and he was frighteningly persuasive. We had dinner with Kathleen round the corner, but I insisted that Q come back afterward so that Kathleen could thank him properly. Even so, I was disappointed, because the living room was so tidy! There was no evidence whatsoever of the day's struggle. Kathleen assured us, however, that what she remembered of earlier such struggles was clear enough to impress her big time.
As you can guess from the spines on view above, the new bookshelf is consecrated to books to look at. They are not all fine arts monographs and exhibition catalogues, however. I've included a category of books that's congenial both in content and in physical dimension to weighty thick art books: slender, but equally tall children's books.
The new bookshelf is right next to the dining table, the stoutest in the apartment. I look forward to getting lost in a searching thread that has me pulling down books right and left, to compare and contrast (or, better, to let the artists do the comparing and the contrasting.) A long dream, developoed the better part of a year ago, has  come true. As the long day ebbs, I'm left feeling golden.