Out & About: Vien…Venere splende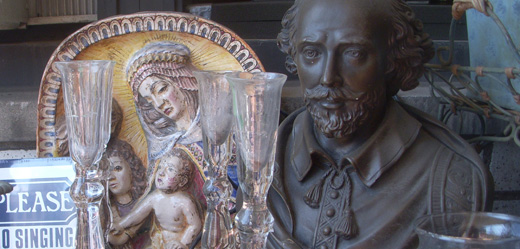 Has it really been twenty years (or more!) since Ken Ludwig's farce, Lend Me A Tenor, premiered on Broadway? I saw it twice, back then, once with Kathleen, and once with Megan, who was still in high school at the time. Megan remembers going, but not much more than that; and, seeing it again, this past Saturday night, I wonder what I was thinking she would make of it. I couldn't begin to answer that question.
I didn't remember too much of the play myself. I'd forgotten, for example, that Philip Bosco played the impresario who, in Stanley Tucci's revival, is played by the wonderful Tony Shalhoub. Nor did I recall that J Smith Cameron played the ingénue. All I remembered was that, due to this and that mishap, a retiring young doormat of a man steps in for an ailing Italian tenor and tastes triumph as Verdi's Otello. I wasn't entirely sure that the ailing Italian tenor ever showed up. So Lend Me A Tenor was pretty fresh for me on Saturday night.
I like to think that Kathleen and I would have seen the revival anyway, and for the very same reason that drew the attention of our friends Judy and Curt, who were visiting from Greater Tryon. They were here for the weekend because Judy had tickets for Lulu at the Met. That was strange enough; stranger still, Judy enjoyed it — which goes to show how more genuinely musical she is than I am. (The very idea of seeing Lulu again gives me a sharp ice-cream headache.) Curt wasn't having any of the opera, certainly, but he was game for a show or two, and Judy settled on Lend Me A Tenor because she wanted to see Jan Maxwell on stage — the Broadway stage.
For Judy had seen Ms Maxwell in a couple of productions way back in college. Both ladies hail from Fargo, North Dakota; for the matter of that, so, technically does Curt, who, until he was three years old, lived across the street from the Maxwells. (That has a decidedly G&S vibe to it, don't you think? Something about "a twelvemonth old"…) Years ago, Kathleen and I went to see My Old Lady, because Sian Philips was starring in it; it may have been then that Judy mentioned, long distance, that she'd heard that Jan Maxwell, also in that show, was doing well on and off Broadway. Indeed. We've seen Ms Maxwell in at least half a dozen things since then, including, most recently, To Be Or Not To Be and The Royal Family. Now, at least, Judy and Curt can say that they've seen their old neighbor once — an experience that is unlikely to be repeated in Greater Tryon.
Jan Maxwell had the role that Tovah Feldshuh originated, the Italian tenor's Italian wife. One of the meta-jokes in the farce is that Tito and Maria fight hammer and tongs in heavily accented English, never uttering a word of Italian that a Broadway audience wouldn't comprehend. "Come-a outta here so I can keel you!" cries Maria toward the end. Ms Maxwell has been nominated for a Tony, and the photograph that usually accompanies this news shows her jumping up and down on a bed. It's a very funny scene, and it is no figure of speech to say that she throws herself into it. But you can still tell that Ms Maxwell is an actress capable of the richest Chekhovian implications.
The play's biggest joke, of course, is that merely donning a costume and painting your face to look like the Moor of Venice can quell your fears of being a ninety-eight-pound weakling and instill a worldly swagger. Justin Bartha made the transformation seem miraculous. As the impresario's fretful go-fer, he was the compleat angular geek, a sonata in suspenders. But when he suavely cooed "Sure" and "Why not?" to people who, instead of seeing through his deception, took him for Tito Morelli, his voice assumed a gigolo's unction.
Anthony LaPaglia brought to Tito Morelli's part the build and demeanor of a Chicago gangster — a wildly successful contribution. It is Tito's misfortune to spend the second act in flight from the police — don't ask — but Mr LaPaglia's tenor was not the man to let anxieties about being captured interfere with the attractions of a bodaceous leading lady who, under the mistaken impression that she has just played Desdemona to his Otello, wants to know if she was "good." The ensuing misunderstanding is taken directly from the archives of farce, but it's in the nature of farce to shine brightest when utterly familiar, even predictable material is brought to life by fresh actors. Jennifer Laura Thompson made a boffo and very "professional" soprano.
Mary Catherine Garrison is well on the way to becoming Broadway's go-to ingénue, which means that her sweet heart is innocent, doe-like, and unaware in a way that brings Jean Harlow to mind. (Not very.) As Maggie, momentarily concerned that she may have had intimate relations with a lunatic,  Ms Garrison let out the  most blood-curdling scream that has ever shot into the legitimate theatre's ether without having been prompted by a serial killer. We encourage this very talented actress to fly her freak flag early and often.
The problem with Tony Shalhoub's performance, predictably, was that it called Stanley Tucci to mind. In the earlier phases of my dotage, I'll be certain to tell people that I loved seeing Mr Tucci in the role of Saunders, the impresario from Central Casting. Kathleen will gently remind me that Mr Tucci never appeared on stage in any role. Oh yes, I'll remember; it was Tony Shalhoub — Stanley Tucci's younger, straighter twin. Saunders, modeled on Oscar Jaffe, from Twentieth Century, is an egomaniac whose brush with disaster stirs our sympathy. If Lend Me A Tenor has a fault, it's that our sympathy quickly runs to the two men in Otello costumes whom Saunders is trying to control. They barge around a Cleveland hotel suite, up against impossible challenges. We shouldn't want Saunders just to get out of their way, but we do.
After the theatre, our party of six high-tailed it up Eighth Avenue to Pigalle, where we tucked into what I hope will turn out to be Fossil's latest dinner of the year. It was 12:30 when we dispersed, and the days when that hour was the beginning of the evening for Fossil are long over. But he and Quatorze were indispensable ingredients in the evening's fun, and they've become great pals with Judy and Curt. So much so that, while we had the Tryonesians to brunch the next morning, Fossil and Quatorze took them to Fairway for dinner. It doesn't get more New York than eating in the doyen of Gotham grocery stores — seriously. After all, Fairway is a Broadway theatre.