Gotham Diary:
Either/Or
May 2017
2, 4 and 5 May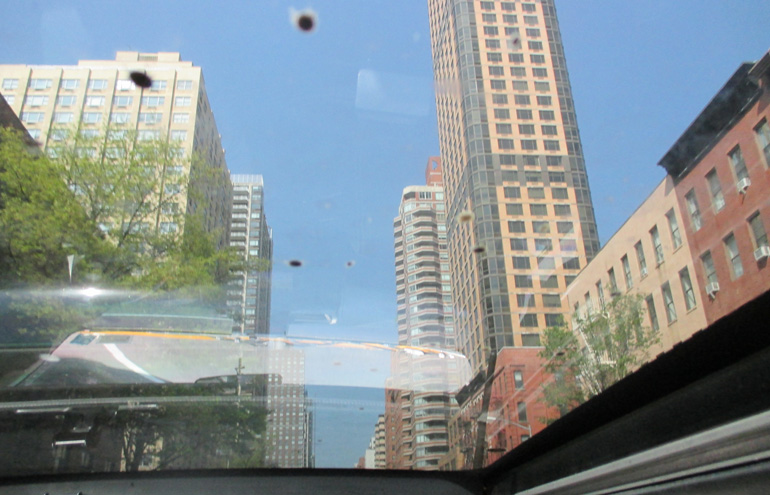 Tuesday 2nd
The news stories about Jean Stein's jump from her apartment in 10 Gracie Square can't help reminding us that Carter Cooper, the son of Gloria Vanderbilt, jumped from a penthouse balcony in the same building nearly thirty years ago. Somehow, this detail seems less ghoulish than it might be, attached to the woman who (working with George Plimpton) gave us Edie, the oral history about Edie Sedgwick, in 1982. On Stein's Wikipedia page, it says that Norman Mailer wrote of Edie, "this is the book of the Sixties that we have been waiting for. [citation needed]" It was certainly a jaw-dropping read. I had never heard of Edie Sedgwick before — I was perhaps a little too young — but I couldn't put it down when it came out. For me, it was absolutely an Eighties book.
Jean Stein, Edie Sedgwick, the Vanderbilts — remember that picture in Vanity Fair in which Anderson Cooper looked older than his mother? — George Plimpton: these people occupied, or still occupy, a curious intersection of New York life, where inherited money meets publicity. Perhaps "publicity" isn't the word. Perhaps what I mean is that, for some people who grew up wealthy, doors that don't beckon to most rich people are open. Connections are easily made with influential people who aren't "social." Everybody benefits. There is nothing quite so fascinating as the scion of a moneyed family with an interesting mind; more than half a brain will often do. Fortune has so obviously smiled on such people that it's almost reasonable to expect that a little of that fortune will rub off. I'm speculating, of course; I've never actually known anybody who lives on the corner that I'm talking about. But the existence of Vanity Fair suggests that my surmise is not entirely fanciful. And while there must be such intersections in other places, New York's is the only one that counts.
What wouldn't I give for a fly-on-the-wall seat at the next meeting of 10 Gracie Square's co-op board.
***
Although I haven't thought of taking a swan dive onto Eighty-Seventh Street from our balcony, I have been somewhat oppressed by a sense of the futility of speech. For one thing, I have the awful feeling that I've said everything twice already, and look what good it has done! More generally, the modes of exhortation appear to have been overworked, making people so stubborn that, if you urge them to come in out of the rain, they'll stay out and catch pneumonia — gladly. Ideas fall into two categories: too familiar to bear repetition or dangerously novel. And no sooner do I say that than I read the capsule review of Shattered, a book that Amazon has been trying to get me to buy for my Kindle, in this week's New Yorker. (Burning question: is this Bruce Eric Kaplan's first cover for the magazine?) Shattered is a "withering account of Hillary Clinton's Presidential campaign".
Robby Mook, who ran the operation, is portrayed as being obsessed with analytics and demographics, to the exclusion of the traditional politics of persuasion.
Traditional politics was just too familiar!
the Clinton campaign never had a clear picture of its own candidate or of what was coming.
In other words, Donald Trump was too insanely unlikely to take seriously; any serious plans to prevent his victory would have likewise been weird. What happens when bright young minds are faced with a choice between the tedious and the risky is a hasty retreat to numbers, to data, to the oracle of the computer.
Over the weekend, I thought of sharing a link, at Facebook, to Bret Stephens's Op-Ed piece, printed on Saturday, against "The Climate of Complete Certainty" in environmental discussions. I'm glad that I didn't. I'd have been tarred as a Trumpista! But I do think that the journalism of climate change does have a real Chicken Little problem, and that warnings about dire inevitabilities ought to be leavened by constructive proposals, and infused with the leadership quality to make them viable.
***
Thursday 4th

Currently reading James Harvey's very important Romantic Comedy in Hollywood, Kathleen has been asking to see some old movies, either for the first time, or for a second look after immeasurable years. This week, I rented three videos that we don't happen to own.
Dinner at Eight
It Happened One Night
The Thin Man
Although I may perhaps add It Happened One Night to our library, watching the other two titles convinced me that, although it sometimes seems that I have bought every DVD with a pulse, I do discriminate. If I want to see Myrna Loy and William Powell, I can always watch Libeled Lady — which will also give me a bigger helping of Jean Harlow than I'd dream of asking for. In Dinner at Eight, Harlow's bedroom scene with Wallace Beery — a pre-Code instance of spousal abuse — is just about the most pointlessly nasty thing that I've seen in the movies. The contrast between the white-on-white-on-sequins luxe of the setting and the grim unhappiness of the marriage it shelters makes me seasick. The only problem with not having Dinner at Eight on call is missing Marie Dressler, whose immortal last line, addressed to Harlow, does not completely upstage the preceding scene, in which the worldly old lady counsels a disappointed, if shallow, young girl.
Watching It Happened One Night, I had one of my insights. After mulling it over for a while, I thought I'd better look at Ed Sikov's book on the genre, Screwball: Hollywood's Madcap Romantic Comedies. I wasn't entirely surprised to find that Sikov had not had my little insight, but what did bowl me over was how his interpretation of screwball comedies with a newspaper theme inadvertently highlights the hypocrisy of the Production Code — and of popular American culture itself.
It Happened One Night is often hailed as the first of the screwball comedies, but it doesn't feel screwball to me at all. Of course, I'm comparing it with later films, made with a heightened consciousness of the genre's possbilities. Actually, I doubt very much that Frank Capra thought that he was making a screwball comedy as such — neither the term itself nor the formal hallmarks of screwball would have occurred to him. To the extent that Capra had a genre in mind at all, it would have been "the newspaper movie." And even that isn't very likely.
Although there is a good deal of opulence at the very end of It Happened One Night, it is as empty of appeal as the Packard bedroom in Dinner at Eight. It certainly doesn't cheer up the heroine, Ellie Andrews (Claudette Colbert). She has just spent a few days on the road, living a very dusty and hungry life — but loving it more every minute — with Peter Warne (Clark Gable), trying to evade the search parties loosed by her immensely wealthy father (Walter Connolly). Ellie has worn one outfit for at least three days, and although it remains as fresh as her makeup throughout, it does get a bit old on the eye. There is nothing really screwball — funny — about Ellie's road trip from Florida to New York. What is screwy is Warne's crazy idea, anticipating the climax, of running off to New York while Ellie sleeps, shaking his editor up for some cash, and running back to bring her to town in style. It never occurs to him that she might be evicted from their motel in the middle of the night, which is of course what happens and what brings her back to her father's house and the big wedding. Warne throws a second screwball when he tells Ellie's father that he doesn't want the $10,000 in reward money, just $30.69 for cash outlays on the road. Then, as if we might have missed something, Warne says, "I'm screwy myself." If It Happened One Night is a screwball comedy, it's one that doesn't involve a lady.
What do I mean by calling it "a newspaper movie"? Simply this: whether a movie involving newspapermen is happy or sad, the first commandment is invariably that a good newspaperman will do anything for a story. "Anything" usually encompasses lying and cheating and other forms of deception, but as Libeled Lady shows us, it also covers being ridiculous, as William Powell's Bill Chandler is in several ways, whether as the husband of somebody else's fiancée or as an angler in a trout stream. Newspapermen are urban cowboys, tough guys in suits. If they will do anything to get a story, they can do anything, or almost anything, without risking their masculinity. This, I think, is the germ of screwball.
According to James Harvey, Cary Grant didn't want to make The Awful Truth. He thought it would make him look ridiculous. Now, why was this, you may ask. Certainly, when Grant discovered that screwball capers did not make him look ridiculous, he embraced the genre with open arms, as in Bringing Up Baby and My Favorite Wife, in both of which he exposes his highly professional inner clown to greater extent than in The Awful Truth, where Irene Dunne commits most of the nonsense. Why, though, would Cary Grant have been worried in the first place? And why — a related question, I insist — did The Awful Truth sink into oblivion, known only to connoisseurs and long unavailable on tape when all the other oldies came on the market in the early days of home video?
The answer: Jerry Warriner, Grant's character in The Awful Truth, doesn't have a job. He is certainly no newspaperman. He hasn't got a license to misbehave. What makes The Awful Truth the great screwball comedy that it has become is Archie Leach's license to be Cary Grant — a license that, as Grant knew better than anybody, had yet to be burnished in 1937.
Ed Sikov finds the roots of screwball in the Production code, and while there certainly are such roots, no question about it, Cary Grant's squeamishness requires another explanation. While pondering that, we can consider Chapter 7 of Screwball, in which Sikov quite unironically catalogues the depravities of Wally Cook (Fredric March) in Nothing Sacred and Walter Burns (Cary Grant) in His Girl Friday. Far from regarding newspapermen as heroes of any kind, Sikov seems to agree with the doctor in Nothing Sacred, whom he quotes:
You're a newspaperman. I can smell 'em … The hand of God reaching down into the mire couldn't elevate one of them to the depths of depravity.
I don't want to fault Ed Sikov for appearing to agree with this. But I think that it ought to modulate his understanding of the Production Code, which of course did little or nothing to restrain the antics of cinematic journalists. Nothing Sacred tells a very bleak story, to be sure. It tells it hilariously well, but still. One has to ask, what kind of morals-protecting regulation would permit such a film to be released? And the answer, of course is: only in America.
In other words, screwball was indeed an accommodation of the Production Code's severe restrictions on the portrayal of carnality on screen. (One begins to wonder how the close-up kiss survived the censorship.) But it flourished because the Code punished only certain kinds of immorality. While gangsters had to come to their just ends, newspapermen might at the worst have to embark on a long cruise while clouds blew over. And by sharing the reporters' freedom from retribution, male characters generally, up to and including playboys like Jerry Warriner, could be spared the consequences of their dubious conduct.
Just how dubious is revealed, in the way that a black hole might be revealed, at the beginning of The Awful Truth. In the second scene, we find ourselves in a grandiose house, with white-painted pilasters and paneling, and plenty of Chippendale furniture. But, aside from the housemaid, no recent occupants. Jerry Warriner has been "away," but not where his wife thought he was. Anyone over the age of ten will not wonder if he has been playing a lot of squash at his club. As for his wife, Lucy, why, she has been to an out-of-town "junior prom," and stuck on the road overnight by a flat tire. The flattest tire in the world couldn't be flatter than this couple's aliases. I don't know how this scene got past the censors, because the innuendo is almost asphyxiating, and it leads straight to talk about the air-clearing virtues of divorce.
At the other end of the film, we once again find ourselves in a private home that, in its blandly impersonal (and old-fashioned) luxury might serve as an upper-crust clubroom. This is what Jerry and Lucy were living in before their adventures. It's what they had to leave behind, and when they leave it behind a second time, they know what they're doing.
***
Friday 5th
Striking a completely different cinematic note: after lunch, I watched a movie that has been haunting me for a while, Alejandro Agresti's The Lake House (2006).
I watched it several times after it came out. I tried to figure out how the time-travel worked — it's limited to letters in a mailbox — but I always got distracted by the tidal wash of melancholy that sweeps through the movie. This afternoon, I saw that the machinery was so unquestionably impossible that the characters must be killed by it, not just the one who gets saved at the last minute, but the both of them. In the final shot, the lovers walk into the eponymous house. I don't think they will ever come out again.
That's all right. I'm fine with the love philtre in Tristan und Isolde, too. Love is enchantment, and, as Tristan tells us, when the enchantment is complete, real life is no longer possible — and don't ask why. Who cares? I found that the melancholy is still sweeping. Kate (Sandra Bullock) is enveloped by it from the start; Alex (Keanu Reeves) succumbs to it little by little. Reeves plays Alex with a manly optimism that lightens Kate's sense that she is doomed to live alone, but he cannot defeat it. In the end, all he wants is to join her. Kate is the Tristan here, the one who knows that daylight — life — makes love unbearable. Instead of looking like the overtired doctor that Kate is supposed to be, Bullock radiates a beautiful hopelessness. She falls in love with Alex because he isn't there.
What I brought to the film as a spectator was the fearful sadness that the film's setting, Chicago and its environs, always arouses in me. Nowhere else is my imagination of what growing up would have been like without the proximity of moated Manhattan so painfully vivid.
I will say this: The Lake House would be a lot more plausible if it weren't for the character of Henry, Alex's brother (Enoch Moss-Bachrach). Two details, the book about their father's architecture that Alex does not share with Henry (minor), and the meeting in Henry's office that immediately precedes Kate's last drive to the lake house (major), make too intrusive a wrinkle between the parallel worlds. It's when you try to smooth this out that the host of other difficulties looms.
Bon week-end à tous!