Gotham Diary:
Week in Progress
20 April 2017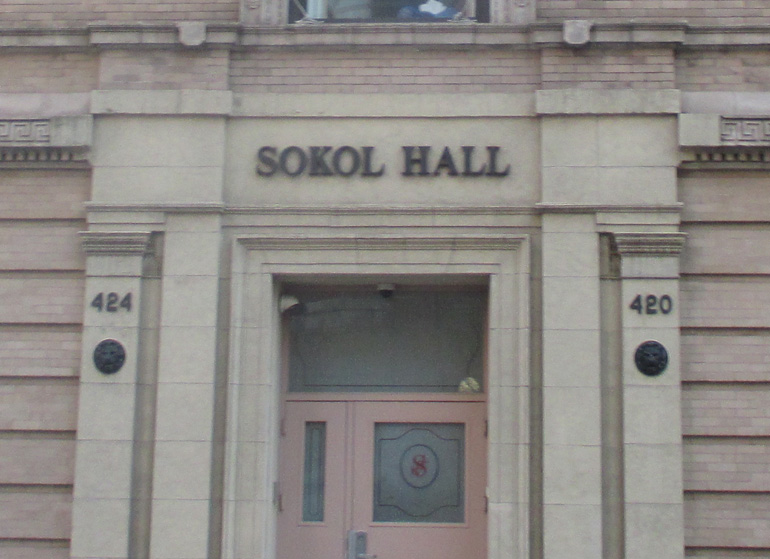 Thursday 20th
Fred Schepisi's Six Degrees of Separation, the 1993 film adaptation of John Guare's play (Guare also wrote the screenplay), has long been a favorite, and so has Allison Janney, still relatively unknown, a thousand years ago, when we first saw her in Blue Window and New England at MTC. Kathleen decided that seeing the Broadway revival of the play, with Janney in the most sympathetic role, would be just the birthday treat she wanted. So she got tickets. The show opens next week; we hope that it will be a hit. Everyone at the Barrymore last night seemed to have a very good time.
The play, perhaps because it is so compressed, is less amusing than the film, but it is also more exhilarating. The twists and turns of the plot are more viscerally entwined with the dramatic problem, which is Ouisa Kittredge's growing determination to prevent her family's experience at the hands of a very skilled imposter from decaying into mere anecdote. She is tormented, albeit probably not for the rest of her life, by her inability to do anything for a clearly gifted young man who might well be a sociopathic con — whose very pleas for help may just be his way of passing the time. He may be unworthy of the Kittredges' attentions, but for Ouisa the sharper possibility is that they are unworthy of his.
Ouisa's husband, Flan, is the kind of con man that goes by the name of salesman. He is also something of a fence. When rich people want to dispose of valuable paintings without attracting public notice, they come to him. Flan can put together a syndicate of investors with the money to buy a Van Gogh or a Cézanne, which they then sell at a handsome profit. These artworks are worth millions, but they are also worth whatever Flan can mesmerize his buyers into paying. Although Flan and Ouisa manage to live on Fifth Avenue and to send their children to Groton and Harvard, cash is an issue, and money most definitely an object.
How different are they, then, from the presentable black youth who staggers into their lives one night, bleeding, turning to them because he has heard such nice things about them from their children? That the Kittredge children might say anything nice about their parents is such a delicious surprise that Flan and Ouisa — admittedly, under a great deal of stress at the moment (they are entertaining a rich South African whose largesse stands between them and "going to banks") — forget their critical faculties altogether and take the fellow at face value. And a big value it is, for the boy is Paul Poitier, the son of the celebrated actor. Paul has come down from Cambridge the night before his father's arrival in town, and he has been mugged — mugged and stabbed in Central Park, right there outside the Kittredges' building. Of course they take him in. Once bandaged, Paul cooks them a delightful pasta supper and charms the South African with a précis of The Catcher in the Rye. You may recall that the protagonist of Salinger's novel is obsessed with phoneys.
The next morning, Paul is discovered, in one of the Kittredge children's bedrooms, with a naked hustler. After a great deal of commotion, the hustler and the young man are persuaded to leave. Almost at once, Kitty and Larkin, friends of the Kittredges and parents of their children's classmates, knock on the door with the very interesting story of their night with Paul Poitier. They're somewhat miffed to learn that the Kittredges have a better story. This is when the experience begins to take on the gloss of an anecdote. There is still much to learn — how did Paul, or whoever he is, acquire such rich knowledge of the lives of well-heeled New Yorkers? — but when the imposture takes a fatal turn and Paul becomes a wanted man, Ouisa discovers that she is on Paul's side, inside the experience, not outside it, where everyone else she knows is ready to treat it as a great story. She appreciates the effort behind his skillful impersonation, and feels that it must be compensated somehow. The movie ends with Stockard Channing, pert in a spring-yellow suit, walking away from a luncheon party, perhaps for a headache-clearing stroll down Park Avenue, perhaps for a new life. The new production of the play ends with Allison Janney's enigmatic smile.
More than once, whether because of her blondish wig or the sharp stage lighting, Janney made me think that she was Lauren Bacall, not just because she looked like the late actress but because she wielded the same authority.  Janney has a powerful voice; if she were a singer, she'd be Ethel Merman. She was also, I think, the tallest member of the cast, at least in heels. All this personal strength was put to the work of rendering Ouisa's ambivalent discomfort with the clarity of her own moral compass. What makes the play exciting is our own ambivalence, because we want to believe that someone as smart as Ouisa might figure out a way of doing the right thing while continuing to live her enviably glamorous and witty life overlooking the park and schmoozing with millionaires. Ouisa's smile at the end is her way of acknowledging that she knows what we expect of her. It is full of rue.
Six Degrees of Separation, directed by Trip Cullman, has a large and excellent cast. If I were being paid to write this, I might feel obligated to name a few names, but the fact is that no one stands out in a cast of standouts, and to mention any would be to slight the others. John Benjamin Hickey (Flan) and Corey Hawkins (Paul) share the headlines, and they are both very good, but their parts are merely larger than the rest. If I call attention to Mark Wendland's excellent scenic design, I do so without knowing to what extent he was realizing the playwright's stage directions.
Do try to see it.
More anon.