Gotham Diary:
Bad Old Days
13 April 2012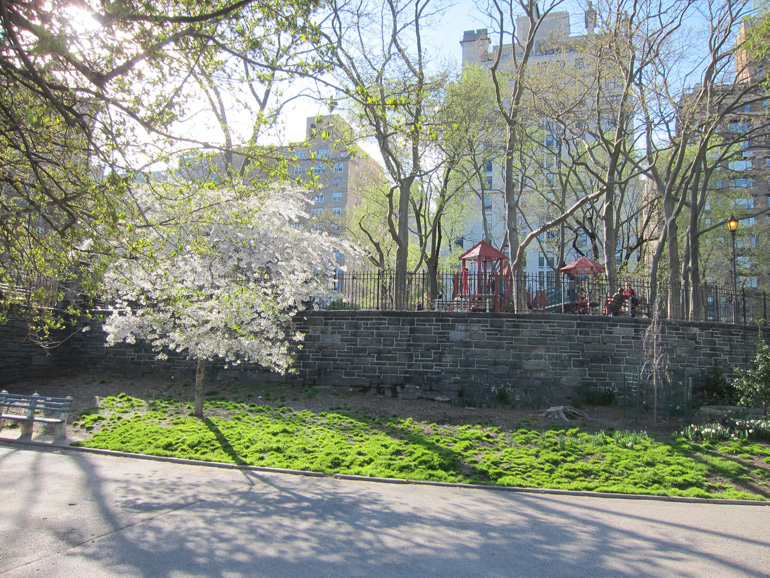 The play that we saw last night, Regrets, by Matt Charman, is set in the bad old days of difficult divorce and political witch hunts: the scene is a cabin colony outside of Reno in 1954. It is also set in the bad old days of Arthur Miller and the attempt to breed a domestic species of tragedy, with the elements of drama retuned for vernacular inarticulateness.  We found it dreary and bleak, and we felt that the actors might have given better performances without Carolyn Cantor's direction, since the show's sluggish, heavy feel would be most likely attributable to that. The actors playing the three older men, Brian Hutchinson, Richard Topol, and Lucas Caleb Rooney, seemed as stuck in a flypaper of "notes" as their characters were in the maws of unwanted divorce proceedings. Mr Hutchinson's character was an annoying puzzle: long since divorced, he was now living in his cabin by choice, writing essay questions for the Chicago Board of Examination and nursing Amfortas-like, unexplained wounds of war. He limped painfully, but it seemed that there must be something more to it than that. We never found out what, though. Mr Rooney played a blowhard ex-sarge, his good nature swamped by the violence unleashed in war, who now had trouble holding down jobs as a store detective. The pathos of this character would have been easier to feel if the acting hadn't been so unvarnished. Mr Topol, playing the owner of a pet shop in Queens, desperately unhappy about having lost his wife's love, was best able to chisel a distinctive, unpredictable performance from the material at hand. His tootling on the clarinet near the end brought a much-needed balm of human sweetness to the show, shortly before the climax.
Thank heaven for Adriane Lenox, though. Ms Lenox plays the landlady of the colony, a woman tough enough to impose strict rules on her residency-seeking guests but sensible enough to ease up in a crisis. The creator of the role of the mother in Terrence McNally's Doubt, she is a truly formidable actress who, without much in the way of distinguished physical presence, can take over the stage with the arch of an eyebrow. I would consider it uncommon good luck to see her at least once every season. Alexis Bledel, who makes her stage debut, comes to us from The Gilmore Girls, so perhaps it's no surprise that she handled herself very well on stage, in the part of the pretty waif who will do anything to get out of Pyramid Lake.
Looking back, I see Ansel Elgort as the star of the show. He is a high school student (at LaGuardia) who happens also to have danced with City Ballet; now he's trying out drama, and I know that if anything comes of his career I won't be shy about boasting that I saw his debut. He was compelling as a remorseful idealist, trying to limit the collateral damage caused by associations that could only be unwise in a moment of Orwellian invasiveness. I don't think that he had one memorable line as such, but this was very much in character; Mr Elgort used every other physical resource to convey the misery of being a loving young man who'd suddenly become dangerous to talk to. Curt Bouril, playing the agent of understated state oppression, gave his character an off-center, Don-Draperish self-assurance that saved it from caricature.
As usual at MTC Stage I, there was no curtain, so my heart had plenty of time to sink before the show even began. Kathleen thought that the set was neat because it reminded her of camp. Exactly. But Rachel Hauck (sets), Ben Stanton (lights), and Ilona Somogyi (costumes) made the best of a hardscrabble situation. Mr Charman is to be commended, I suppose, for infusing stolid Miller drama with the chill of Beckett's chasms, and for presenting the concoction in a tidy package; I had the sense throughout of a "well-made play." Yes, but a well-made play about what?
***
Of all the beautiful things to say:
"I have known one or two women as beautiful," he said of the bride, "one or two women as interesting, one or two women as spiritual, but for the combination of the three I have never known her equal."
That's William Rainsford, the reverend who married Edith Minturn and Isaac Newton Phelps Stokes. There is certainly a good deal of this extraordinariness in Sargent's portrait.
I lost nearly an hour today to a tangent that (in my mind) ran off from Jean Zimmerman's lovely book, Love, Fiercely. It was about Shadowbrook, the "largest house in America" at the time that Anson Phelps Stokes, Newton's father, built it in Stockbridge in the early 1890s. I had to see what was left of this monstrosity of stone and Tudor timber, so I began at Google Maps. Then I Googled "Shadowbrook Stockbridge" and came up with the most interesting document, a history of the house that culminated in its destruction by fire in 1956. By that time, it had been a Jesuit novitiate for decades, and the author was an alumnus, one Frank Shea. Shea turned out to be one of the radical Jesuits who embraced the causes of the Sixties and who indeed left the order and the priesthood to marry someone he'd met (at a Newman Club!), and he seems to have died of a heart attack brought on by a kerfuffle concerning his chancery at Antioch College in the mid-Seventies. Here's the small-world pearl in the story. Having tired of Shadowbrook (or, better, having come to dislike it after losing his leg in a riding accident), Anson Phelps Stokes built another mansion at Noroton, Connecticut, the very building that, growing up, I knew of simply as "Noroton" — the Sacred Heart academy there.