Gotham Diary:
Apples and Oranges
9 March 2012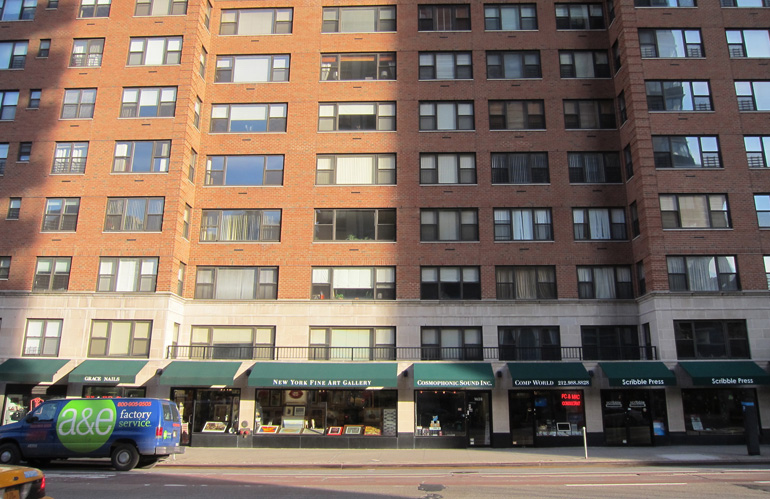 When, at the end of Amber Dermont's debut novel, The Starboard Sea, we learn what it was, the terrible thing that the narrator, Jason, did to his best friend Cal, the thing that, unbeknownst to everyone else in the boys' world of privilege, led Cal to hang himself from a pipe in their prep school dorm room, we wonder if it was so terrible, and we think that perhaps Cal overreacted. But not right away. Our immediate response is to feel swamped by Jason's guilt and Cal's despair: it was an awful thing to do, largely because it was meant to be awful. And when the excitement of the discovery subsides, and we get used to knowing what we have waited hundred of pages to find out, we recall that teenagers are never more volatile, reckless, or cruel (just as they are never more ecstatic) than when they feel that they're in love. For many people, most of them far from the unluckiest, love is the most painful of life's lessons. Almost everyone pulls through somehow. Dermont has given us, in her novel, the shadow of a boy who didn't, and her achievement is wonderfully grave.  
The achievement is unfortunately qualified by a strategic miscalculation that Dermont is hardly the first to make. If I had an intern, I'd ask for a list of the instances in which I've complained that a book would have been much better had it been told in the third person, and not in the first. There are only two occasions for employing the first person in fiction: when the narrator is almost an exclusively an observer, someone who brushes up against the action only just enough to put the reader into the picture, and who never does anything to distract the reader from the principal characters; and when the narrator's very voice — meaning his or her personality, his or her view of the case — is the story. (What makes Rebecca, which ought to have been just another disposable gothic potboiler, so thrilling is that it rises to both of these occasions not only supremely well but simultaneously.) The Starboard Sea meets neither of these conditions. Jason Prosper is a high-school senior, eighteen going on nineteen. Despite the world of privilege in which he has grown up, he remains a normally, inescapably callow teenager. As a result, he talks about his world — and he talks about it at great length — with a combination of fatuousness and condescension that makes the first half of the novel, before the story really gets going, a slog to read.
Some of the prose lapses might very well have been committed in the third person as well. Dermont's diction is not the finest; her syntax can be shaky (I found two instances of dangling modifier), but, worse, she is drawn to the bad fine writing that makes nouns out of verbs. "He was trying to make a point about World War I and the Lost Generation," Jason recounts, sketching a teacher's frustration, "and he was stunned when almost no one understood what he was referencing." Wouldn't an artless teenager have said that no one knew what he was talking about? (What makes Americans say these things? It can't be that we have all read too many fucking manuals.) There is a touch of Harlequin exceptionalism —
Many of the girls I considered to be pretty had soft, rounded features. Small eyes, creamy skin. This girl was different. Her features called attention to the high planes of her cheeks and forehead, the sharp angles of her lips and eyes. Unlike Bristin's or Diana's faces, which begged and invited "Admire me," her face had a quiet authority. A frontier quality that said, "I am not to be put on display. I am not here to be looked at." She stood tall. Had I not seen her crawling through a window, I might have mistaken her for a teacher. Even then, I was certain of her beauty, but I was also certain that a person could miss this about her.
— that is not only wildly exotic in this rich kids' setting, but strangely belabored, coming from a boy. We might interpret the last sentence as a sign that Jason feels manfully protective of the mysterious girl, but whether or not this point is worth arguing, it turns out that Jason's sexual satisfactions have been largely homosexual. Make no mistake: The Starboard Sea is no coming-out novel. Jason clearly subscribes to Gore Vidal's theory that there are no homosexuals, only homosexual acts. The boy he still loves, Cal, the dead boy, comes round to this view, too, but too late, too late to forestall a brutally cruel homosexual act.
And a third-person narrator might have been just as annoying about Jason's world. The book abounds in throwaway mentions of Dorrian's and "gin-and-tonic lockjaw" that are little more than exclusive secret handshakes all but intended to intensify the smugness of knowing readers. (A joke on me: when I asked Kathleen if she knew what Head of the Charles meant, she shook her head, but, before I could snort at Dermont's obscurantism, Kathleen said, "I didn't know any rowers.") But there might have been more description and less name-tossing had an older and presumably wiser head been doing the talking. Intelligent children of privilege, at least the ones who aren't sociopathic, don't know what to make of their benefits, which may have always been there for them, but which are so palpably not there for most people. They're insecure about wealth in a way that's different from the parvenu's: kids don't know what it means, for example, to have a full-length portrait of one's great-grandmother, painted by Sargent no less, in one's dining room. (Parvenues are all to sure that they do.) Whatever it means, it's beyond the compass of adolescent understanding. (I'm talking about the teenagers who are bright enough to know that having a Sargent hanging on the walls of one's home is extraordinary — very much Dermont's territory.
The tendency to confuse apples and oranges because they're both colorful ends up undercutting, and almost trivializing, what ought to have been the most riveting angle of the story, which is not why Cal hanged himself. Running in parallel to Jason's story about Cal, which he dribbles out in suitably suspenseful doses, there is what turns out to be a case of manslaughter, pieced together by Jason in his capacity as amateur detective. Jason believes, understandably but groundlessly, that the death would never have occurred if he had only… been there for her. He concludes that he has let not one but two lovers down. He lets himself off the hook, I'm happy to say, with a vision of his two BFFs watching over him benevolently from their fixture among the stars. But he never grasps the adult differentiation between the bad thing that he did within an attachment of love, and the bad thing that his classmates did in the course of a hazing prank.  
I can't think why Dermont didn't see that this was bound to happen, especially if she undertook to make Jason's voice plausibly adolescent. A friend suggested that there are a lot of writers who see themselves as Peter Pans, capable of entering into and recreating boyish states of mind, but I don't charge Dermont with delusions of grandeur. I think she felt that her story would be more engrossing if it were told by a brokenhearted lover. I concede that it would have been more work to engage the reader from the perspective of an omniscient observer, but that's what distinguishes the stories that you never forget — and Dermont does tell one of those — from the novels that you want to read again.
***