Gotham Diary:
Muddles
20 December 2011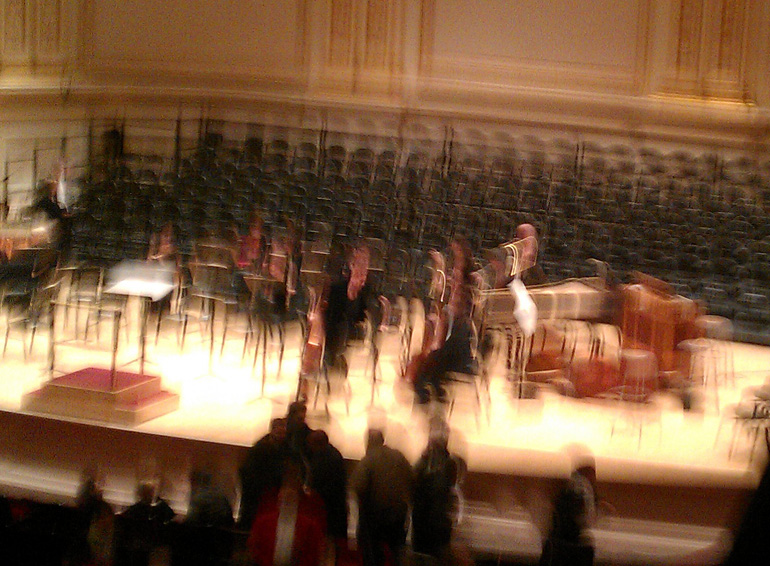 After all, I did go to Carnegie Hall last night to hear Messiah. We didn't stay until the end, because we'd never have gotten a decent dinner if we had. None of the restaurants that we likes keeps the kitchen going after eleven anymore (New York has certainly become the City That Gets Its Beauty Rest), so we took after "I Know That My Redeemer Liveth" (sung a tad harshly by Emalie Savoy). We didn't like leaving early, but we hadn't been mesmerized, or at least I hadn't. Kent Tritle's direction went for lovely, light-handed clarity of texture, but at the expense, I thought, of the occasional impressive choral boom that reminds you what this music is about. And there had been muddles.
It would have been nice, for example, if I'd brought the tickets. I still had them at home, although I didn't think to look. I thought that I had sent Kathleen off with them in the morning. But she had taken the wrong envelope — the one containing tickets for the Oratorio Society's April performance (Dvorak's Stabat Mater). We found this out as we were heading up to our box seats. (Box seats! I hadn't sat in a box seat in Carnegie Hall since the last Philharmonic season there, when I was 14 or so.) The ticket-taker sent us packing to the box office, where correct tickets were issued on the spot, as soon as my name was confirmed on a list of Oratorio Society subscribers. I'd heard about such marvels from Fossil Darling, but I'd never had to test them.
The muddle might have been much worse. In the middle of the afternoon, before I'd made my mind up one way or the other, Kathleen called to say that the parents of an associate were desperate for tickets, and, much as she herself wanted to go, she'd rather give the tickets to people who really wanted them than go alone. I fastened on what I knew to be Kathleen's genuine desire to hear Messiah at Christmas, and asked for an hour to decide. In that time, I threw on some street clothes, walked up to Staples for some mailing envelopes, came home, walked over to the Post Office to mail the cards-and-calendars that I'd already stuffed (the line was daunting, but it moved quickly), and come home again. And I felt pretty good. The air had cleared in my head a bit. Partly, it had been the exercise. Partly, though, it had been the surprising moment when, thinking of the aria that I mentioned above, I began to weep, right in the street.
Indeed, the first half of Messiah (in Mozart's arrangement, which I'd never heard live before) served as a kind of Requiem for my aunt — a private service for just me, right there in Carnegie Hall. (This is what Kathleen has in mind when she says how appropriate it is that I was born on the Feast of the Three Kings.) As the tenor, a pleasing Aaron Blake, intoned the opening words, "Comfort Ye," my tears welled up again, and they kept flowing through the first chorus. They bubbled up for the last time during the Pastoral Symphony. By the time the first part of the oratorio came to and, I was deeply happy about having come. And I was especially relieved that the associate's parents hadn't been presented with a very unpleasant booby prize when they tried to get into the hall.
After the interval, there was another muddle. It turned out that the young lady in the front corner seat of our box who was visibly attached to a young man in the adjacent box was (surprise) sitting in the wrong seat. The actual ticketholder, a forty-ish gent in a tux who looked like a knocked-down Robin Williams, not only fussed about his seat, but he helped himself to the program from my chair when he went to take it. He wore, according to Kathleen, who was stuck right behind him, some very cheap cologne. But the worst of it was that he was, tout court, an asshole. Throughout the second half of the performance, he engaged in dumbshow conversation with someone, unseen by us, in another box. During Mary Phillips's somewhat underpowered rendition of "He Was Despised," our natty neighbor mimed an ostentatious yawn. Later, after some squeak in the chorus that you had to want to notice, he stuck a finger in his ear as if to clean it out. I've never seen such behavior! It may make me sound like May Robson to say so, but I'll say it again: I've never seen such behavior. As he sat directly in front of Kathleen, his bobbing and weaving — every now and then, he had to lean out over the edge of the balcony, looking for I shudder to think what — made it impossible for Kathleen to watch the performance without plenty of bobbing and weaving of her own. We werent very hard into Part II of Messiah before my thoughts were distracted entirely from the the music by the thought of tapping the jerk on the shoulder and insisting that he sit still. (Indeed the only number that held my complete attention was Kevin Deas's fierce complaint about raging nations and vain imaginings.)
Decamping early for dinner seemed, then, doubly wise.