Gotham Diary:
In Like Flynn
19 December 2011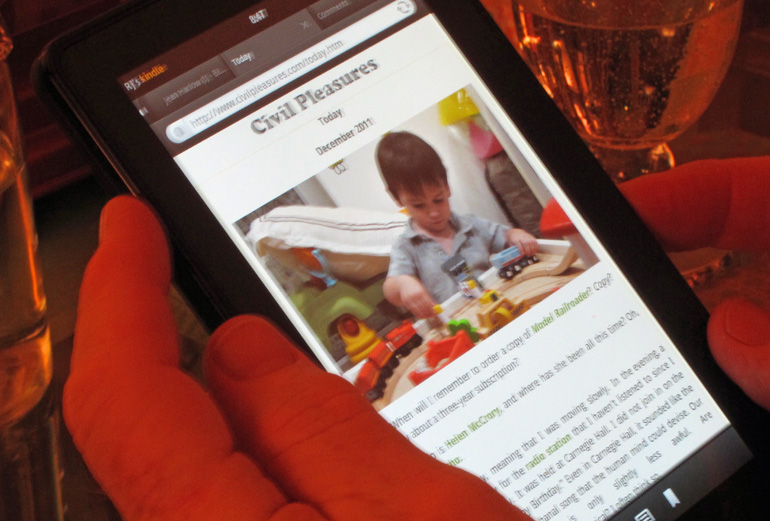 There is always so much to be learned about photography. Red-eye is bad enough. Red velvet hands? What I'm really showing off here is the happy accident that Civil Pleasures, my second Web site and still more in development than it ought to be four years after launching, looks just right on the Kindle Fire without any further fiddling.
***
Watching The Private Lives of Elizabeth and Essex last night gave new meaning to the phrase "in like Flynn." The 1939 Warners classic, which I'd never seen before, turns out to be almost perfectly cast. Just as Elizabeth put the stability of England ahead of personal glory, something that Essex couldn't seem to imagine doing, so Bette Davis put the dramatic interest of the motion picture ahead of personal vanity, which couldn't have occurred to Errol Glynn. Ethan Mordden writes that Flynn "was at his best when he let his natural charm show through" — in other words, when he stopped acting. Of Elizabeth and Essex, Mordden writes, "Flynn thinks it's a Flynn vehicle, and he hurts the film by not refusing to respond to Davis." Just as Essex hurt England with his vainglorious march on London. Well, "hurt" is perhaps overstatement. Neither the aristocrat nor the actor was truly significant personage in his line of work, although both were of course very popular for a spell. uy
I've been re-reading The Hollywood Studios: House Style in the Golden Age of the Movies (Knopf, 1988), and enjoying it to pieces. Beginning with Paramount and MGM, Mordden writes engaging, conversational chapters about each of the Majors (and one about the Independents as well), sifting through the moguls, the stars, and the properties to identify the characteristics that distinguished the overall output of each. What, for example, made RKO different? First of all, it was founded in 1928, at the dawn of the Talkies. It couldn't have learned anything about making movies from the long experience that the other studios had. No wonder the studio was the first to go, bought about by Desilu in 1957.
Among other things, House Style (as I call it) is a very funny book.
Today it is common to think of Hepburn as a natural, even as inevitable. But when she was new she was thought strange-looking, affected, and possibly nutty. Hollywood likes outstanding versions of the norm, not outstanding versions of the outstanding, and the non-conformist Hepburn, blurting out The Oddest Things to the press, dodging photographers, and failing to be spotted on the right arm at the orthodox places, acted as strangely as she looked.

She played strange roles, too, no one like another: and played them not as if the studio made her do so but because she wanted to. How to get a handle on this woman? In Christopher Strong (1933) she is Lady Cynthia Darrington, a world-famous aviatrix. The very noun itself bespeaks a pride of glamour. But Hepburn shows up in silver lamé sheath with a Dracula collar and antennae. Maybe it's supposed to suggest Garbo, but it makes Hepburn look like a Martian lounge singer.
As they say, LOL. I don't know when I've enjoyed re-reading a book so much. Of course I feel terribly guilty, indulging in such pleasures when the house is bursting with unread new books. I can't have known, back in 1988, that House Style would be one of the most important books in my collection, to me I mean, but that's unfortunately how libraries work. You have to hold on to everything, because you don't know what you'll regret letting go.
Rereading the book prompted me to have another look at Grand Hotel and Dinner at Eight (1932 and 1933 respectively, and both MGM. They were both signature offerings, the one of Irving Thalberg and the other of David O Selznick, and they are both haunted by silent-screen habits that won't go away. Lionel Barrymore plays dying men in both films, but that's all the characters have in common; Dinner's Oliver Jordan is an admirably modest gent, but Grand Hotel's Otto Kringelein is a whining, wheedling clerk who never shuts up. He would go over much better, and in fact be the figure of sorrow and pity that he is, if we couldn't hear him. In the same film, there are times when it would better if we couldn't hear Joan Crawford, too. She's still a pretty girl here, but she sounds like a defective Eliza Doolittle, too much of this and too little of that. Too many of her takes seem designed to announce winning poker hands. As for Garbo, she doesn't need the silver lamé or the antenna to look like a Martian lounge singer on the verge of a nervous breakdown. Only John Barrymore, ham that he was, seems to know where movies were going, and is capable for film's natural tendency to overstate everything.
I've never cared much for Jean Harlow, possibly because, like Joan Crawford, she'd have done better at Warner's (as Crawford certainly did). What I learned from Ethan Mordden is that the studios' different styles could be the making of an actor. It took MGM to make an outstanding normal woman of Katharine Hepburn, for example. Jean Harlow might have been funnier if she'd made more movies with James Cagney, say. Instead, at brighly-lighted MGM, she's just vulgar, a mannequin for bias-cut satin nightgowns. And she's sad, too — she died so very young (26). Marie Dressler, on the other hand, is a revelation: now I know where Angela Lansbury comes from.
***
Now, to finish Daniel Kahneman. A blurb on the dust jacket, contributed by Nicholas Nassim Taleb, ranks Thinking, Fast and Slow with The Wealth of Nations and Freud's The Interpretation of Drams, and I wholeheartedly agree. Like the earlier books, Thinking completely upsets a widely-held idea, in this case that "man is a rational animal." I hope that someone is already at work on an elementary-school curriculum that is based on Kahneman's conclusions. For one thing, we all need much more basic training in statistics, and the whole field of arithmetic ought to be reconceived accordingly. Second, young minds ought to be shaped, to the extent that they can be, by an awareness of the biases toward overconfidence and bad decisions that are Kahneman's book's crown of thorns.