Gotham Diary:
"This Is Where Betty Crocker Shot Herself"
9 December 2011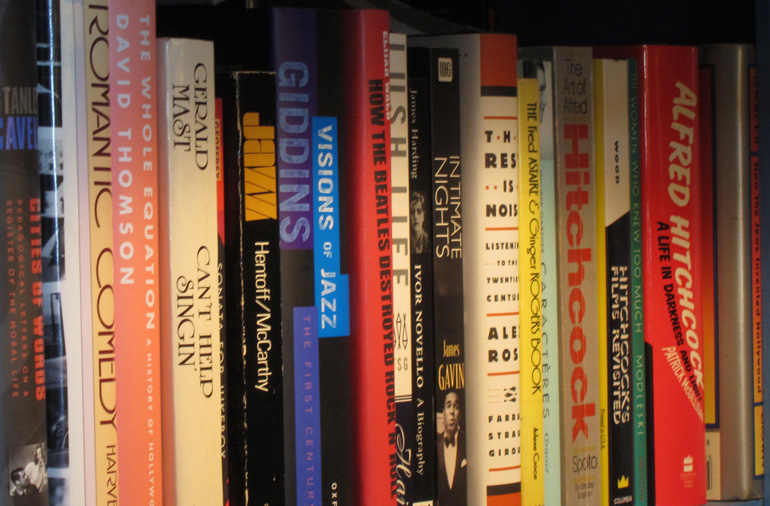 In the taxi that carried us home, the driver got off his cell phone. We were still on Sixth Avenue, but about to turn right toward the East Side. "It's cold," the driver said, in a robust voice, his accent vaguely South Asian. We didn't respond right away, so he almost turned in his seat to address us. "It's cold," he said, again. We agreed. "Where do you live?" he asked. We wondered to ourselves, "How many people who get into a taxi in the Village somewhere between nine and ten in the evening, and who ask to be taken to 86th and Second (which every driver in the world remembers as "82nd and Second, but that's another story, even though this one did, too) — how many such people don't live there," but all we said was "Here." "You look like tourists," the driver said blandly, as though pleased to have made a mistake. "You look like tourists to me." The only thing that I could think of to say to this was, 'We've lived in the same building for thirty years." This he found astonishing, although not violently so. The driver was much too friendly, and self-possessed in a childlike way, for violence. Recovering from his strangely friendly assault, I thought of something better than living in the same building for thirty years, much better. "I was born here," I said. This got more of a reaction. "That's right," I said, swelling inside, "right on West 65th Street." I was so flushed with pride, it was like a treatment at a spa.
***
Paul Rudnick is never coming to my house. Oh no no no no no! If he did, I'm sure that I would hear the "gay voice" that torments a Midwestern housewife in his skit, The Gay Agenda, when her new neighbors, the same-sex couple Bill and Stu, come to return an apple crumble pan (or is it blueberry?). They claim to admire her living room, with its tasteful colonial reproductions and plaid wallpaper, but Mary Abigail (a fantastically funny Harriet Harris) can hear, as if spoken aloud, what they must really be thinking. "This is where Betty Crocker shot herself!" It is the funniest, funniest, funniest moment in the entire history of theatre, or at least that's what it feels like right now. I'm still laughing the next morning. Later in the evening, in another Rudnick skit, there was a joke that was almost as good, in its unlikely and unexpected comic fit: a matchmaking mother tells her son about a cardiac surgeon whom she has imagined for the purposes of one-upping a rival mom. The surgeon operates exclusively on gay children in third world countries — he's that gay. "But how does he know they're gay?" asks the son, of the children. It's Ms Harris again, and she gives Mark Consuelos (did you see the smile on him?) a Jack Benny look. "Because their hearts are so big." It's a terrible joke, really, but that's why it fits the circumstances so well. The creator of Libby Gelman-Waxner has done himself proud.
There are plenty of laughs in the other pieces that have been gathered together to compose Standing On Ceremony: The Gay Marriage Plays, but they're different from the laughs that Paul Rudnick incites. They're the kind of laughs that you have, if you're very lucky, during a wedding toast or a funeral speech. They're rueful. They're rueful for two reasons, or maybe two aspects of the same reason. Marriage isn't for everyone, but everyone who gets married is just like everyone else who gets married in the same way that all of us are mortal. The frightful desperation of bridezillas everywhere is an annoying attempt to stand out while standing in line. Not to worry, though, because, by the same rueful token, weddings are a kind of blender that produces a slightly different drink for every couple, consisting of the odd mix of family and friends that show up, expecting to have a wonderful time. And almost every happy marriage ends with one spouse burying the other — how's that for a reward?
Our reward was hearing Richard Thomas (yes, that Richard Thomas; he has grown up to be a pillar of the New York stage) deliver a eulogy to a lover, dead of pancreatic cancer after forty-six years of amiable argument about whether humanity has ceased to evolve. Moisés Kaufman packs a lot of material into the speech — the men met on the day Kennedy was shot; they saw the Twin Towers fall from the doorway of the DMV — and he even offers a deft acknowledgment that gay marriage is not an unmixed blessing, but Mr Thomas works through it all with the diligence of a heartsick left-behind gentleman that the illusion is complete: you may not have known Paul Foster, the deceased, but you're at his funeral because you know people who knew him, and you mourn him. You mourn this imaginary man, and pity his survivor, as deeply as you would mourn all but your very nearest and dearest — and, who knows, maybe as much as them. And the moral of the story is that even though Paul and the nice man eulogizing him didn't get married, they were married, and we recognize this at Paul's funeral. There is no other word for the relationship. And our grief crowns the moral of the evening, which is that humanity has evolved, at least in part, sufficiently to recognize that all good people, regardless of sexual preference, have the right to get married. Perhaps it is marriage that has done the evolving, but that's not much of a difference.
Craig Bierko, Polly Draper, and Beth "As We Stumble Along" Leavel round out the cast of six. Mr Bierko also delivers a eulogy, but it happens to be a device in Neil LaBute's little melodrama, Strange Fruit. Ms Draper and Ms Leavel get to play two versions of the same couple in skits by Mo Gaffney and Wendey MacLeod, but they're also sparring partners in Doug Wright's On Facebook, an exercise in modern mis-manners that is significantly relieved by Ms Draper's velvety bass0 profundo. There are ten plays in the Standing on Ceremony suite, nine of which are given on any one night. So we missed Joe Keenan's This Marriage Is Saved, which is almost enough to make me think of going back.
***
I was born in New York City under shameful circumstances: my mother wasn't married. And I was whisked off to Westchester before I was even two months old. When people asked me where I was from, I would never say "New York," because that would have been cheating; I lived in the suburbs. I knew that I'd been born in the city, but the fact meant just about absolutely nothing, because it didn't change the fact that I was miserable in Bronxville. Well, not actually miserable, maybe, but certainly training to be: I was determined to grow up to be interesting, and that pretty much meant that I was going to have to discover what "interesting" looked like, because there sure wasn't any in Bronxville. (That was, and from what I can tell still is, the whole point of Bronxville.) It would take a long time for me to grasp that, in my case, anyway, "interesting" isn't so much what you do or what you say as what you write, and, all resemblances to Santa Claus and Captain Smith aside, I am not a particularly interesting person to be around, unless you want me to show you round the Museum. I read, I write. I set the table for dinner with crystal and silver, and, after dinner, I wash the dishes. But I'm back where I came from, and man, is that great.
I asked the driver how long he'd lived in New York. "Ten years" was the answer. "Ten years is good," I said. That's about how long I've felt, at some moment almost every day, a deep contentment to find myself walking around on the rock where I was born.