Morning Snip:
Picture This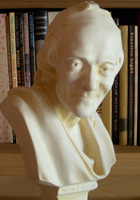 Oh, dear, how keen we'd have been to be there, when George Castro was arrested in his home, in connection with a crime that's still pretty unclear. It involves the siphoning of Columbia University millions into a bank account in the name of "IT Security Solutions" — how perfect is that — for which Mr Castro had signing authority. (NYT; via The Morning News)
Mr. Castro, 48, was charged with first-degree grand larceny and criminal possession of stolen property.
When investigators went to Mr. Castro's home on Wednesday to arrest him, they found him with a bag containing $200,000 in cash, the complaint said. They also seized a car, an Audi worth more than $80,000, according to the complaint.
"The money just appeared in my account," Mr. Castro told the authorities at the time, according to the complaint. "I got greedy. I bought the car with money from the account and made other purchases."
The picture of a man holding a bag of cash and claiming that it "just appeared" in his bank account is as delicious as wickedness gets.