Tuesday, August 16th, 2011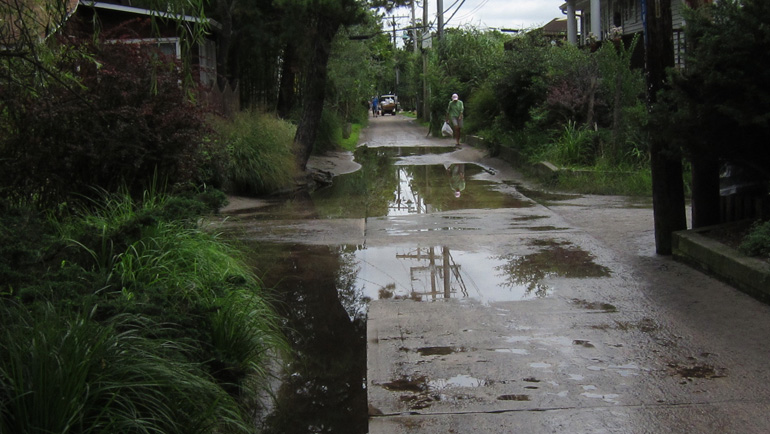 It got very wet out here on Sunday. As recently as Monday night, when we came upon this bit of unavoidable pavement, we found every bit of it underwater. (I was surprised to find how far the water had receded in eighteen hours.) More surprisingly, the walks on the shop front in Ocean View were also under water. But as it was only a Monday night — following a dismal, stormy Sunday — there weren't many people around to complain. The only downside for us has been that Megan and Will have been stuck in town. The prospect of traveling alone (with a toddler) on the LIRR is not encouraging. Last night, Kathleen tried to catch the 8:03 from Bay Shore. But the 8:03 was interrupted by a collision, with some tomfool pedestrian walking the tracks, of all things. So Kathleen took a taxi to Babylon, where she caught a train right away. But still!
Now I know something of what the British must have felt in 1944: we're winning, but we're too tired to rejoice. I've got about 250 pages of The Power Broker to read. This morning, I completed the three chapters that Robert Caro devotes to the building of the Cross-Bronx Expressway. It was harrowing stuff, and I was unable to shake the narrative's powerful correspondence, never made explicit by the author, to the unfolding of the Holocaust — a linkage far from weakened by the fact that the East Tremont residents who were needlessly displaced by Robert Moses's route (apparently designed to save a private bus terminal) were, for the most part, striving Jews who had come up in the world, just a bit, from the Lower East Side, whose grandparents had been harrassed by the Tsar and whose cousins had perished in the camps.
The comparison might strike some as grotesque. The residents of East Tremont were not, after all, eliminated (although, as a viable neighborhood, East Tremont itself certainly was). At the time, manyNew Yorkers would have agreed (and in fact did agree!) with Moses's insistence that "succeeding generations would be grateful." No student of history can read such a statement without a personal qualm, for so many of the evils that we read about in history books have lost their bite, as contexts and priorities and even modes of consciousness have altered over time. As a species, we take the world as we find it; our passion for justice, in contrast, is eccentric at best. But Caro's account makes it clear that people were lied to and betrayed by officials up and down the city's power pole, all of them either bent to the will of Robert Moses or silenced by superiors who were. Up to the moment that the East Tremonters found new homes that they could afford to rent, their steps paralleled the doomed Jews' of Eastern Europe. Even assuming that improved mass transit one day makes the Cross-Bronx Expressway a pleasure to drive, no one will ever have reason to be grateful for Moses's gutting of a lively and vital neighborhood when an obviously less destructive route lay a few blocks to the south.
What's depressing about the material that follows the Cross-Bronx saga is that the issues of highway saturation that Caro discusses in his 1975 text remain largely unaddressed today. Yes, construction continues on the Second Avenue subway, but can we believe that it will really be running in 2017? The problem is that the drivers of the metropolitan area have been infected by Moses's mania for private cars (he may never have driven one himself, but he was one of the first to appreciate the allure of the automobile as a moving bubble of autonomous privacy, which remains the most toxic component of the automotive narcotic). And of course the subways still don't go to many of the parts of town that were developed in response to Moses's roads. In the end — I'm anticipating; I haven't finished the book yet — Robert Moses left New York in worse shape than he found it. But that's by the way. It's the failures of democratic process that put autocratic, unchallengeable power in his hands that arouses pity and despair.